The richly illustrated book Living with the Mekong provides readers with insights into urban developments in one of the world's most threatened deltas
Joep Janssen, a Dutch urban delta expert, travelled through Vietnam's Mekong Delta and Ho Chi Minh City area researching the impacts of climate change and development on farmers and urban inhabitants. The Mekong Eye talked to Joep, via email, about urbanization, climate change, development, and how decision makers in the Mekong region might learn from the Dutch experience.
The Mekong Eye: The Mekong Delta is struggling with climate change adaptation. But the situation is worsened by the construction of large hydropower dams upstream. In your research, what did you learn about how these issues interact?
Joep Janssen: Global warming and climate change issues are great threats to the Mekong Delta. This will affect livelihoods and agriculture due to change in rain pattern, increase in temperatures and seawater intrusion.
But the impact of land subsidence is even bigger. The delta sinks with a few centimeters a year, much more than sea level, which rises only a few millimeters annually. The delta sinks because of groundwater extraction by urban dwellers and the agriculture sector. The other reason is a lack of sediments, caused by sand mining in Cambodia and Vietnam, upstream dams, and, according to new research by the University of Southampton in 2016, the lack of sediments seems to be caused by less upstream cyclone activity.
Let's take the Dutch delta as an example. Agricultural and urban land has been pumped down over the centuries, in some places up to six meters below sea level. The population and economic investments have been increased. This was made possible by a sophisticated relation between landscape design, urbanization pattern and water management. There existed a close relation between water management and urban planning.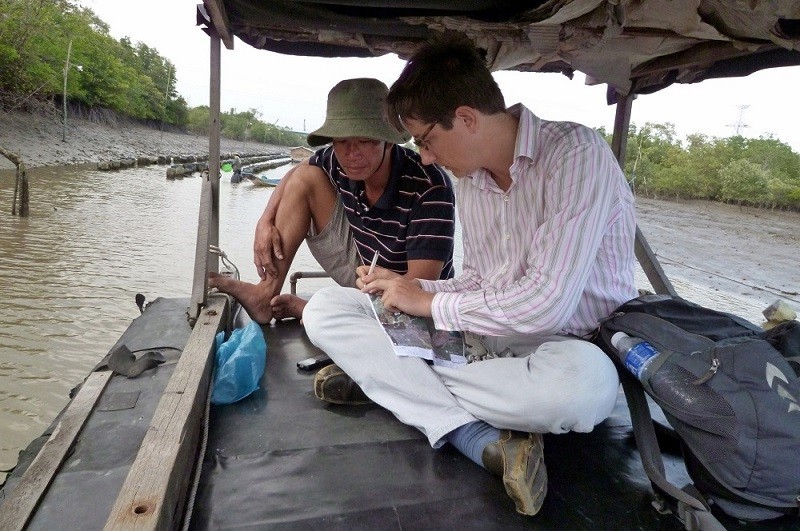 Joep Janssen discusses environmental conditions with a local fisherman (Photo: Wytske van Keulen)
Now, I am much more convinced that two things are required to achieve a structural improvement of the Mekong River conditions: a stronger centralized control over the entire river- and coastal defense system, and more knowledge of the behavior of rivers and seas, flow rates and sedimentation, from erosion, subsidence and salinization. There is a strong will in Vietnam to develop knowledge to solve practical problems; the next step is to share all research and data to learn from each other.
It would be wonderful if more tacit knowledge from farmers and scientists could be tapped. This is the moment to mobilize knowledge by competitions on a broad spectrum of themes – not organized by the Mekong River Commission or international donors, but initiated by the Vietnamese institutions.
ME: What did you find out about the Mekong Delta situation that parallels the experience in the Netherlands? And how are the situations different?
JJ: The Netherlands is comparable to the Mekong Delta in terms of population (around 17M inhabitants), density and size. Both low-lying areas have the same preconditions, but different solutions and cultures to cope with floods, salinization and subsidence.
For example, in the Netherlands we have a long history of making polders – areas surrounded by dikes with groundwater level control. This technique is quite easy and much cheaper than landfill, only if it is managed and maintained well. In Vietnam you see landfill projects everywhere; it's a cheap way to keep the area safe from high water, but it can be very expensive in the long run.
Another example: the Dutch government has full control over the water management system. So much so, that I don't realize that I live in a vulnerable delta. The climate is changing: sea level is rising, intense rainfall events and droughts increase. Thankfully, we don't have to worry about this, because the government will fix it. But what do I do if a dyke break tomorrow and my house in Rotterdam is going to flood by one meter? Are we, Dutch people, self-reliant and resilient enough when our district overflows?
Unlike my hometown Rotterdam, the delta is 'feelable' in Can Tho City. The tide of the sea is noticeable in the city centre, neighbourhoods are affected by flooding after monsoon rains and street levels fall by up to ten centimetres a year. This is why self-reliance and resilience is in the DNA of Vietnamese people. It's is born out of necessity, because residents are more or less left to their own devices. In general, solutions are not centrally controlled. There is no Maeslantkering yet or a dike around the city to protect residents against flooding. Therefore the people affected by flooding take the initiative to protect their homes, their belongings and merchandise by themselves.
During my travels through the Mekong Delta I have learnt that we have to learn from Vietnamese people how to become resilient.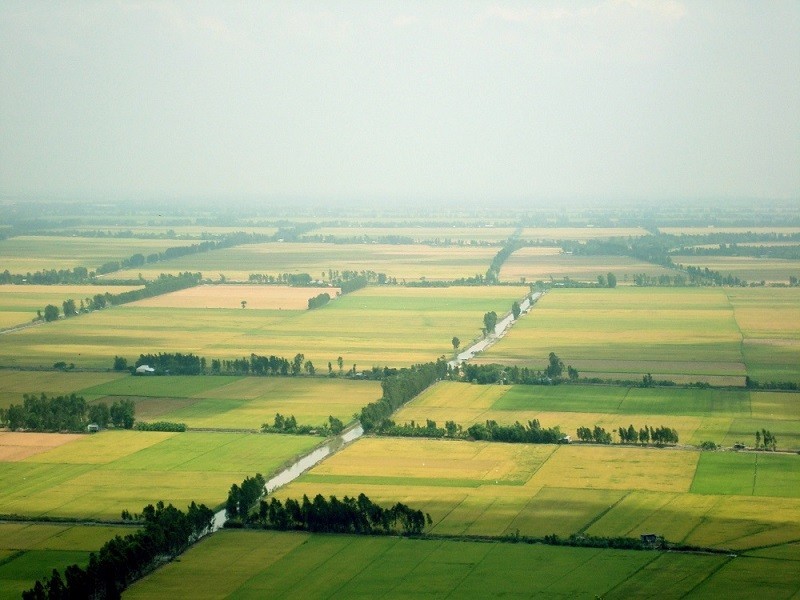 From the top of the mountain at Oc Eo you could imagine you were looking at a Dutch landscape (Photo: Joep Janssen)
ME: What could the Mekong region learn from the Dutch delta?
JJ: The Dutch Rhine-Meuse delta struggled and emerged from the impact of wars, canalization, floods, upstream dams and pollution. So if you put the Dutch delta in historical perspective, and if you put lessons learned into practice, I am hopeful about the future of the Mekong Region.
Due to Europe's industrialization in the 19th century the pollution of the Rhine increased and the tension between the bordering states increased as well. The downstream Dutch delta was most threatened, because we use the Rhine water for drinking supply, irrigation in agriculture, and flushing the polder to prevent salinization. The Netherlands negotiated with upstream countries for almost twenty years before the International Commission for the Protection of the Rhine against Pollution (ICPR) was to set up in 1950.
This was just the beginning of a process of trust building and creating measures to strengthen common aims. There was a big discussion between upstream and downstream countries: all countries noticed the pollution impact in the Dutch delta, but they didn't want to pay for cleaning up the river, because Dutch industry was still discharging water untreated. In 1971 the Rhine river was so much polluted that the river was biologically dead.
After a century of increasing water pollution that harms fish stocks and human health, this disaster with international impact was the moment that the Rhine states realized the river needed to breathe again. The step-by-step process took time, but finally the Dutch delta was brought back from the dead by trust building between states and international cooperation to integrate all water related interests like navigation, fishery and pollution.
In 2008 a Delta Committee made a plan on the long-term protection of the Dutch delta. This plan included not only structural measures like flood protection by hydraulic engineering works, but also non-structural measures, such as institutional arrangements (i.e. appoint a delta commissioner to coordinate the delta program) and a Delta Fund to invest in water safety and quality, fresh water supply, experiments, management, maintenance and replacement.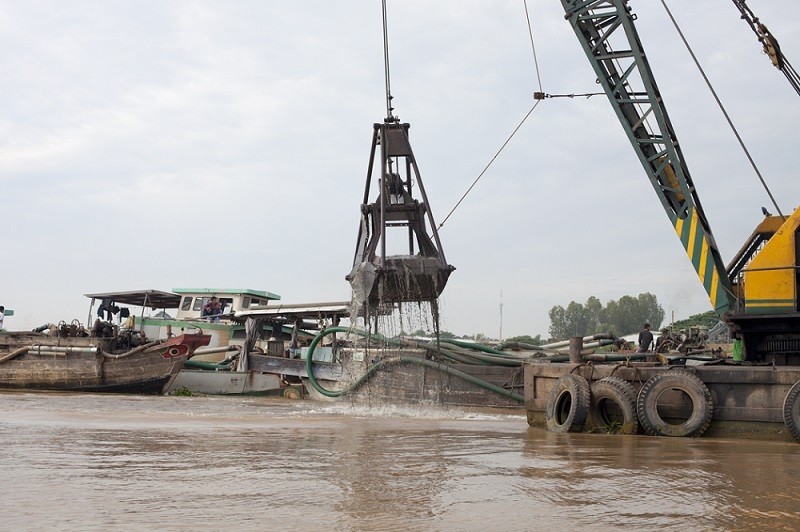 Sand mining in the Mekong River (Photo: Wytske van Keulen)
ME: Your book has portraits of people living in Vietnam's Mekong Delta. Of all the people you met, is there one or two that stand out as someone we can look to for a hopeful story?
JJ: I met Mr. Long in Chau Doc. He introduced me to his family who lives in a floating village at the Mekong River. One night he invited me to his house and showed me how he teaches English to young people. With the help of cassette tapes, they learn English. I thought: yes, this is what it is all about. Not interested in financial gain, he helps youngsters achieve their dreams.
This should be an important motivation in the realizing of plans for all those threatened deltas in the world: to give hope and provide a new future to people who are not able to escape poverty. In other words: don't make plans to make money on the Mekong, but create a better life with the Mekong.

The NGO Mekong Plus working in the area around Long My,  fighting poverty and tapping tacit knowledge from farmers (Photo: Joep Janssen)
ME: Has anyone been using your book for advocacy or to inform better policy?
JJ: Dutch Minister Schultz van Haegen of Infrastructure and the Environment handed over my book to MONRE Minister Nguyen Minh Quang in Hanoi in March 2016. The book shows the long-standing relationship between Vietnam and the Netherlands in the field of water management. The Dutch Minister advocates an integrated approach to solve water problems which is in line with the message of my book: Tackling water challenges require a linkage between the government's strategy and place–based cultural practices.
ME: How did a Dutch urban development consultant come to be interested in the future of the Mekong Delta?
JJ: After graduation from Architecture, I decided to work for an Urban Design firm. I made designs for several waterfront projects in the Netherlands.  These projects were realized in cities like Amsterdam which are built on a strong relationship between water management and urban design. I learned to integrate infrastructure of waterways into architectural concepts and I started to understand that water is very useful to create attractive living environments and vibrant cities.
After watching Al Gore's "An Inconvenient Truth" in 2006 I looked different to my own profession. Until then I introduced water in plans to make Dutch cities more beautiful. But the film opened my eyes. People all over the world are struggling with the consequences of climate change and urbanization. They have to deal with too much, too little or too dirty water on a daily base. With my field of experience, I could contribute to possible solutions. In 2009 I quit my job and went to a place defined by the UN climate change panel IPCC as the front line of climate change: the Mekong Delta.
ME: What is your next project?
JJ: I currently work with the Netherlands Environmental Assessment Agency on the research project 'Urbanizing Deltas of the World.' Besides this, I started on an interactive story on how local people deal with water issues in Bangladesh.
Joep Janssen (1977) is a Dutch urban delta expert, researcher and publicist. His book 'Living with the Mekong' has been published by Blauwdruk Publishers.  Follow Joep on twitter: @janssenjoep
Lead Photo: Floating home with stilt houses in the background (Photo: Wytske van Keulen)