Academics and NGOs in the Mekong region welcome a new book that sheds light on the evolution of legal frameworks in overpowering the historical social dynamics of river communities. Dynamics that long sustained their livelihoods and cultures are often altered by the imposition of large-scale development projects.
Exploring conflicts surrounding hydropower development in the Lower Mekong region, the authors of The Mekong: a Socio-Legal Approach to River Basin illustrate the growing barriers, laws and policies that propel controversies surrounding dam projects from the moment they are proposed. The book argues that these were never a part of impacted communities' cultures, and communities had little role in shaping them.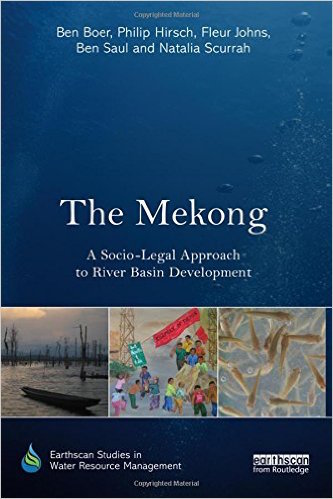 Dr Narumon Thubchumphol, program director of Chulalongkorn University's Master of Arts in International Development Studies, said during the book launch in Bangkok that the book expands our scope of understanding.  Rather than examining the hard approaches like national sovereignty, international and domestic laws that dominate the current debate, it includes soft aspects that take into account roles of different stakeholders and the people and communities who would be affected by hydropower projects.
"This is the first in-depth legal analysis related to the Mekong development that looks at the relationships between law, its implementation and the wider society affected," Naruemon said. "It makes us see the structural challenges from the outside imposed on those who have developed their ways of living with the rivers for generations,"
Witoon Permpongsachareon, director of Mekong Energy and Ecology Network, hopes that the socio-legal insights provided by the book will encourages activists in the region to better strategize their campaigns. He advocates thinking outside the legal and technical arenas of legal action against dam developers and critiquing project EIAs. Affected people will always be at a disadvantage in such efforts, and should explore creative ways to address the forces driving these projects.
"Sometimes a hydropower project was approved independently of power demands. A dam might be built because of interests from logging, road construction, political gains, trade of favors between influential groups and many other unstated reasons. The book finding brings to light such socio-political complexity," Permpongsachareon said. He also suggests that the authors provide outreach materials of the book's key findings if they want it to reach and benefit campaigners and other actors in the region, especially those who do not work in English.
Main image: Roengchai Kongmuang/SEI