One week ago, China doubled the quantity of water released from the Jinghong Dam along the Mekong River in Yunnan province. This came two days following Vietnamese officials meeting in Beijing to request the increase due to severe drought conditions and low flows in the Mekong Delta. But at a press conference in Bangkok yesterday, representatives of Thai civil society and communities denounced the action as destructive and insincere.
"No one doubts that people in the Vietnamese Delta may be suffering from salt water intrusion due to low Mekong flows this dry season," said Montree Chantawong from Towards Ecological Recovery and Regional Alliance (TERRA) at the event, "But these additional dam releases can't really help them, yet are hurting many of us."
Montree and others at the press conferences hosted by TERRA and the Network of Mekong People in Eight Provinces of Thailand, stressed that as much as 80% of the water released won't even reach the delta 3,600 kilometers away, as it will be consumed en route. Moreover, the quantity of water is insufficient to ward off sea water, and the duration of the additional releases are only to last 26 days.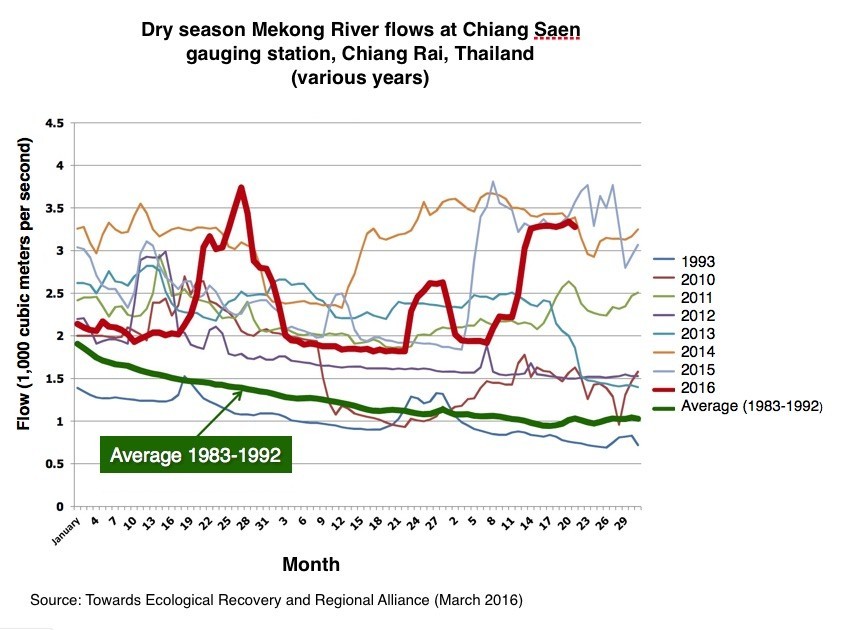 "But this unnatural pulse is devastating riverside communities in Thailand and Laos who grow seasonal gardens along the riverbanks," added Jirasak Inthayod, community leader from Chiang Khong, Chiang Rai province. "We rely on this annual income from the gardens that are being washed away."
Also at issue are Vietnam's own motivations, noted Montree. He presented a graph showing how Mekong River flows through Northern Thailand and Laos are well within historical norms this dry season. "So why should Vietnam be requesting more," he posed.
He stated that what's largely behind all this is public relations both from the Vietnam and the Chinese side. The increased salt water intrusion is a serious problem right now and the government wants to appear that it's doing something, Montree observed. Additionally the activist noted, Chinese Premier Li Keqiang is presently hosting the inaugural Mekong — Lancang Cooperation Summit with his counterparts from Myanmar, Thailand, Laos, Cambodia and Vietnam, and wanted to appear friendly following years of criticism for its blocking of Mekong flows.
"Chinese dams have certainly been causing problems for all of us downstream, but these releases are merely more of the same masquerading as solutions to meet the political aims of the parties involved," Montree said. "Instead of acting like our savior, China in fact owes downstream Mekong countries an apology for devastating our livelihoods for more than two decades."
The Nation covered the press conference and noted that the NGOs called for China to "apologise to people hit hard by their dams and compensate them for losses caused by changes in the river's ecology."
For its part, China says it is releasing water as a gesture of cooperation and assistance. "In order to accommodate the concerns of countries at the lower reach of the Mekong River, the Chinese government decides to overcome its own difficulties to offer emergency water flows," a Foreign Ministry spokesperson told Xinhua News Agency.
For regional news and resources on the costs and benefits of hydropower, visit The Mekong Eye's Dams section
For interactive maps, visit Open Development Mekong's StoryMap: the Lower Mekong River's major dam projects
Image: The Jinghong dam on the Mekong River in China's Yunnan province, in an undated photo (UNESCO)