By Phạm Lan Phương
Loei Province, Thailand, June 7, 2016
Klang Village is located next to the Loei river of Loei province, Thailand. In this area, there will be a project named Kong – Loei – Chi-Mun. This project aims to divert water for Thailand's use by dredging the Loei River 5m deeper and spreading Loei estuaries a further 250m wide. In addition, around 24 tunnels will be constructed at the bottom of the Loei River so there will more water from the Mekong River flowing into the Loei River, then to the Chi and Mun rivers. The aim is to help keep water in Thailand for the dry season.
The head of Klang Village, Ms Sorarat Kaeswsa worries that if the river bottom is dredged, then there will be no fish anymore, which will hurt their livelihoods. For many years their life has been based on this Loei River. The project director with the Thailand irrigation department, Ms Chawee Wongprasittiporn, said that the project will construct one to two tunnels first to see how water flows from the Mekong River to Loei River. Then they will decide about continuing construction or revising the plan.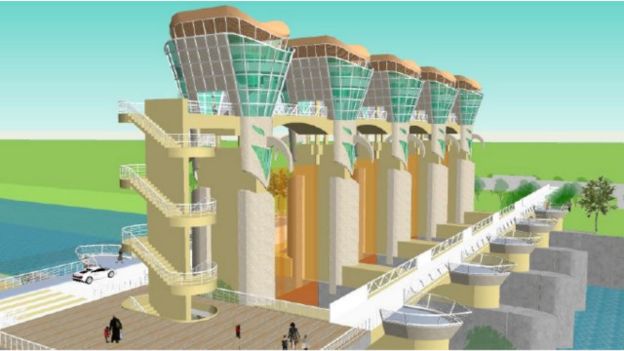 Model of water gates to control water from the Mekong River into Thailand (RID)
She also mentioned that they will not open the tunnel to receive water from the Mekong River during the dry season. The question raised for this project is: does Thailand think about the impacts to Cambodia and Vietnam in the downstream of the Mekong River? Ms Chawee, project director answered that the project will consult with the Mekong River Commission to consider the impacts to the Loei River, and impacts between Laos and Thailand, and then they will predict the impacts of this project on Cambodia and Vietnam. But at this time they did not yet get any information from Laos so they cannot undertake this assessment.
According to Mr Ky Quang Vinh, Head of Climate change office in Cantho City, Vietnam, if  during the dry season, Thailand takes water out of the Mekong River for storage, then the Mekong Delta region will face risks of salt water intrusion. China and Laos are constructing several dams. Thailand will take water for storage. So what is the future of Vietnam?
This story was produced in collaboration with The Mekong Eye and Mekong Matters Journalism Network, with full editorial control to the journalist. Translation by The Mekong Eye.  The full Vietnamese version is available at the link above.
Lead photo: Under the project, farmers and small rivers will be dredged to deepen 5m water tunnels, BBC.
Go to the original article