CSOs and academics share concerns over impacts of Thai transboundary investments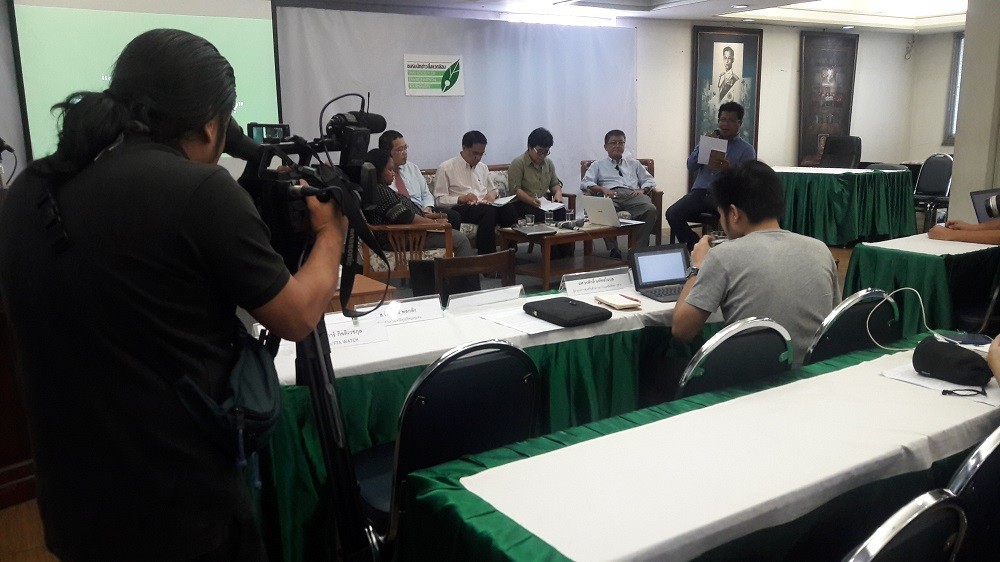 MPE partner Thai Society of Environmental Journalists (TSEJ) held its latest public seminar examining transboundary investment on 13 June 2016. A panel of civil society and academic experts discussed issues around these investment flows in and out of Thailand before an audience of sixteen journalists. The event was also broadcast on Facebook Live, with 360 views.
At the same time as local Thai laws are cutting back on public engagement to fast-track development projects inside Thailand, Thai investments overseas are increasing rapidly. Panelists discussed concerns related to recent limitations of local participation in transboundary development projects and free trade agreements. As the Thai government aims to expand the economy, more foreign investors have been invited to participate in state development projects including high-speed railway, deep seaports and coal-fired power plants. Many of these projects are likely to receive fast-track treatment.
Similarly, the audience heard, Thai investors have moved into neighboring countries where EIA laws and practices may be weaker. Thai companies and banks have been involved in a series of megaprojects such as dams, coal-fired power plants, and mines in Myanmar and Laos in particular. Panelists raised concerns for social and environmental impacts on local communities caused by these investments, as the Thai legal system is not effective in regulating them outside Thai territory.
This event was TSEJ's third public forum, with an aim to increase dialog among journalists and civil society on the costs and benefits of regional development projects. Journalists attending the event produced at least four subsequent stories on Thai transboundary investment. Through its work with MPE, TSEJ also arranges workshops for journalists to access regional development projects in an effort to increase quality, balanced coverage of environmental issues.
50 Regional Experts Exchange Transboundary EIA Challenges and Solutions in 3rd MPE Webinar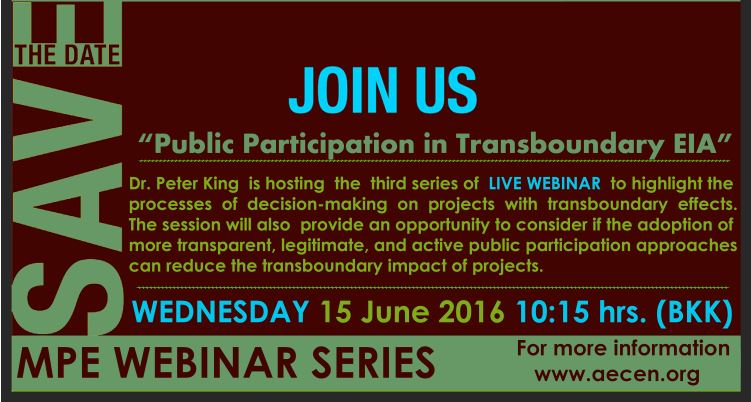 Transboundary Environmental Impact Assessment (TbEIA) is a key tool to improve development projects: it can help prevent cross-border environmental and social harm, promote cooperation among countries, and consequently help to avoid conflicts and project delays. Public participation is a center-piece of tbEIA, if it is to be seen as legitimate and effective. Mekong Partnership for Environment (MPE) in collaboration with the Asian Environmental Compliance and Enforcement Network (AECEN) organised the MPE Webinar Series on Public Participation in Transboundary EIA on 15 June 2016, hosted by Dr. Peter King. Over 50 Government officials (from EIA departments and others), CSOs and other development experts from across Asia took part.
This is the third in the MPE Webinar Series designed to provide MPE's Regional Technical Working Group on EIA and other participants with an opportunity to understand the processes of decision-making on projects with transboundary effects and consider if the adoption of more transparent, meaningful and active participation approaches can reduce the transboundary impact of development projects.
The session was well received, with over 20 questions from attendees, including addressing the importance of integrating TbEIA as part of the Regional Guidelines on Public Participation in EIA.
The topic of the Fourth MPE Webinar Series is to be discussed among the Regional Technical Working Group Members during the Fourth Meeting of the Regional Technical Working Group on EIA in Chiang Mai on 27 – 29 July 2016. These sessions help the RTWG advance the drafting of their guidelines on public participation, develop policy strategies, and connect with experts around the world.
This is an outreach announcement from the USAID-funded  Mekong Partnership for the Environment (MPE), a key supporter of The Mekong Eye.
Lead Photo: Construction site of the Trung Son Hydropower Project in Vietnam, Center for Environment and Community Research (CECR)