The second of our two-part series. Part one examines the SEZ model and the promises and challenges of SEZs in Laos, Cambodia and Thailand.
Taking Another Look: How will Myanmar's New Government Handle SEZ Concerns? 
While neighboring  Thailand's Special Economic Zones are now progressing without much public consultation or review, Myanmar may be moving in the opposite direction. Its three SEZs which were launched in the waning years of the junta, are now under the direction of the civilian government fully aware of concerns raised by communities and independent researchers, and inclined to take stock of what their predecessors set in motion. At issue are a whole range of social and environmental grievances, as well as the viability of the projects themselves and to what extent they reflect the new leadership's priorities.
As a representative of the Dawei Women's Union General Secretary Aye Aye Cho noted, "We could say nothing to the military regime and we could do nothing when they were in power. But this government is duly elected by the people so they should respect the people. They must review the pros and cons of this project. If the cons outweigh the pros, they should not continue this project."
The project she refers to –, the Dawei SEZ –represents Thai industrialists' most significant gambit to leverage Myanmar labor and natural resources to extend its reach into the regional and global supply chains. The 200km2 satellite town envisioned for this once remote fishing village will include a deep sea port, power plants, heavy and light manufacturing, housing and commercial services. A major highway, rail line, pipeline and electrical transmission lines are slated to be pushed through the jungle, reachingBangkok and the Gulf of Thailand 280km to the east—and potentially further east through Cambodia and the Vietnam coast, via the southern economic corridor envisioned by the Asian Development Bank.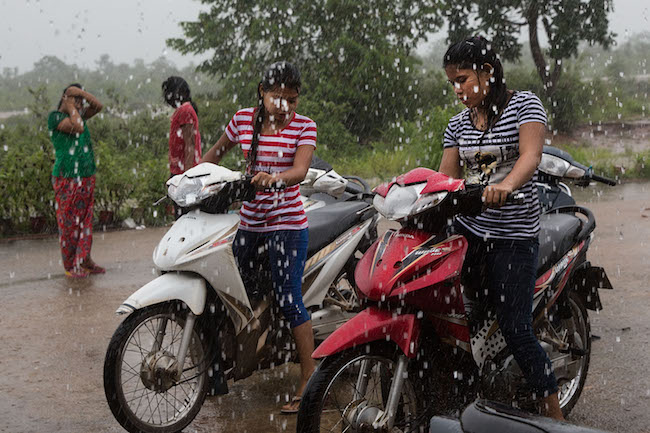 Burmese women start their bikes during a heavy rainstorm outside a market in the planned Dawei SEZ (Photo by Taylor Weidman/Getty Images)
The scaled-back first phase, of what has been an on-again, off-again endeavor for nearly eight years, now appears on solid financial footing. The Japanese government and private investors have joined with Thai and Myanmar counterparts to bring Dawei online by 2018.
But as outlined in a March report by several civil society groups, there's ongoing frustration and controversy among locals dating back to the project's inception in 2008. The recurrent themes are a lack of transparency, dialogue and suitable compensation due to, "developers' lack of respect for local communities and its reluctance to engage." Two-thirds of affected residents have receive no information from either the government or developers, says the report. And only seven percent report having official contact at all. The report, however, does not call for the Dawei SEZ's cancellation, only investigation into, and resolution of, the problems identified.
From an economic development standpoint, as SEZ's go, Josh Wood argues Dawei looks like a "white elephant" – an oversized, costly project consuming far more public resources than will be returned back to citizens. He points out that beyond known social and environmental concerns, Dawei is very remote, not well suited for industry, lacking a qualified labor pool, and distant from major trade routes. The extensive public investment in infrastructure contemplated in an attempt to counter some of these challenges would be immense, he observed.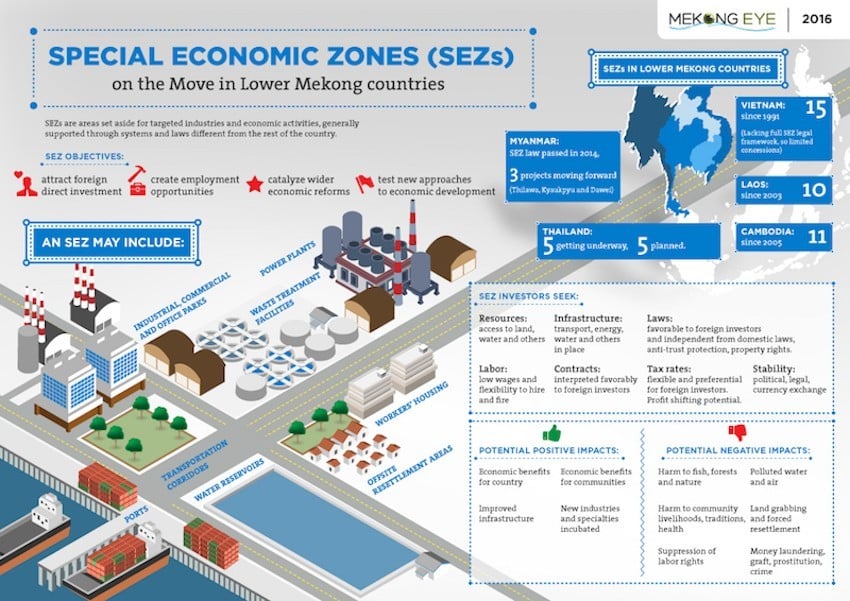 Infographic explaining SEZs, by The Mekong Eye
Wood, however, is much more bullish on the economic development potential of Myanmar's first SEZ, Thilawa, which became fully operational last September and is soon to be publicly traded. Thirteen of the 48 companies so far investing at Thilawa have broken ground, and a projected 100 companies are projected to be operating there by 2020. Unlike Dawei, Thilawa is not at all remote, just 33km from the heart of Myanmar's commercial center Yangon. It's also much smaller in scale, requiring just 396 hectares for its initial phase, but has 1,600 more to expand. Thilawa required less than $500 million of initial capital, provided by a consortium of Japanese and Myanmar investors. Up-front investment was minimized relative to Dawei, as Thilawa has a functioning deep-sea port, highway and independently operated power plant.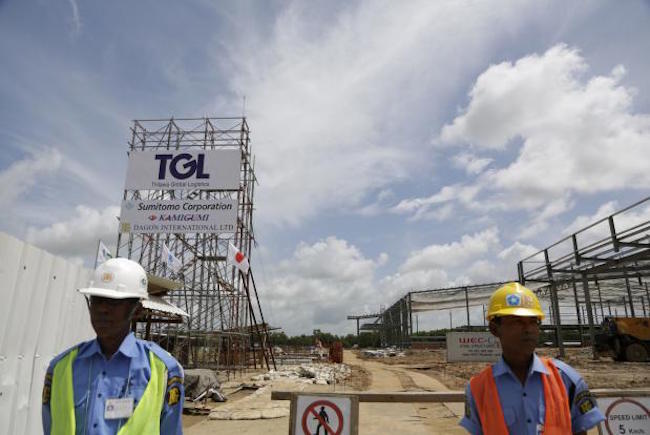 Thilawa SEZ has been under construction since 2013 in cooperation with Japan. Thilawa Special Economic Zone will be implemented on the 2,400 hectares of land. (Photo: U Aung/Xinhua)
Thilawa has not been without its challenges. Complaints remain outstanding from affected villagers, regarding unjust compensation for material and livelihood losses as well as structural problems and water supply and sanitation issues at resettlement villages. This spawned the first official claim to Japan's International Cooperation Agency (JICA), a ten percent shareholder in Thilawa. Though an independent examiner conducted an investigation, the findings, while not inconsistent with the claim and including a number of recommendations, concluded that JICA guidelines had not been violated nor was the resettlement policy inconsistent with international practices.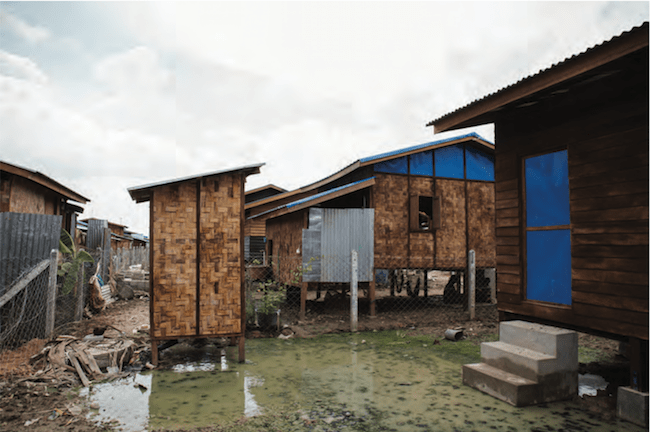 Dry-season flooding around the latrines and houses at the Thilawa SEZ relocation site. (Photo: Earthrights International)
Social tensions are much greater in and around the site of Myanmar's third SEZ, Kyaukphyu, in Rakhine state.
At 1708 hectares, which includes two deep-sea ports, a 978-hectare industrial zone, and a high-end housing project spanning 494 hectares, Kyuakphyu is smaller than Thilawa. China has been the driving force behind the SEZ, as the Sino-Myanmar oil and gas pipelines – which are both now operational – start their land route to Yunnan province near Kyuakphyu.
As The Diplomat reports, Kyaukpyu represents a valuable strategic and economic asset for China, serving overland links between Myanmar and southern China, which can reduce reliance on the troubled sea lanes through the Straits of Malacca. A Kyaukpyu Port would save about 5,000 kilometers in sailing distance for shipments traveling to China from South Asia. China's involvement in a number of regional ports (Chittagong in Bangladesh, Gwadar in Pakistan, and Colombo in Sri Lanka) are sometimes referred to as China's "string of pearls" — a concept, says the Diplomat, "…that assumes they will be of military as well as civilian use."
More globally, as Parag Khanna noted in Marketwatch in April, China has SEZs operating in 15 countries serving as, "commercial garrisons of a supply chain world, enabling China to secure resources without the messy politics of colonial subjugation."
Lingering protest over the social and environmental impact of China's pipelines, along with a growing anti-Chinese sentiment in the region, are among the risks investors now face moving the Kyuakphyu SEZ forward. Another risk is the ongoing religious tension between Buddhists and Muslims, which could thwart all manner of economic development efforts. Global Risk Insights reported that, "During riots in 2012, for instance, inter-ethnic conflict led to the destruction of the Muslim quarter of Kyaukphyu township. In the event of further riots, mob violence could cause collateral damage to consortium property or personnel. Ethno-nationalist extremists might even intentionally target Chinese managers or workers given mounting anti-Chinese sentiment throughout the region."
But efforts are afoot to win over locals. U Myint Thein, who chairs the Kyaukphyu SEZ management committee told the Myanmar Times last December that local residents have been invited to join a monitoring group to address social and environmental concerns.
Shanghai along the Mekong: Vietnam has Big Plans for SEZs, but's Missing a Key Ingredient
While the rest of the GMS relies on manufacturing or tourism to anchor their SEZs, Ho Chi Mihn City's secretary of the Municipal Party Committee envisions an SEZ that pushes the envelope beyond what anyone else in the GMS has so far contemplated. In the true spirt of the experimental and leveraging facets of the SEZ approach, Dinh La Thang's objective for a HCM City SEZ is to transform the metropolis into the commercial and financial center for Mekong Region.
"The central-level government should give us more authority and a special mechanism so that Ho Chi Minh City can become a special economic zone, like Shanghai and several other cities," Thang told Tuoi Tre News in March.
Indeed, Shanghai's transformation over the past decade is a direct result of establishing an SEZ in the Pudong area of the city in 1990. Pudong has now become the most sought-after business address in China, becoming China's Wall Street, where many Fortune 500 companies and international banks maintain regional headquarters.
Shanghai's economic prosperity inspires Vietnamese policy makers that Ho Chi Minh City can become a special economic zone like Shanghai (Photo: wikipedia)
The HCM SEZ is to span 890 km2, south of the city, with an existing population of nearly 700,000 people. The location is seen as strategic for the promotion of the city's role as a logistics center, but also, business, finance, export and import, services, tourism, infrastructure, sea transport, and marine development.
But his vision faces one major hurdle. Vietnam lacks the legal foundation and administrative mechanism to implement such an SEZ. The SEZ label may have been attached to a number of developments over the past 20 years, but current laws hinder the ability for developers to offer the range of concessions typically afforded an SEZ investor.
At a workshop on SEZs held in March 2014, the Head of the Communist Party Central Committee's Economics Commission Vuong Dinh Hue, admitted that Vietnam's Economic Zones cannot compete with SEZs elsewhere in the world.
In May of 2015, it was expected that a Law on Special Economic Zones would be drafted and ratified by Vietnam's National Assembly. A year on, however, there's been no further news. In addition to the HCM City SEZ, there are three other proposed SEZs also waiting for new guidelines and policies on SEZs to be approved.
The need for greater liberalization in what Vietnam calls SEZs was encouraged by the Korea Institute for International Economic Policy back in 2011. As yet, it is unclear if the government will seek out new directions.
In addition, a report by the Vietnam Office of the United Nations Industrial Development Organization (UNIDO), stressed that as a middle income country, Vietnam too must move past manufacturing and, "focus on innovation and sustainability in order to achieve its target of reaching the level of an advanced economy by 2050."
Further, the report stated that Vietnam should recognize and reverse its legacy of ecological destruction with any new push with economic zones. "Around 1/3 of all industrial zones in Viet Nam, don't have a centralized waste water treatment or sewage system. Additionally, industrial zones consume lots of energy due to inefficient production methods. Most companies in industrial zones have not adopted strict environmental standards and release toxic emissions such as dust, SO2, NOx, GHG, UP-POP, contributing to the air quality degradation."
A view of HCMC in this file photo. HCMC chairman Le Hoang Quan has told relevant agencies to quickly improve a plan to establish a special economic zone (SEZ) to spur the city's economic growth (Photo: Pixabay)
The UNIDO report further recommends that these economic zones should be cleaned-up and transitioned to what are called eco-industrial zones that foster collaboration with communities and businesses to stress environmental and reuse issues and technologies for the collective benefit of all. The author singled out HCM City as a place where new approaches to economic zones should be pursued.
This theme of innovation was also stressed recently by two authors from the ADB writing recently about the future for SEZs. They point out the need for middle income economies to take account of the higher profits to be earned from services and the need to, "diversify into more complex and less ubiquitous products and move up the value chain."
Coordinated ASEAN Innovation Zones?
The UNIDO report also stresses a need for much greater regional cooperation when it comes to economic zones like SEZs. They urge the establishment of an ASEAN Economic Zone Authority.
"Most countries in the ASEAN lack the promotional structures and critical mass to promote themselves overseas. Foreign investors as a result, will invest in economic zones in India or China and bypass the ASEAN because of its lack of coordination in promoting economic zones," the report concluded.
At last December's ASEAN meeting in Kuala Lumpur, Laos, as incoming chair, formally proposed such cooperation on SEZs be pursued. The importance of regional cooperation for smaller nations, as well as SEZs will be increasingly important in the future, throughout the world. Kannah argues in his new book, Connectography: Mapping the Future of Global Civilization, that corporations and their capital are likely to continue to drive demand for SEZs even more in the future, as their resources increasingly dwarf those of all but a few national governments.
As cross-border trade and economic cooperation grow within the Mekong region, ASEAN and beyond, the demand to industrialize large swathes of populated and environmentally sensitive areas will continue. Countries may visualize economic gains – an influx of investment, jobs, incubation of new industries, and leveraging economies of scale. But the risks are also real and serious. Without critical thinking of how SEZs are planned and managed, the region may see diminishing economic returns, environmental disasters, and conflict with communities and even neighboring countries.
For part one of this two-part series, click here. Part one examines the SEZ model and the promises and challenges of SEZs in Laos, Cambodia and Thailand.
Lead picture: A construction worker dismounts a piece of equipment after working on the construction of a small, interim port inside the planned Dawei SEZ in Myanmar. The controversial, multi-billion dollar Dawei special economic zone and deep sea port has been stuck in a quagmire for years, however, three-way meetings between Thailand, Myanmar, and Japan have pushed the project closer with an agreement to develop the first stage of construction. The plan is expected to displace thousands of local residents from at least five villages and local farmers and fishermen are worried that the massive project will negatively effect their livelihoods. (The image was produced by Taylor Weidman/Getty Images in collaboration with The Mekong Eye and Mekong Matters Journalism Network, with full editorial control to the journalist and their outlet.)
You may republish this article and infographic, but grateful if you notify us at [email protected]