Cities in the world only occupy 2% of the world's landmass but they consume over two-thirds of the world's energy and account for more than 70% of global CO2 emissions. In addition to that, 54% of the world's population lives in these small areas. This gets more complicated when we add that over 90% of all urban areas are coastal and it is even trickier when it comes to climate change consequences. At the end, a fact is that 70% of cities are already dealing with the effects of climate change, and nearly all of urban areas are at risk of flooding from rising sea levels and powerful storms.
All this information sounds alarming, but, as said by Aniruddha Dasgupta, Global Director of WRI Ross Center for Sustainable, there is a brighter side to all this mess: "We often talk about how much cities contribute to climate change, accounting for 70 percent of energy–related greenhouse gas emissions, for example. But this overshadows the fact that cities are also incubators for the solutions to climate change. Overwhelmingly, the most ambitious and innovative actions to reduce emissions and improve quality of life are happening at the city level."[1]
Cities are now taking the lead in addressing climate change. New and innovative policies are being implemented at a local level because of the government´s closer relationships with their businesses, residents and institutions, and partnerships are being promoted globally.  This shows how cities are well-positioned in to play a leadership role in reducing Greenhouse Gas emissions.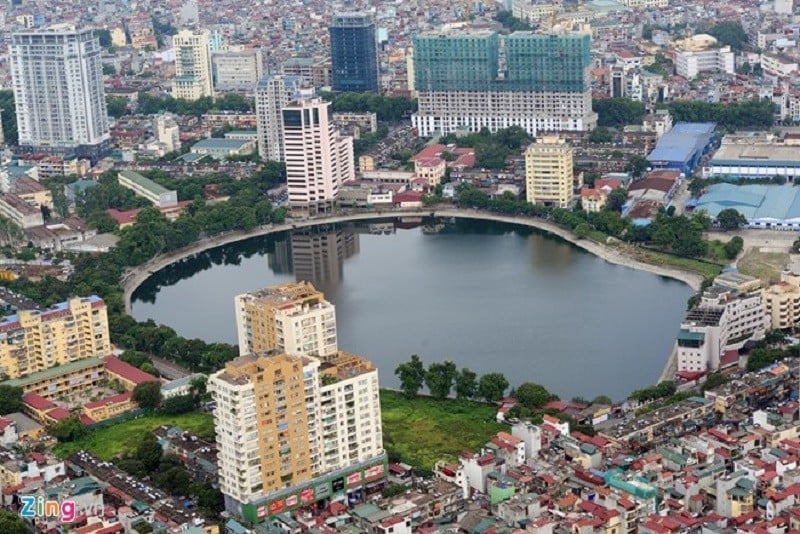 Image of Vietnam's capital city: Hanoi (Photo: zing.vn)
One example is the C40 Cities that are working to reduce greenhouse gas footprint significantly. This initiative also provides and shares proven models that other cities and national governments can adopt.
During the COP 22, one whole day was dedicated to Cities and Human Settlements where experts and local government representatives discussed the potential of local action for the implementation of climate commitments.
One of the main points debated focused on Financing Urban Resilience and the options to secure funds for resilience projects with a longer-term investment horizon. This issue is of high importance for the Mekong Region cities. As identified by the World Bank, 80% of the cost of adapting to climate change will need to be invested in urban areas. The Mekong River is the longest river in Southeast Asia and the twenty-first largest river basin worldwide. Because of its abundant resources, this river is now a "hot spot" for the economic development of the countries who share this important resource. This have resulted in the genesis of new emerging cities though out the Mekong. This becomes a problem if we consider that these new urban centres are sprouting in places that are risky and vulnerable to flooding and extreme weather events, particularly along coasts, rivers, and deltas.
Additionally, the Mekong Region is very vulnerable to the negative impacts of climate change as its large population is directly dependent on natural resources (of the 12 million households living in the region, 80% depend directly on the river for their food and livelihoods). Sadly, not all the countries of the Mekong Region have ratified the Paris Agreement: China (3 Sep 2016), Laos (7 Sep 2016), Thailand (21 Sep 2016) and Vietnam (3 Nov 2016) already ratified the agreement, Cambodia and Myanmar, are still in the process. Myanmar was one of the three countries most affected by extreme weather events between 1996 and 2015.
A woman from the Mekong Delta's Ben Tre Province cries by her paddy field which has cracked dry due to hot spells and salinization. (Photo: Tuoi Tre News)
This means that developing and vulnerable countries as the ones in the Mekong Region will need a big investment in urban resilience. As a result of the Marrakech Climate Summit, for 2020, local and regional leaders will aim to mobilize stakeholders in order to increase the flows of global climate finance and other investments in this issue. Also, the Global Action Framework for Climate Finance will focus on financing territorial planning and action which would have significant impact on mitigation, adaptation and sustainable development.
It is responsibility of the Mekong national governments to provide enabling frameworks for local climate action and funding consistent with the global challenges and specific context of the region. Also, by promoting vertical integration at a regional, local and national level, climate action could be scaled up.
It is important that cities in the Mekong follow this trend and start leading actions towards addressing climate change.
For more information:
The Guardian (2015). Climate change and cities: a prime source of problems, yet key to a solution. https://www.theguardian.com/cities/2015/nov/17/cities-climate-change-problems-solution
ICLEI (2016). On the ground in Marrakech. http://www.iclei.org/index.php?id=3671
ICLEI (2016). Wrapping up COP22. http://us5.campaign-archive1.com/?u=a3a47048051ae2f2024de7834&id=1057b2e0ea&e=faabf2c23a
ICLEI (2016). Cities and regions showcase opportunities to kick start implementation of climate commitments. http://www.iclei.org/details/article/cities-and-regions-showcase-implementation-opportunities-to-kick-start-implementation-of-climate-com.html
ICLEI (2016). Resilience workstream of global climate action on cities and human settlements. http://www.iclei.org/fileadmin/user_upload/ICLEI_WS/Documents/advocacy/COP22/Final_report_to_COP_Champions.pdf
[1] World Resources Institute (2015). Why Cities are the Solution to Climate Change: Q&A with Ani Dasgupta. Retrieved from http://www.wri.org/blog/2015/01/why-cities-are-solution-climate-change-qa-ani-dasgupta
This piece was submitted to The Mekong Eye and reflects the editorial decisions of the author only. The author holds all copyright control. Arianna Flores studies her Master Degree on Environment and Resource Studies, Mahidol University in Thailand. She has collaborated on different environmental projects and researches for UNESCO, OECD, Mahidol University, Mexican Times and Techo Mexico.
Lead photo: Blue sky City views and lake Park in Bangkok Thailand (Photo:  jda watt, on Flickr)