It is among the most visited, most photographed and most widely known natural wonder: the Grand Canyon of the Colorado River in the United States. But nearly 180 degrees around the globe sits the Grand Canyon of the East: deeper, longer and virtually unknown. These gorges were carved by China's Nu River (Salween River within Myanmar and Thailand) and its kinship with the storied Colorado extends well beyond their geologic superlatives. Like the native American Indian tribes of the Grand Canyon, the Nu is shared by a vast array of ethnic minorities unique within Asia. Both canyons are World Heritage Sites. Both support unique assemblages of endemic species found nowhere else on earth.
But the question now is, will efforts to sustainably steward this, Asia's last free flowing, international river, parallel those launched a half-century ago and half a world away? Those efforts not only protected the Grand Canyon, but ushered in a new era of environmental protection. However, even with active community engagement, the river was still extensively dammed and concerns still remain over damages to environmentally important sites.
Will similar calls for conservation and a dam-free Salween's upper reaches prevail, and percolate downstream, where ethnic communities find themselves in pitched battles and forced displacement as hydroelectric dam promoters fight to gain a foothold? If not, and current hydropower development plans move forward, the future may be a perilous one for the Salween River and the eco-systems and communities it supports.
From Concrete Cascade to Conservation?
China has long been looking at the Nu/Salween and other rivers to feed its energy appetite. In 2011 China launched an ambitions plan to nearly double its hydroelectric generating capacity from 220 GW to 420 GW by 2020. (For comparison Thailand's entire generating capacity from all energy sources is currently 35 GW.) With a theoretical hydroelectric potential of 36 GW, China's reach of the Nu River had for sometime been identified as a key source for its rapidly growing hydropower portfolio. In 2003, 13 dams were proposed from Tibet to the Myanmar border, the largest cascade of hydroelectric dams in the world.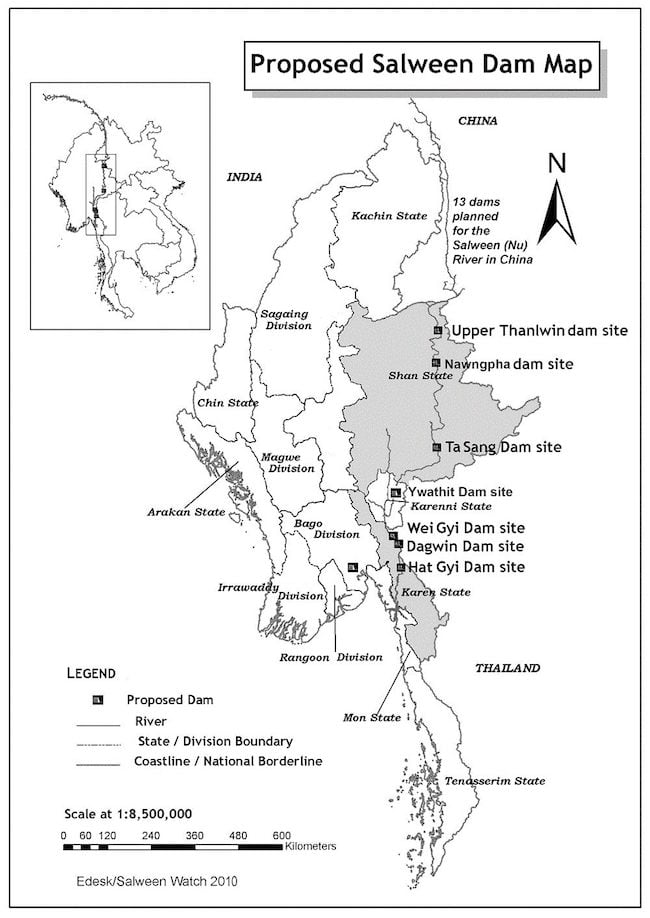 Ironically, just prior to the scheme's announcement, UNESCO's World Heritage Commission approved designation of the Three Parallel Rivers Yunnan Protected Area as a World Heritage Site. Some of the 1.7 million hectares protected includes portions of the Nu River drainage, but not the river itself, and would be directly and indirectly affected by the proposed dams.
The topography of the Nu River creates diverse climatic zones that support a rich collection of species. Some 6,000 plants and animals have been cataloged, representing nearly one third of the known species in China. Of these, 1,397 are listed as protected species. In addition, there are 48 known fish species in the Nu River, 70 percent of which are endemic to the river, and four of which are listed as endangered.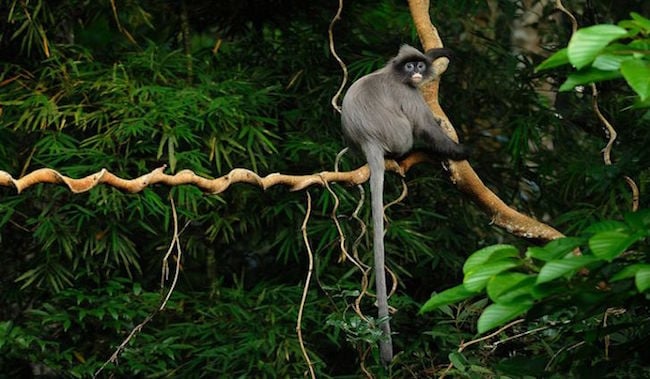 Langur in Salween Wildlife Sanctuary (Credit: WWF)
The Nu River runs through one of the most ethnically diverse regions of China. Twenty-two of China's 55 officially recognized ethnicities are represented and ethnic minorities account for more than 90 per cent of the total population. It is estimated that 50,000 people would require resettlement to make way for the 13-dam scheme.
International recognition of this natural and cultural heritage fueled concerns of China's Environmental Protection Bureau. Coincidentally, the agency had just received a boost through the passage of new environmental regulations requiring environmental impact assessments, and public participation in their preparation. Debate was still ongoing when in February 2004 Chinese Premier Wen Jiabao announced the suspension of all projects on the Nu River pending further environmental study. In August 2005, an open letter to the government signed by 92 Chinese organizations and 432 individuals called on the authorities to release environmental-impact documents and hold public hearings on the Nu River plans.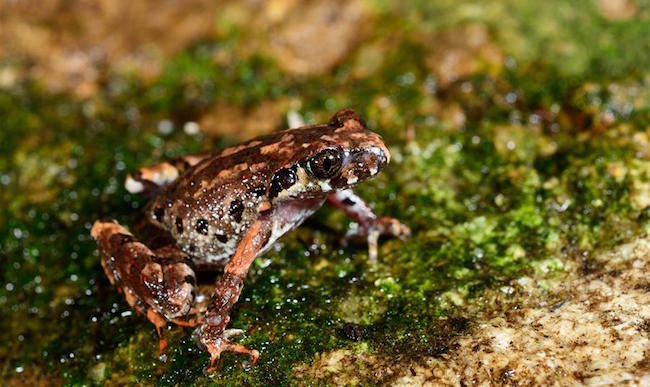 A new amphibian species of the genus Leptolalax, commonly known as the Asian litte frog, from southwest China's Yunnan Province has been confirmed. (Credit: http://english.cas.cn/newsroom/news/201511/t20151109_155383.shtml)
Controversy heated up further in 2006 when UNESCO dispatched a mission in part do to concerns about the impact of the dams on the World Heritage site. In their findings the mission team stated, "the Government of China should be encouraged to release the plans for the Nujiang River Valley, including the EIA, as soon as possible for review and comment."
In February 2011, two of China's leading geologists wrote to the Wen Jiabao opposing the damming of the Nu River. They stressed that the river lies on a structural fault at risk of earthquakes. Since 1950 there have been five temblors centered on or near the river above magnitude 7.0.
Scaling Back
The scheme remained dormant until Wen Jiabao second term as premier was nearly complete. In January 2013 it was learned that a scaled-back scheme to build five dams with a generating capacity of 11.4 GW had been incorporated into the revised 2011-2015 energy sector blueprint. A local official estimates that 60,000 people could require resettlement.
Though none of remaining projects have received formal approval, the first dam in the scheme, Songta in Tibet, remains in the pre-feasibility stage. Preparatory work has also been observed at the site of the largest dam, Maji. Many argue, as in the groundbreaking report by China's Friends of Nature, that as one of the world's most ecologically diverse and fragile places, the Nu River should remain dam free and efforts should, "Help the communities in the Nu River Valley find a more environmental and culturally friendly paths of development." Increasingly, this voice is being heard as earlier this year officials have echoed the call to protect the river as a national park, prioritizing tourism over hydropower as an economic development priority.
Even alternatives, such as small dams, are no longer in favor. Looking at the cumulative effects of small hydropower in the Nu River valley reveals that because they lack sufficient enforcement or regulations, these installations can meet or exceed effects of large dams in terms of stream alterations, water quality degradation or affects on conservation areas. The situation can be exacerbated they say by imprecise standards for 'sustainable hydropower' by national and international policies that fund and fast-track small hydropower development.
Myanmar's Momentum
Myanmar is endowed with powerful rivers and a government eager to develop their hydroelectric potential. Remnants of a decades-old civil war, however, continue to fester within many of the valleys sited for dams and reservoirs. Inside these canyons, ethnic minorities skirmish with government forces over natural resources, livelihoods and self-determination.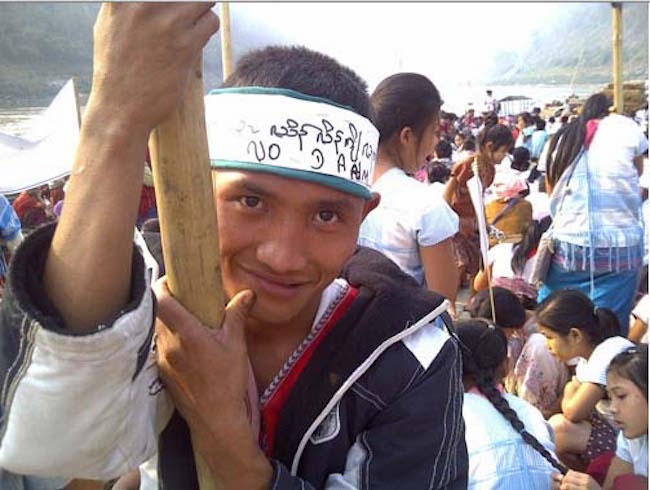 Karen is one of the ethnic groups protesting against Salween dams (Credit: Burma Rivers Network)
Nowhere is this more apparent than along the Salween. After tumbling 1,100 km down from the Tibetan Plateau and China's Yunnan province, the Salween enters Myanmar traveling another 1,300 km before reaching the Andaman Sea. Of Myanmar's estimated 39.7 GW of hydroelectric potential, much of it rests within the Salween basin. Presently five dams totaling 16.3 GW are planned. While ceasefire efforts are a priority for the government's transition to democratic rule, communities along the Salween question what's in it for them.
In January, 2015 a letter endorsed by 131 civil society groups from Myanmar and more than 61,000 individuals was delivered to the Myanmar government seeking a suspension of work on all Salween dams. The letter stressed that control of natural resources is one of the root causes of the civil war. Therefore, in addition to requesting that comprehensive environmental impact assessment be undertaken on the dam scheme, so too should a conflict impact assessment be completed to promote, "sustainable and genuine peace."
Settlement in the Salween dates back nearly 15,000 years. Archeological evidence found in various caves in Thailand's riparian Mae Hong Son province indicate that the area was among the earliest agricultural societies in the world. Many ethnic groups remain tied to the river including Shan, Karen, Pa-o, Karenni and Mon. Ecologically, there remains significant pockets of high biodiversity. Though quite under-researched, one study of just a 92 square km area near the proposed Weigyi dam, revealed forty-two endangered species, with eight endemic fish species of particular interest. Also, many of the plants and animals unknown to Western science are used by the Karen for food and medicine, providing opportunities for further research.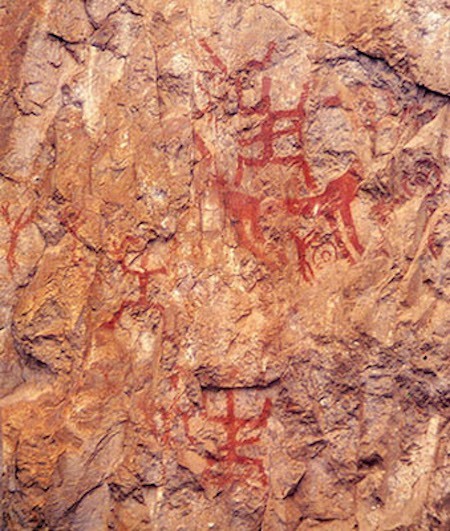 Archeaological painting at Gidsamsib Cave in Thailand (Credit: http://www.era.su.ac.th/Rockpainting/north/phakidsamsib/pic_tha_jeen.html)
Power for Export
However, it's the basin's hydrology, not its society nor ecology that's drawn attention, particularly from Myanmar's neighbors. Myanmar has potential to be the energy bridge between South and Southeast Asia's energy systems due to its location between these geographical and political regions. Partnerships including BIMSTEC, ASEAN and GMS are all helping to fuel cooperation. Currently four of Myanmar's five neighboring states are engaged with Myanmar interests to import hydroelectric power. The sale of these resources to foreign interests raises a major equity issue among the ethnic minorities of the Salween.
Not only have ethnic minorities not been consulted regarding any potential benefits from hydroelectric development, but neither is it clear that derived benefit will flow to the nation as a whole. Presently, with a population nearly the size of Thailand's, Myanmar's installed energy supplies for domestic consumption are just 7 percent of Thailand's. And whereas nearly all Thais have access to electricity, in Myanmar it's barely 30 percent. Despite this domestic energy gap, electricity from dams on the Salween and elsewhere is principally planned for export.
This is why the open letter of this past January was also dispatched to Chinese and Thai ministries, whose utilities will be the primary recipients of the current suite of dams' proposed on the Salween.
Thailand's partnership with Myanmar on hydropower development began in 1997 with a Memorandum of Understanding (MoU) for both hydropower and gas pipelines. Another MoU specific to dams on the Salween was agreed upon in 2005. Though various dams have been contemplated for the Salween, two have been the focus for Thailand – Tasang and Hat Gyi.
On the Front Lines
At a proposed height of 238 meters, the 7,000 MW, $12 billion Tasang dam would be the largest in Southeast Asia. It would also be the closest dam to China, with its 870 km2 reservoir extending almost to the Chinese border. Thailand expects to hold 30 per cent interest in the Tasang dam through a joint venture with China's Sinohydro Corporation and the China Three Gorges Corporation.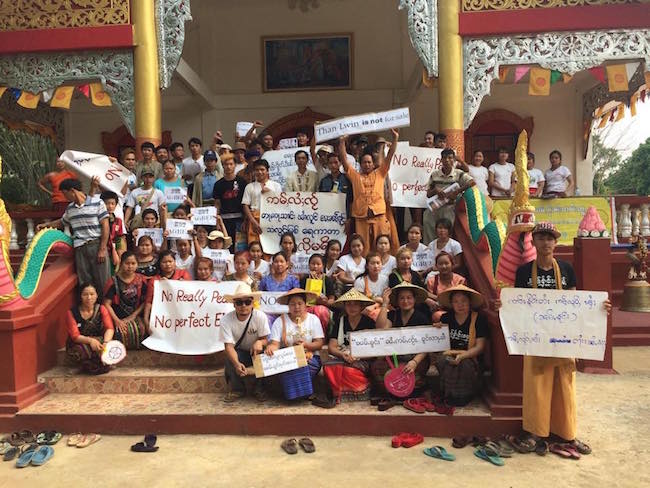 Protest against Salween dams in Shan State (Credit: Burma Rivers Network)
As reported by the Shan Sapawa Environmental Organization, from 1996-1998, 300,000 people were forcibly relocated in the area by the Myanmar army as part of an anti-insurgency campaign. 60,000 of those lived near the Tasang dam site and its projected flood zone. Only about a third remain, either living in relocation sites or attempting to survive around their old villages. The main town of Keng Kham has seen its population of 15,000 dwindled to approximately 3,000. Meanwhile, some 1,800 government troops occupy the area, logging continues unabated, residents are extorted for money and food, and the Shan Women's Action Network has documented sexual violence by army troops against hundreds of women living near the dam site.
Though a groundbreaking ceremony took place in 2007, only limited preparation has occurred at the dam site since. Presently, the Australian company Snowy Mountains Engineering has been contracted to carry out a social and environmental impact study on what may be a modified Tasang proposal.
In March 2015, potentially affected communities reiterated that pushing ahead would jeopardize the national ceasefire. A month later, a planned public meeting by the Snowy Mountain Engineering was cancelled due to public protests.
Now packaged as the Mong Ton Dam, to be sited 10km from the original location, the proposed inundation remains immense, extending some 870 km upstream. In August, 26 Shan-based organizations, highlighted the Mong Ton Dam, among six others in letter sent to Myanmar's State Counselor and Foreign Minister Aung San Suu Kyi, calling for her halt her government's hydroelectric ambitions along Salween River.
"If the dams are built, more government troop reinforcements will be brought in to secure those areas," said Sai Khur Hseng, a representative from the Shan Sapawa Environmental Organization. "Therefore, the dams will cause increased fighting."
Such warnings have already become reality. About 130 km from the Salween's mouth, the final location along the river suitable for hydropower, major human rights violations are persisting in order to make way for the 33 meter high Hat Gyi dam. Upwards of 10,000 people have been forced to leave their homes and were struggling to survive in wartime conditions as the dam site has become battleground, reported the Nation Newspaper in early October.
Hat Gyi is being jointly developed by Thailand's EGAT International Co and China's Sinohydro Corporation. The reservoir would back-up nearly 50km to the Thai border, affect Karen and Shan ethnic minorities and inundate a portion of the Kahilu Wildlife Sanctuary.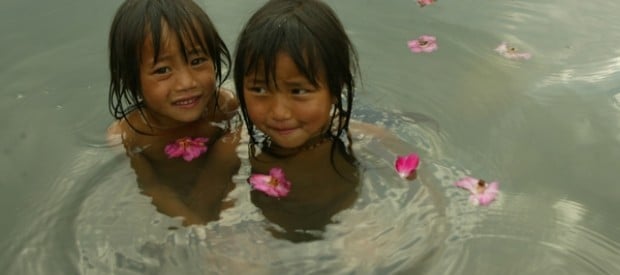 Girls enjoying themselves in the pristine Salween (Credit: International Rivers)
Though efforts to launch the project have been underway since the late 1990s, skirmishes in and around the project site, combined with calls for more transparent and open decision making impeded construction from the start. Studies so far completed have been found deficient and delays are causing concerns by investors, prompting increased military build-up near the project site again fueling unrest.
In its 2013 report, Losing Ground, the Karen Human Rights Group noted "… six out of seven research areas described development-induced displacement or resettlement as a direct result of natural resource extraction and development projects…. explicit orders issued by military and civilian government officials for communities to relocate from targeted project areas, such as those to be developed for agri-business, infrastructure development or dams, and said that such orders were frequently accompanied by threats of violence for non-compliance."
While the path to reducing tensions is unclear, pursuit of a comprehensive environmental impact assessment, as requested by affected communities, has precedent. A 2011 decision to suspend work on the Chinese-backed, Myitsone Dam on the Irrawaddy River was in large part due to a more complete assessment of social and environmental impacts. The following year Myanmar adopted more stringent environmental assessment regulations, which could be put to use to help address the challenges along the Salween.
Ideally, environmental and human rights activists in Myanmar would like to see the same sentiments gradually taking hold in the upper Salween in China to be realized along the lower reaches as well. They are promoting "Peace Parks" as wildlife sanctuaries within the river corridor where, "…ethnic groups actively protect the river and indigenous people's rights to use and manage the Salween River democratically." They point out that since upwards of 90 percent of the electricity from the proposed dams will flow to China and Thailand, that local people can benefit much more if they can steer the process for how these irreplaceable resources are utilized for domestic development.
Communities and environmental experts hope Myanmar can learned from the Colorado River experience, and from countless river basins around the world. Many hope decisions affecting the Salween River will ensure people and the environment are given precedence over breakneck development. Only time will tell if the tide will turn on the Salween, so it may remain a rich and diverse home for nature and communities.
This article may be republished with credit to The Mekong Eye. We are grateful if you can notify us. Updated from the originally published October 2016 version.
Main Photo: The majestic Nujiang (Salween) Basin is dubbed the Grand Canyon of the East (Credit: http://travelchinawith.me/china-tours/nujiang-grand-canyon/)