For the inaugural Women of Change Award, the U.S. Embassy in Burma has selected two women who are fighting to ensure communities have a voice in development. Naw Ei Ei Min and Yi Yi Cho are among six women selected to receive this award recognizing outstanding women in Myanmar who have made significant impacts and lasting contributions to their communities.
The two women are representatives for Myanmar on the Regional Technical Working Group on EIA, a group of regional civil society and government experts working to improve public participation in infrastructure development. To highlight the significant achievements of these women and to promote their work in Myanmar, the embassy hosted an award ceremony at the Ambassador's residence in Yangon on Thursday, March 16th 2017.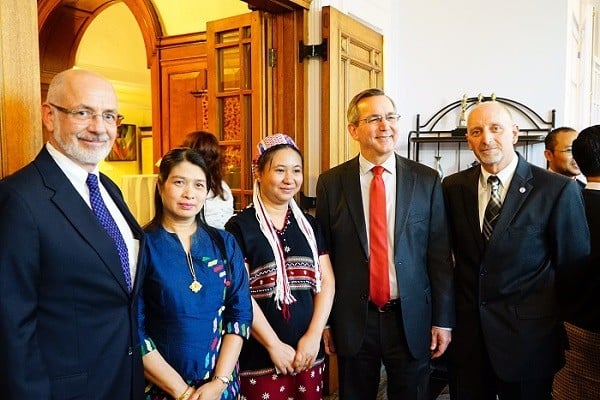 The Women of Change Awards honors Myanmar women leaders who are committed to the development and to overall improvement of their communities. As members of the RTWG on EIA, which was convened through the USAID-supported Mekong Partnership for the Environment (MPE) , Naw Ei Ei Min and Yi Yi Cho were instrumental in making this a multi-stakeholder group a regional model for advancing regional collaboration on EIA policy and promoting meaningful public participation in the EIA process in the Mekong region.
"The practice of pseudo-consultation for EIAs in Myanmar needs to change. These two women – one a regulator, one a community organizer – are at the forefront of changing it. Through their work on the Regional Guidelines which is now being embedded into national Myanmar Guidelines on Public Participation. If companies follow them when undertaking EIAs this should ensure that negative impacts on rights holders, whether women, children, indigenous peoples or others, are identified and addressed. That will lead to better investment and fewer problems for investors and the local people," said Vicky Bowman, the director of the Myanmar Centre for Responsible Business.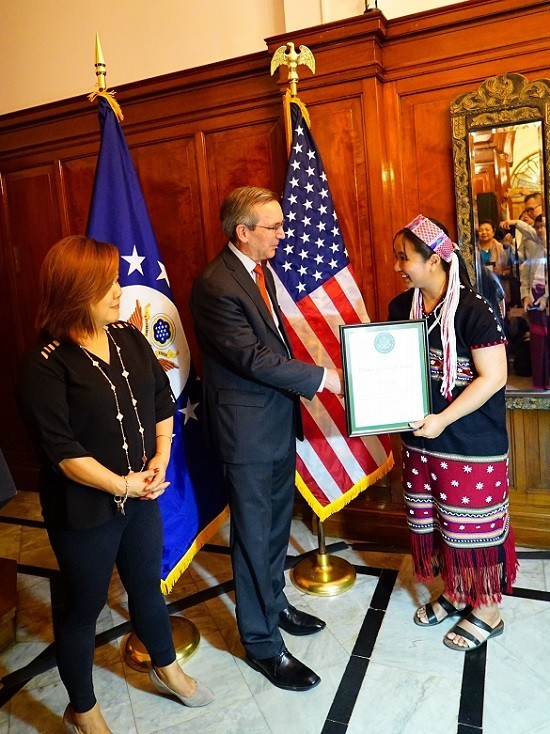 Naw Ei Ei Min is the founder and director of Promotion of Indigenous and Nature Together (POINT). She has been working for the civil society movement especially rights-based approach to development in the country since 2007. POINT was founded in response to the lack of organizations led by "Indigenous Peoples" (IP) working for Indigenous Peoples' issues and advocacy on IP rights in Myanmar. Ei Ei Min's role at POINT facilitates the formation of a common platform for indigenous peoples/Ethnic Nationalities in Myanmar in terms of environmental problems and natural resource management, and acts as a mediator between government, private sector and indigenous communities for bringing about constructive engagement on sustainable development of the country.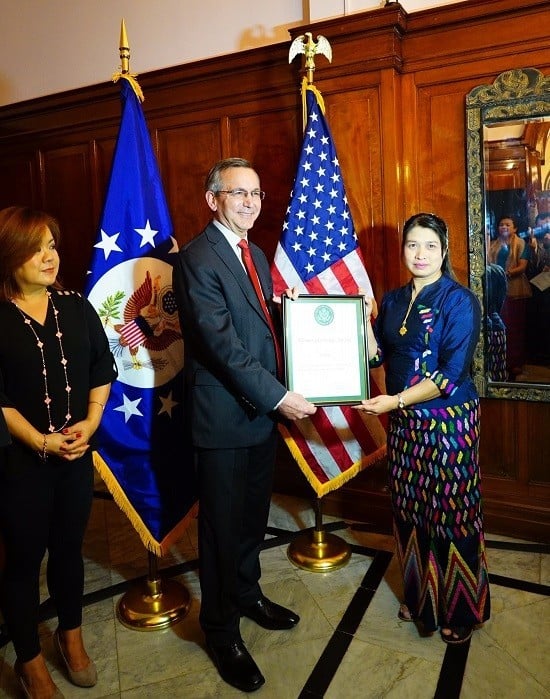 Yi Yi Cho is Staff Officer of the Natural Resources Conservation and EIA Division of the Environmental Conservation Department, Ministry of Environmental Conservation and Forestry (MOECAF) in Myanmar. She has been working for MOECAF since 2013 and her responsible area includes Natural Resource Conservation and EIA related activities including reviewing EIA reports. Prior to joining MOECAF, she was an instructor for World Intellectual Property Organization (WIPO), under the Ministry of Science and Technology.
"As a member of RTWG on behalf of Environmental Conservation Department, I try to promote Regional Corporation in future. We are trying to achieve sustainable development as much as we can," said Yi Yi Cho.
The nominations for this award were submitted by the U.S. Embassy personnel and an award selection committee selected the winners from a competitive group of Myanmar women who are working on issues as diverse as health, peace and the environment.
This is an outreach announcement from the USAID–funded Mekong Partnership for the Environment (MPE), a key supporter of The Mekong Eye.