Whether globally or within the ASEAN region, the pathway to an efficient and sustainable energy landscape is paved with diverse sources.
In the 2015 World Energy Outlook Report, where Southeast Asia was the focus, diversification was seen a key solution for the region to keep pace with the increasing energy needs in secure and sustainable ways. Two years after, this recommendation remains relevant especially for a smooth transition from major fossil fuel use to clean energy.
As Eco Business reported recently, "despite ambitious green energy targets set by several Southeast Asian nations last year, [shifting to clean energy] means going by some turbulent trends over the past decade."
"Energy demand in the region has frequently outpaced growth in sustainable energy. Strong economic growth and poor regional coordination have been cited by experts as underlying causes for the persistently low share of renewables in the region's energy mix."
Then there's China and India making a massive shift to renewable energy that it is a good time for ASEAN countries to prepare.
How diversification can help with the transition in a steady, stable pace? Below are the steps.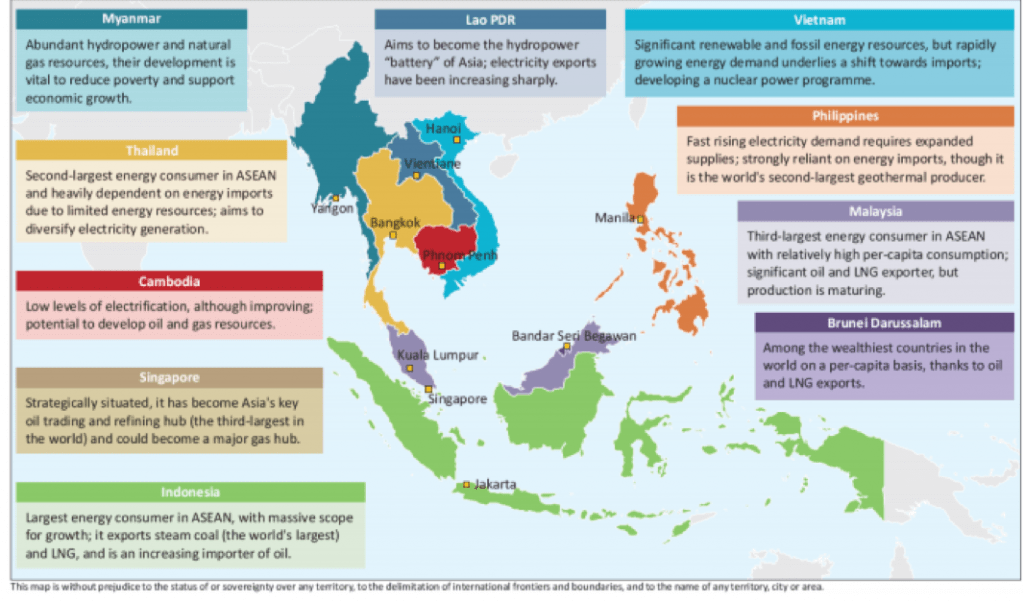 Identify Main Energy Sources and Needs
The map above shows the energy context in Southeast Asia. Each country has distinct natural resources, as well as those imported, for power generation. They differ in economic levels, too, and in political and cultural context. Combined, they make up a country's energy capacity and needs.
All countries however, show increasing dependency on imported oil and in some cases natural gas – two economic concerns that the report mentioned as reasons to diversify.
In the Philippines, coal– its power plants main fuel source– has turned volatile. Last year, it resulted in a call for energy mix to be a priority in the country.
"Coal should be limited, if possible, to the already committed new units and the existing coal capacity gradually reduced through retirement of aging and inefficient units," suggested energy expert Rolly Calalang in his article on Rappler.
In 2015, coal supplied the Philippines largest share of gross electricity generation. The Feed-In-Tariff race, did help, "wind and solar to grow in total installed capacity at 50.9% (144 MW) and 616% (142 MW) respectively from 2014 to 2015," according to Department of Energy.
This year, the country's renewable energy sources have grown to provide 31.4% share of total energy generation, through both emerging and conventional technologies. Solar and wind have increased shares from 0% in 2015 to 3.1% now and 2.0% respectively. Hydropower accounts the largest share at 16.7% followed by geothermal at 8.8%. While coal remained the highest share in the energy mix, its share decreased from 45% to 36.5% in the past year.
Invest in Hybrid Power Generation
Renewables, especially solar and wind, are intermittent sources however. Advanced battery storage technology is still in its infancy, and "we could be in for quite a long wait," wrote Calalang.
But that does not mean we can't effectively use them now, and doing so optimally involves combining them.
The Calamba Doctors Hospital in Laguna has been using a hybrid solar-wind power supply to lower its bills and have a 24-hour supply at all times. Today it saves 20% on electricity cost – 5% higher than its projected savings when it decided to install a 153kW hybrid renewable energy system.
In an interview with Rappler, Dr. Amistad of CDH said that, "For the first time, last month, we paid less than P1 million ($22,700) to Meralco. We only paid Php700,000 ($15,900) and that's after only 15 days with solar power."
In Australia, the Gullen Range project is the first co-located solar and wind project in the country. It is a 10-megawatt solar farm adjacent to 73 wind turbines. "By combining intermittent renewable energy sources through hybrid projects, developers are taking advantage of the strengths of each," Ensia reports.
The projected advantages range from savings on grid connections, site developments and approvals to doubling the amount of electricity that each can produce alone. Ultimately, each tends to complement the another, as wind can help offset the need for batteries especially, which remain expensive.
Hybrid power supplies improve quality of living too as they benefits hospitals, schools, local industries and households. Sitio Green Island in Palawan now has a reliable energy supply, thanks to the 25.5kW hybrid renewable energy power system installed by USAID. It came with an ice-flake machine and a reverse osmosis machine for preserving catches and potable water.
Renewable energy can also upgrade existing electricity systems like in Cobrador Island in Romblon, where a solar-diesel hybrid power generates a 24-hour supply for 244 households on the island. According to project funder Asian Development Bank, it "will reduce carbon dioxide emissions by 64.8 tons per year, while saving around 24,000 liters of diesel fuel."
Indeed for an archipelago country like the Philippines, this approach answers the need for a modern and efficient energy service.
Heighten Regional Cooperation
ASEAN countries' commitment to energy efficiency on a domestic level is as important on the regional level. This analysis speaks the truth about not only looking to the UN Framework Convention on Climate Change but also ensuring countries meet their Intended Nationally Determined Contributions.
It is important to note, according to Katiana Murillo of Earth Journalism Network, that the purpose of Paris climate talks was "not to impose a global goal and distribute responsibilities."
As she quoted the Executive Secretary of the UN Framework Convention on Climate Change's Christiana Figueres, it aims "to invite countries to make an internal revision of their economies and their political, economic and technological reality in order to identify where they will benefit and can build globally." The map above is a good start as it offers glimpses on how one can complement the other.
Make stable policies, both domestic and regional
Indonesia, Malaysia and Thailand are increasingly deployment of biofuels. Moreover, Thailand has implemented its Integrated Energy Blueprint to reduce end-use energy intensity by 30% in 2036.
Vietnam is currently the most active in developing nuclear power plants, despite delays in construction due to financing and technology, as well as safety and legal concerns.
The Philippines is pushing for modernization of public vehicles to replace jeepneys that are the main source of carbon-dioxide emissions. The Department of Transportation also said that jeepney design do not comply with international standards.
On collective efforts, Laos is currently working on electricity transmission with Singapore. This involves transit through Thailand and Malaysia. ASEAN countries are working, "to reduce energy intensity by at least 8% from 2005 levels and to increase the share of renewable-based power capacity to 15%." APEC members also aim "to double the share of renewables in total energy supply by 2030 from 2010 levels and to reduce aggregate energy intensity by 45% from 2005 levels by 2035."
On emergency preparedness, a number of ASEAN countries have committed to increasing their emergency oil stocks, while several are in the process of formulating emergency response plans for natural gas stockholdings, the IEA reports.
To diversify is to be prepared to take the needed shift from fossil fuel to clean energy. It increases opportunities for cooperation and boosts confidence to follow the efforts of those economic giants nearby, India and China.
References:
http://www.philstar.com/business/2016/11/29/1648372/philippines-urged-come-energy-mix-soon
http://www.rappler.com/thought-leaders/144528-cusi-lopez-finding-right-energy-mix
https://www.iea.org/publications/freepublications/publication/WEO2015_SouthEastAsia.pdf
https://www.doe.gov.ph/electric-power/2015-philippine-power-situation
http://business.mb.com.ph/2017/04/08/re-share-in-ph-energy-mix-tops-31-level/
This analysis was submitted to the Mekong Eye and represents the views of the author only.