Starting this month, the tiny and stunningly scenic Maya Bay off Thailand's Andaman coast, made famous by Leonardo DiCaprio's 2000 film The Beach, is closed to visitors. Two decades of being Thailand's top tourist attraction has overwhelmed the island's ecology.
"The beach is overcrowded both with tourists and their boats. Every boat that enters the bay causes damage to the coral reefs. Every tourist who step onto the beach has contributed to its ecological degradation," said Voraphot Lomlim, the chief of Had Nopparat Thara-Phi Phi National Park.
When asked about the scale of damage, Thailand's leading marine scientist Thon Thamrongnawaswat, laughed bitterly. "Ninety five percent of the coral reefs are now gone and the major cause is excessive, uncontrolled tourism," Thon said.
In an attempt to stop the devastation and allow the ecosystem to recover, the Department of National Parks, Wildlife and Plant Conservation (DNP) of Thailand has abruptly ordered Maya Bay closed during this year's monsoon season from June to September.
On June 1, officials of the DNP began deploying buoys to demarcate areas banned to boats. Nature's getting a rest, but will it be enough?
Strained by tourism
The small bay on Phi Phi Le Island in Krabi Province is being overrun, approaching two million visitors annually, reported government officials.
Yurip Wongna, a local tourism operator has witnessed the escalating popularity, noting that some 5,000 tourists per day visit the bay.
"Most of them travel by speed boats from Phuket and Phang-nga," said Yurip, adding that speed boats with 3-4 engines are very harmful to the marine life in Maya Bay. Their propellers strike and brake off healthy coral as well as churn up the Bay's sand, blocking the solar energy required by the coral to remain healthy, Yurip said.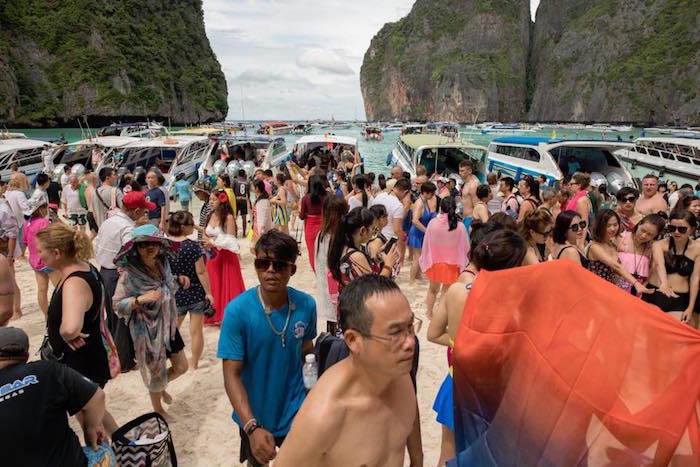 He said that operators offering excursions from nearby Phi Phi Island are more environmentally friendly as they use long-tailed boat and have been historically respectful of the ecology. "Our lives and our families depend on the fertility of the nature of Maya, so we don't kill ourselves by destroying it."
Yurie, a 34 year-old native of Phi Phi Island, said tourism at Maya Bay is now uncontrollable and he really wished the government does something before it is too late.
"If we don't do anything and allow the numbers of boats and tourists trampling Maya Bay to increase year by year, within ten years there would be nothing left," he said.
Thon agrees. He points out that the travelers arriving Phi Phi Island alone is skyrocketing, up 28 percent from the same time last year, expected to be 2.5 million this fiscal year.
According to Yurip, Maya Beach is included in daily boat tour packages for all Phi Phi island tourism operators. More than 200 boats transit tourists to the bay daily–for snorkeling, sun bathing and sightseeing–many for only 30 minutes to an hour.
Phi Phi National Park has installed a numbers of buoys for boats to anchor to, but they are insufficient, causing many boat operators to anchor to the bay's bottom instead.
"To casual observers, it may appear that nothing has changed from decades before, but look more carefully and the environmental destruction is obvious," said Yurip.
Tough steps to save the beauty of Pi Pi Le
"Actually, four months is not long enough for the reefs and island to recover. But at least it allows the beach and the sea to be off limits to tourists," said Voraphot, the chief of Had Nopparat Thara-Phi Phi National Park.
Additional policies are being explored for when tourists return. According to Voraphot, the general director of the National Park Department and the chief of Marine National Park Management Division are working with a team of architects to develop infrastructure that would allow visitors to approach the beach on foot from the opposite side of the small island, leaving Maya Bay boat-free. With all boats presently anchoring within the bay itself, it's impossible to take picture of the beach without boats and crowds.
Maya Bay's stunning natural beauty is framed by high cliffs sheltering it on three sides. Its glistening white sand beach is only 200 metres in length. Its native plants like giant milkweed, sea pandanus and spier lily which, says Yurip, still exists, but are increasingly rare. Same too is the deterioration of the exceptionally clear water with exotic fish amongst the remaining coral.
Yurip said tourism operators on Phi Phi island have proposed to the government that it must restrict visitor and vessel numbers at Maya Bay.
According to Thon, a leading marine scientist, Maya Bay's carrying capacity is probably about 100 boats and 2,000 visitors per day. Thon also proposed Maya Bay be designated a "vulnerable" beach and that foreign visitors be charged an entry fee higher than the 400 THB (US$12) now charged to those entering Thailand's national parks. He anticipates the higher rate would help reduce visitation.
Currently, many beaches and islands in the country are closed seasonally. Until this year, Maya Bay was the only popular beach destination allowing year-round visitation. Similan Islands in Phang-nga, for exmple, closes annually from May to October. And Koh Tachai and Koh Yung have been closed indefinitely since 2016 to allow nature to regenerate.
So for the next four months, Maya Bay must be appreciated from a distance. Meanwhile, DNP will be conducting studies on its coral reefs and beach resources. It will also work to regenerate the coral by using propagation technique once conditions are deemed suitable.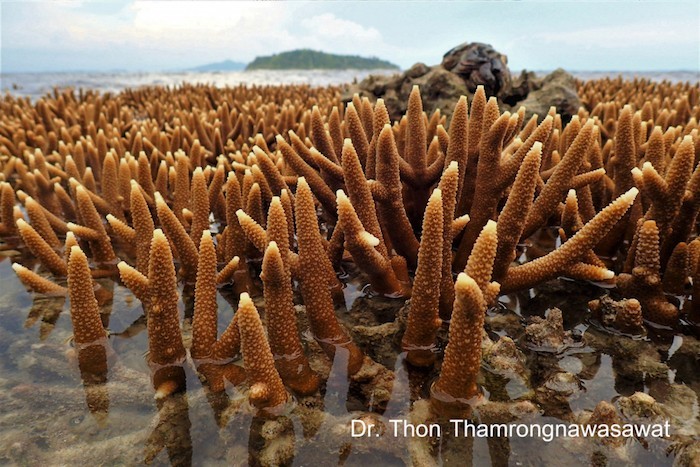 Coral replanting has shown success at Koh Yung, about 10 km away from Maya Bay.  Damaged by bleaching and tourists who fed fish there for years, Koh Yung's reefs too had declined to just five percent prior to closure. With DNP's interventions, the sea surrounding the island is now brimming with young coral.
Phi Phi residents, like Yurip, whose livelihood depends on Maya Bay's healthy ecosystem, have requested the DNP put a cap on visitation.
"If their numbers are not controlled, the return of an influx of tourists to Maya Bay will see its ecosystem suffer the same fate as the Similan Islands," Yurip said.. "The temporary shutdown for four months is not enough to restore the health of the coral reefs. Uncontrolled tourism through the rest of the year will destroy it."
When asked about the proposal to limit tourist numbers, Phi Phi park chief Voraphot said it depends on the Protected Area Committee whose membership is comprised of the governor of Krabi province and representative of the Tourism Authority of Thailand. Voraphot said that the committee once discussed the idea, but took no action.
Part 1: A troubled paradise: Boracay Island's already fragile environment