Bangkok city planners must come up with better methods to confine urban sprawl, cope with climate change and ensure a better deal for all–an Eye Original special report produced in collaboration with the Bangkok Post.
Bangkok has attracted millions of migrants seeking economic opportunity. They will be forced to handle the impacts of climate change in coming decades.
One of the world's cities most vulnerable to the impacts of climate change, Bangkok is a magnet for migrants from all over Thailand and neighbouring countries to find new lives.
The capital hosts around 10 million people, half of whom are internal migrants who play major roles in boosting the capital's economy. Many migrants are urban poor, living in dense settlements with limited access to facilities and good living standards.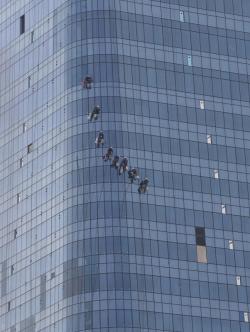 Another 370,000 are international migrants registered in the employment system, according to Department of Employment figures. More than half of them are migrant workers from Myanmar, Laos and Cambodia.
Historically, Bangkok is made up of migrants. The large number of people poses challenges for this 1,569-square-kilometre city as the world deals with climate change, while at the same time trying to ensure a decent livelihood and economic opportunities for all.
The Second Assessment Report on Climate Change, released in 2016 by the Thai Research Fund, predicts low-lying Bangkok will battle extreme weather and rising sea levels in coming decades.
In recent years, the capital's temperature has increased with the hottest day in the last 20 years reaching 40.1 degrees Celsius in March 2013.
Flash floods have become a common problem in many parts of Bangkok. Major cities such as Chiang Mai, Khon Kaen, Chon Buri, Samut Prakan and Phuket also face similar effects of unplanned urbanisation, high population density, inadequate infrastructure, increasing waste, flooding and pollution.
"Currently, the city is expanding in an unsustainable manner. Climate change will make existing problems caused by unmanaged urban expansion more difficult for residents and authorities to handle," says Pakamas Thinphanga, a programme manager leading the Urban Climate Resilience Programme at Thailand Environment Institute.
On the other hand, long-term environmental changes due to climate change will likely increase the number of migrants and boost the rural-to-urban migration trend, according to the Fifth Assessment Report of the Intergovernmental Panel on Climate Change (IPCC).
Faced with this dilemma, there are talks about the urgent need to increase cities' climate resilience and enhance the adaptation capacity of people in rural areas to live amid possible environmental change.
Suwanna Jungrungruang, deputy permanent secretary for the Bangkok Metropolitan Administration (BMA), says the BMA has been preparing measures to tackle both climate change and in-migration — which will put pressure on the economy, environment and social life in Bangkok.
In 2013, the capital joined the 100 Resilient Cities movement to help BMA build up "urban resilience".
BMA is implementing several such projects such as boosting public transportation infrastructure through new BTS and MRT lines; building flood-protection infrastructure such as walls, pumps and warning systems; training local people to adapt to climate change impacts; and improving migrant workers' settlements.
"We have a goal to enhance Bangkok as a safe, livable and sustainable city for everyone," Ms Suwanna said.
UNADDRESSED URBAN POOR
To make Bangkok a happy place for everyone is not that simple. The city comprises a variety of people from the super rich to the urban poor.
The United Nations Framework Convention on Climate Change highlights that urban growth is a contemporary challenge which drives up the number of urban poor particularly in developing countries. The urban poor are especially vulnerable to climate change because their settlements are often located in hazardous areas.
As of 2015, Bangkok hosted nearly 700 dense settlements where both urban poor and migrants live. Many dense settlements are located in low-lying areas, near canals and rivers which are at risk of flooding, or hidden at the back of busy commercial areas and high-end housing projects.
Just behind Siam Paragon and Lumpini Park, clusters of dense ghettos are squeezed between high-rise buildings. Near Hua Lamphong railway station, tiny land plots host half a thousand urban poor and migrant labourers. They live in windowless rooms no larger than four square-metres in size. They range from garbage pickers, to construction workers, wait staff, security guards to street food vendors.
They are likely to be hardest hit by the impacts of climate change. A clear example was seen in the 2011 floods.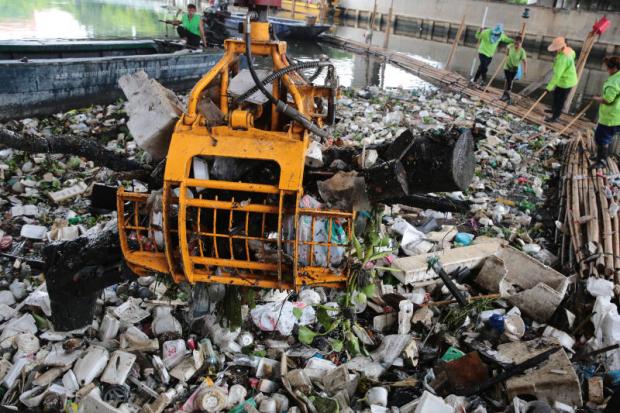 Months of inundation forced the urban poor to lose daily income and accumulate debts as they tried to struggle through the disaster. The impact of the flooding drove some migrants into the cities to seek financial relief. Residents who are in a good financial position can get compensation from their employers and insurance companies. The rich can pay for house repairs and relocation.
"Urban poor has been looked over and excluded from city development. Without addressing the needs of the urban poor, city capacity-building won't be successful on the whole," says Wimon Thawinpong, a core leader of the urban poor living in ghettos under bridges and elevated roads around Bangkok.
Wimon, a migrant from Nakhon Sawan, moved into Bangkok during the post-1960s economic reforms, which saw the rise of land and natural resource exploitation in rural areas to support commercial agriculture and industry.
Her father, a farmer without land tenure, found difficulties to earn income at home. He took young Wimon on a boat, gliding along Chao Phraya River from Nakhon Sawan to Bangkok –dubbed as "the city of heaven" by migrants at the time.
But it was not quite like heaven. Without money to afford proper accommodation, they found a vacant space under an elevated road in Bangkok's suburbs where they built a shack from plywood and plastic sheets.
The father worked on various labouring jobs. More migrants arrived and formed a dense ghetto, which was eventually replaced by a private housing development. Wimon saved enough money to purchase cheap accommodation on the capital's rim.
Bangkok has been a popular destination for migrants who are mobilised by different factors, mainly by financial struggles in their places of origin.
There are records of migrant pulling in to the cities by environmental disasters in their homes too.
In 1967, Bangkok-based newspapers reported that drought had swept the northeast region, which resulted in mass migration into Bangkok. Hua Lamphong was crowded by desperate migrants seeking for jobs.
Land and forest degradation, as a result of natural resource overexploitation in the period of post-economic reform, played a part in driving rural population into cities as well.
Farmers made up a large portion of past migrants as they could not make enough yields from farming due to lack of land tenure, unstable agricultural prices, limited access to markets and natural disasters.
Some migrants are seasonal, moving from the North and Northeast regions towards Bangkok and major cities during the dry season when they cannot crops, and in the reverse direction during the wet season.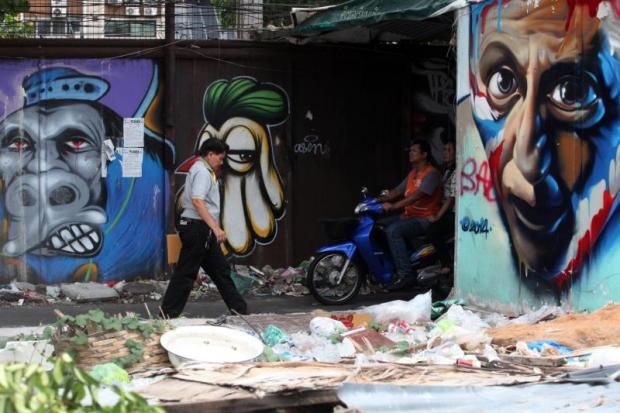 There are few studies focusing on the impact of climate change on a city's in-migration in Thailand. But the World Bank's recent report, Groundswell: Preparing for Internal Climate Migration — which focuses on Sub-Saharan Africa, South Asia, and Latin America — suggests that climate change will push 143 million people in three regions to migrate within their countries by 2050. The poor will be hardest hit, according to the report.
"When talking about coping disaster, an issue of poverty must be addressed. When talking about migration, distribution of economic opportunities must be part of the discussion," says Nuchanart Tantong, a former president of the Four Region Slum Network, a grassroots movement campaigning equality and the rights of the poor.
"Inclusive development must be allocated in rural areas so local people will not fall into financial dismay and end up heading to cities."
FINDING COMMON GROUND
In 2015, Thailand ratified the Paris Agreement which aims to limit the increase in global average temperature to well below 1.5 degree Celsius.
As a result, the government introduced a climate change masterplan 2015-2050, which includes increasing mitigation and adaptation capacity for cities across the country.
Climate change-related projects and training programmes are being piloted in 17 provinces including the fast-urban growing Khon Kaen, Rayong, Samut Sakhon and Phuket — which are also hubs for internal and international migrants.
Pirun Saiyasitpanich, director of the Climate Change Management and Coordination Division of the Ministry of Natural Resources and Environment, says local administrations are encouraged to put more effort into improving urban planning and transforming their areas into low-carbon and resilient cities.
"We're working on changing the mindset of all stakeholders, making them see the long-term benefits of building city capacity in combating climate change rather than seeing it as a burden," he says.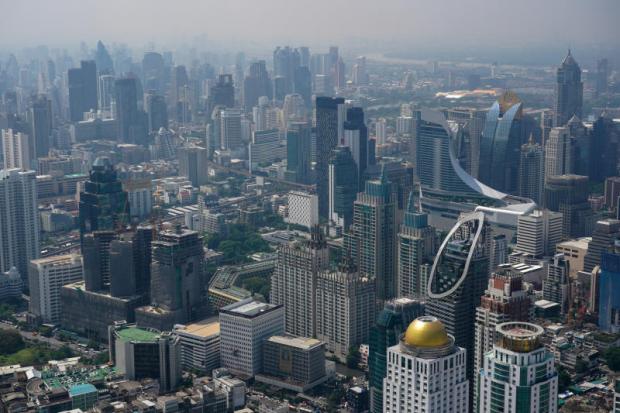 Migration is not yet one of the masterplan's key components. But there are plans to increase the adaptation capacity of people in rural areas, especially farmers. They are encouraged to use a wide variety of plants and receive technological support to increase yields, which may allow them to survive where they are instead of migrating out.
Government attempts to promote more regionally balanced development are believed to have brought about declining internal migration rates between 2002 and 2009, according to the International Organisation for Migration.
This trend appears to have continued: from 2012 to 2016 as the number of yearly migrants steadily decreased from 2.3% and 2% of the population to 1.2% and 1.1% respectively, according to National Statistical Office figures.
Despite the development introduced in rural areas, however, there are migrants who have already moved to cities and aren't likely return to their place of origin. One of those is Joke Komkrit, a 29-year-old migrant from Sing Buri, a central province famous for its rice fields.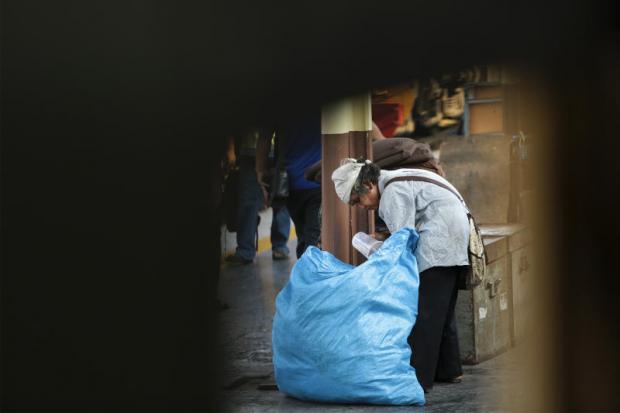 He moved into the Bangkok a couple of years ago to seek economic opportunity. As a child of low-income farmers, Joke was driven out of his hometown after his parents failed to make a decent livelihood out of farming. He does not own any land and properties at home.
"From what I've seen from the poor condition of my parents, being in the city seems like my best option," says Joke.
"Here, in Bangkok, I can earn more if I'm hard-working. Everything depends on my choice."
He has found several freelance jobs, from a cigarette and alcohol promoter to an unlicensed motorbike taxi driver.
Most of his jobs are in a "grey zone" that offer income to workers with low education to improve their financial status, an opportunity that can't be found in his hometown. Most of his friends have moved into the cities, and the younger generation will likely follow.
Bangkok has maintained its power of attraction to internal and international migrants despite its vulnerability to climate change.
As the city expands, new residential projects emerge, there's inadequate infrastructure to prevent the worst consequences from flooding and sea level rising.
"The capital has reached a breaking point, where it lost capacity to cope with disasters because of unregulated urban sprawl. Climate change will make it worse. We need to find a common ground that everyone must take part in building resilience for the city," says Yossapon Boonsom, a co-founder of Shma, a Thai landscape architectural company campaigning for a sustainable city.
It will come with debates — over budgets, landuse zoning, regulations, incentive policy, how to strike a proper balance in development between cities and rural areas, and policy on migration.
The future of Bangkok depends on how soon a common ground is established.
See related story on climate migration https://www.mekongeye.com/2018/07/02/migrants-face-changing-climate/