The physical nibbling away of the Mekong Delta's edges by advancing erosion is producing unwanted social and economic ripples reaching Ho Chi Minh City and beyond. This is Part 1 of Mekong Eye's three-part investigation into how many people in the Mekong Delta are not adapting to climate change, but leaving, altering demographics for which there's yet been any response.
Pham Thi Ngoc Manh and her family have longtime lived next to Tra Vinh national dyke in the Mekong Delta province of the same name, which is increasingly affected by coastal erosion. Agricultural land in Hiep Thanh commune is so saline that not much can grow. So at the age of 44, Manh and her two youngest children have become separated from her husband. He is now working as a guard in Ho Chi Minh City and their daughters are helping out in a restaurant in Binh Duong.
"In the past, there was no need to leave, and though farming was sometimes difficult, it afforded time to contribute to the family," says Manh while tending to a few chickens and an underweight cow. "Now they all work much harder and seldom come home, and when they do, only for a few days."
Manh's husband, Le Viet Khoi, speaks fondly of the life he and his young family grew up with, but sadly of what's become. "Just a few years ago there was no erosion," he says. "We easily cultivated vegetable, but now even the grass we try to grow for the cows struggles. I'm sad and unhappy working far from home, but there is no other livelihood there."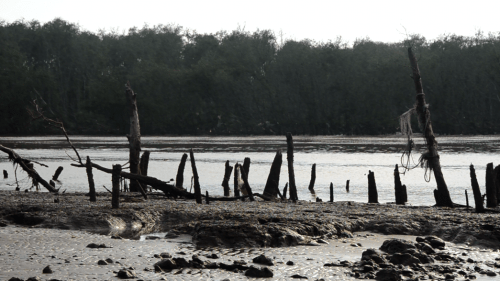 Though physically apart, at least the family is still in contact. Le Thi Kim Dinh, Chief of Nha Mat village's Women's group points to an all too common, and more grim, scenario. Intially, the husband sends money back to the family, but then stops. After some time passes, the wife and any children go looking for him. However, they are often unable to locate him, so the wife seeks some form of employment and becomes a migrant herself, though with the added responsibility of children.
In Hiep Thanh commune alone, coastal erosion is consuming 30-100 meters of farmland annually. This is occurring even where efforts have been made to protect and strengthen the natural embankments. "Hiep Thanh used to have dunes rising up 10-15m and stretching 1.5 km, but they're gone now," describes Nguyen Van Khiem, Chief of Office of Duyen Hai People's Committee, Tra Vinh province. So too are long stretches of casuarinas forests, where just a few remaining trees continue to hold on.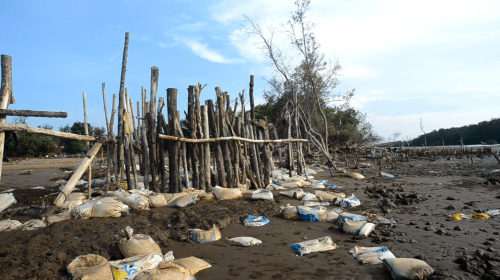 "In Cho village, waves have encroached on the houses of our residents, and in Bao village, they have damaged the national dyke," said Le Minh Dong, Vice Chairman of Hiep Thanh People's Committee. "After salt intrusion, farmers can neither farm nor raise livestock, so their income has fallen forcing some of them to migrate to work in big cities."
Such is now the case throughout many parts of the Mekong Delta. In May the General Department of Disaster Prevention and Control reported that some 300 hectares of land are now being lost to coastal erosion, with 16 significant sites spanning 84km.
The General Department of Disaster Prevention and Control reports that the human factors that first started driving this erosion were extensive sand mining and illegal construction along rivers and canals. Ass. Prof. Dr. Le Anh Tuan, Deputy Director of the Research Institute for Climate Change, points out that there are two other factors. First, the delta is beginning to experience the effects of climate change, which include sea level rise, salt water intrusion, and extreme weather events such as droughts and floods. Second, dyke construction has restricted natural flows of alluvium and sand that replenish the river banks, but this material is hardly flowing anymore as hydropower dams on the upper course of the Mekong River are trapping it from reaching the delta.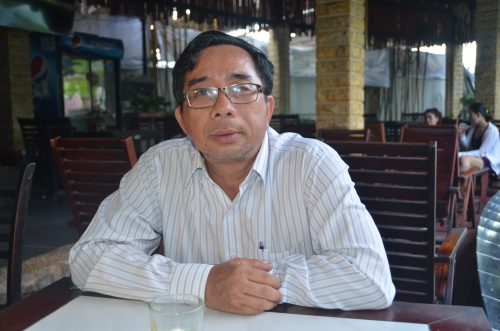 So as the agricultural productivity of the Mekong Delta deteriorates, it's feeding a migration rate that's faster than anywhere else in Vietnam. In the past decade 1.7 million people left the Mekong Delta, but only 700,000 new-comers arrived. Research published by Southampton University also points to climate change as a major factor, and coastal erosion as an impact thereof.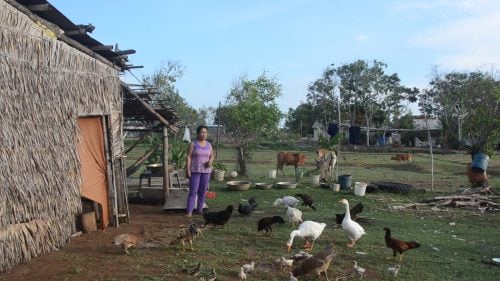 Dr. Vo Hung Dung, Executive Director of the Can Tho branch of the Vietnam Chamber of Commerce and Industry (VCCI) fears that soon it will be difficult for Mekong Delta provinces to pursue industries requiring a large amount of employees.
Already, what harvesting is going on in Lich Hoi Thuong commune of Soc Trang – one of the poorest provinces of the Mekong Delta, is becoming more costly.
"In 2016, I paid a loading fee of 30,000 – 35,000 VND (US$1.3 – 1.5) per ton of rice. Now I have to pay 50,000 VND (US$2.1) per ton as there's no labor." says Tran Thi Thu Hoa, a female rice broker whose children have gone to work in the cities.
In 2016, lack of rainfall in Soc Trang created a significant rise in households bankruptcies and land sales to pay off debts. "All my brothers took their families to Binh Duong after the drought," said Pham Van Tanh, a resident of Lich Hoi Thuong commune.
The arrival of these job seekers into urban centers is too creating challenges says Prof. Dr. Nguyen Hong Thuc, Director of Immigration Research Center (VUSTA). "This migration is overloading infrastructure such as housing, schools and hospitals," he says. "There are more slums and illegal construction along with rising rates of crime."
The cascading effects across the Mekong Delta as water tears away at the edges that bound this longtime fertile agricultural society are complex and compounding. Where this will lead remains unclear, but for now the only choice for many is to leave.
Story in Vietnamese: Mất cơ hội chọn việc do sạt lở bờ biển
Part 2: Getting old and battling coastal erosion in the Mekong Delta / Tuổi già "không nhàn" ở ven sông
Part 3: Climate change and marriage migration out of the Mekong Delta / Nghèo đói và hôn nhân xuyên biên giới