Elderly people in the Mekong Delta have had a difficult life, but some are now facing even greater hardships as their land washes away. This is Part 2 of Mekong Eye's three-part investigation into how many people in the Mekong Delta are not adapting to climate change, but leaving, altering demographics for which there's yet been any response. 
For a decade, Nguyen Thi Ut, a 66-year-old woman, has watched as her land in Cai Coi village slowly subsides into the Quan Chanh Bo canal.
"I have lost from 1,000-2,000 square meters of my nipa palm farmland because of riverbank erosion and I sold the rest for my husband's medical treatment," the old woman says as she begins to cry. "It has eroded more and more each year due to big waves caused by big ships. I do not want to leave because my husband's grave is next to my house. He did not want to be buried in another place after his death."
This Quan Chanh Bo canal is connected to the Hau River, which flows into Mekong River, and links two districts within Tra Vinh province on its way to the South China Sea. Over the past decade the area has become one of the Mekong Delta's most active zones for coastal erosion.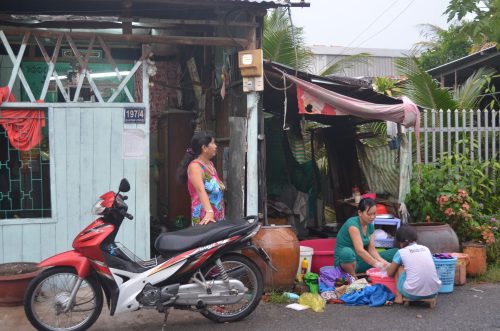 Two years ago, Ut left her job as a babysitter in Tra Vinh city due to health problems. Traditionally, Vietnamese children are expected to care for their aging parents, but Ut has had to fend for herself since all eight of her children have moved away. Three of her children do try to send her money, totaling about US$65 per month, and she receives about US$3 per month from social security. This limited income, combined with no land to farm, has her often struggling to find food.
"If living with me, my children will have nothing to eat. I do not have any land to share with them and that's why they have to migrate. They only visit me during the Tet holiday," says the sad face with just two yellow teeth appearing as she struggles to speak. "I often cry in the evening because I am scared that I can die and no one will know."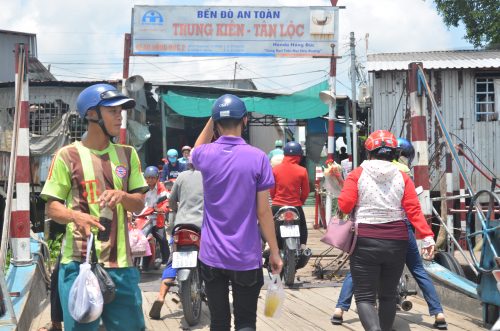 In Cai Coi village, where both Khmer and Kinh people live, Ut's struggle is not unique. Many residents, including old people, have had to leave their hometown as a result of land subsidence and a lack of work.
"My 70-year-old mother and four of my brothers and sisters now work in Soc Trang and six others in Binh Duong," says Ha Van Lanh, a 45-year-old Khmer man. "My family used to have two hectares of land planting nipa palm for sale. We lost all the land because of riverbank erosion."
According to Tra Vinh's Committee of the People, up to March 2018, more than 94,000 square meters along the Quan Chanh Bo canal has recently been lost to erosion, affecting 172 households.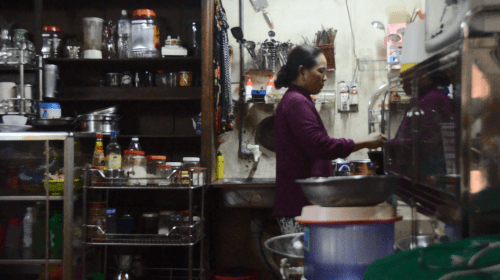 In May the government reported that such erosion is increasing throughout the Mekong Delta, with some 562 active coastal and riverbank erosion sites spanning 786 km.
The erosion is occurring for multiple reasons, including sand over exploitation, land development and deforestation. But a major factor, says Ass. Prof. Dr. Le Anh Tuan is the loss of alluvium and sand which naturally flows into the Mekong Delta. This regular supply of sediment stabilizes river banks and canals, but has now been blocked by hydropower dams on the upper course of Mekong River.
Climate change is also accelerating erosion due to the increased intensity and frequency of storms and floods, and by rising sea levels pushing deeper into the Mekong Delta.
On May 10, an elderly couple, Phan Van Thanh and Luc Thi Binh living in Thoi An Ward witnessed their neighbor's house disappear into the river while their own land was being seriously damaged. "Our life has been totally affected, we did not have time to prepare for it," Phan Van Thanh says. "We could not sleep because we were so scared."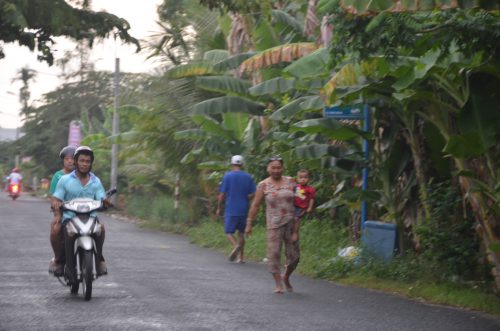 Their children left for Ho Chi Minh City some years ago, but Luc Thi Binh says, "We are lucky enough to be supported by our nephew and neighbors."
In a report by the Can Tho Management Board of Natural Disaster Prevention and Search and Rescue, during the first five months of 2018 there were nine erosion sites spanning 368 meters where 10 homes collapsed and 37 others were partially damaged.
In the Hau River sits Tan Loc Island, where erosion is pushing many people to the mainland; 64 year-old Nguyen Thi Kim Hoa is not yet one of them. Now lacking land and job opportunities, four of her five children have left, however. Only her youngest daughter remains with her.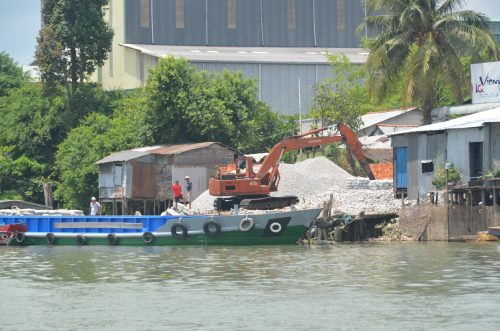 Although Hoa has no connection to Nguyen Thi Ut, Phan Van, Thanh or Luc Thi Binh, she, like them, feels less and less secure at home and generally fearful about her future.  According to the United Nations Population Fund, rural areas in Vietnam like these in the Mekong Delta are facing an alarming rate of old people living alone, the vast majority of them women. Many too endure the added challenge of raising young grandchildren, even though they themselves are in declining health and receive virtually no government assistance.
So as the shifting currents along the edges and arteries of the Mekong Delta reshape its landscape, its society too is eroding away, with many elderly left behind to fend for themselves.
The story in Vietnamese: Tuổi già "không nhàn" ở ven sông
Part 1: Farming jobs eroding away in the Mekong Delta / Mất cơ hội chọn việc do sạt lở bờ biển
Part 3: Climate change and marriage migration out of the Mekong Delta / Nghèo đói và hôn nhân xuyên biên giới