A group of women rose to the challenge when Thailand's elephant shows closed after Covid-19 killed the tourist trade
Lakkana Karn-in will never forget the scorching heat in the summer of 2021 when she, her partner and their two elephants set out on a 500-kilometer journey on foot from Thailand's seaside resort city of Pattaya to Surin, their home province on the Thai-Cambodian border.
Walking long distances every day under the hot sun was almost unbearable, and the nights were not much better. They barely slept as they camped by the side of noisy roads. But there was a far bigger concern in Lakkana's mind ― how her elephants would survive throughout the Covid-19 pandemic.
"Before I set off on foot, I spent the last of my money on transport for my two children [from Pattaya] to their grandparents [in Surin]," she recalled.
Once her children arrived home safely after an almost 500-kilometer trip, she and her husband set off on foot, walking with their two giants – a 36-year-old female elephant named Wallee and a 16-year-old male called Kanun.
Before the trip, they were laid off by the owner of an elephant show in Pattaya, one of Thailand's top tourist destinations which was turned into a ghost town by the pandemic.
With empty pockets, they could not afford to pay for trucks to take their elephants, which weigh about three tons each, back to Surin. Walking them home was their only option.
They were joined in their long walk home by other mahouts – or elephant handlers – who had suffered similar fates when the tourists stopped coming to Thailand, and their elephant shows.
The group's plight grabbed the national media's attention and suddenly they were front page news. The media attention also attracted kind people who arranged free trucking services for the laid-off mahouts and their elephants.
One mahout wept at the scene, knowing his elephant would arrive home with him safely. Lakkana wanted to cry too. But exhaustion made her numb.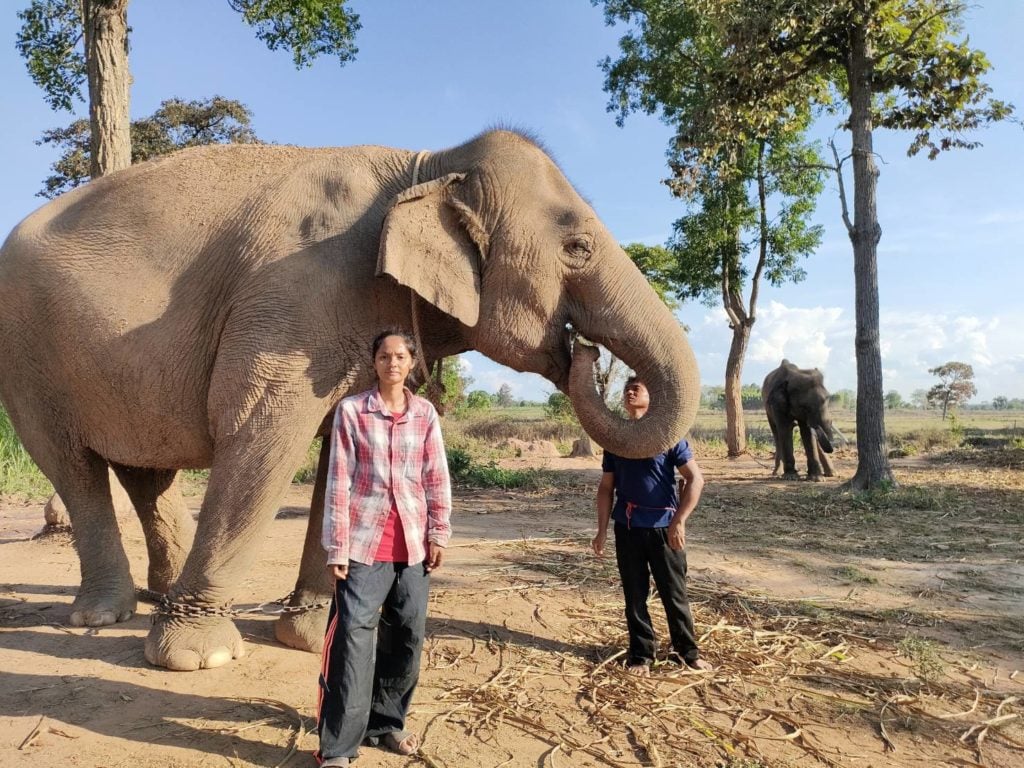 Their epic trek happened in the midst of the third wave of Covid-19, when the highly-contagious Delta variant swept across Thailand. The Thai government shut its borders and enforced strict lockdowns to limit people's movement, measures that had been put in place since the first coronavirus case was detected in January 2020.
While helping the country contain the virus, these measures devastated Thailand's economy, especially the tourism sector that contributed nearly 22% of the country's GDP in the pre-pandemic era.
Hundreds of tourist venues offering elephant shows were forced to close. Thousands of elephants and their keepers then needed to find their way home, at the same time feeding the beasts, each of which needs more than 100 kilograms of food per day.
Some could not leave and had no choice but to leave their elephants to starve – a painful decision.
But Lakkana would not let that happen to Wallee and Kanun. She and some other women who worked in animal tourism took the lead in caring for the elephants during the crisis, and managed to raise funds to feed the gentle giants.
They struggled, but kept many elephants alive during the past two years of the pandemic while they waited for the borders to reopen and for the tourists to return.
A shifting role
Coming from a poor family, Lakkana's husband inherited the two elephants from his grandfather, whose family had been traditional mahouts for generations.
Previous generations of mahouts often used captive elephants for work, especially in the logging industry that was booming throughout the first half of the 20th century. In 1989, the Thai government started banning commercial forestry, so elephant owners turned to entertainment and tourism, which was growing rapidly at the same time.
Thailand is home to about three-quarters of the nearly 3,000 elephants used in the entertainment industry, a number assessed by World Animal Protection (WAP), a nonprofit animal rights organization which has exposed captive elephants' poor living conditions in the tourism industry.
In Thai culture, the son of a mahout is introduced to elephants from childhood to help establish a strong human-animal relationship. He is expected to be a life-long mahout when he reaches adulthood ― a unique tradition observed particularly in Surin province, which is dubbed the "elephant kingdom."
This tradition also emphasizes patriarchy, in which the mahout's job is preserved for men who are allowed to ride and train the elephants as well as perform rituals with them.
Women had mainly been excluded from fully participating in the elephants' lives. Traditionally, a woman's assigned role was to take care of household work while ensuring food was available for their husbands.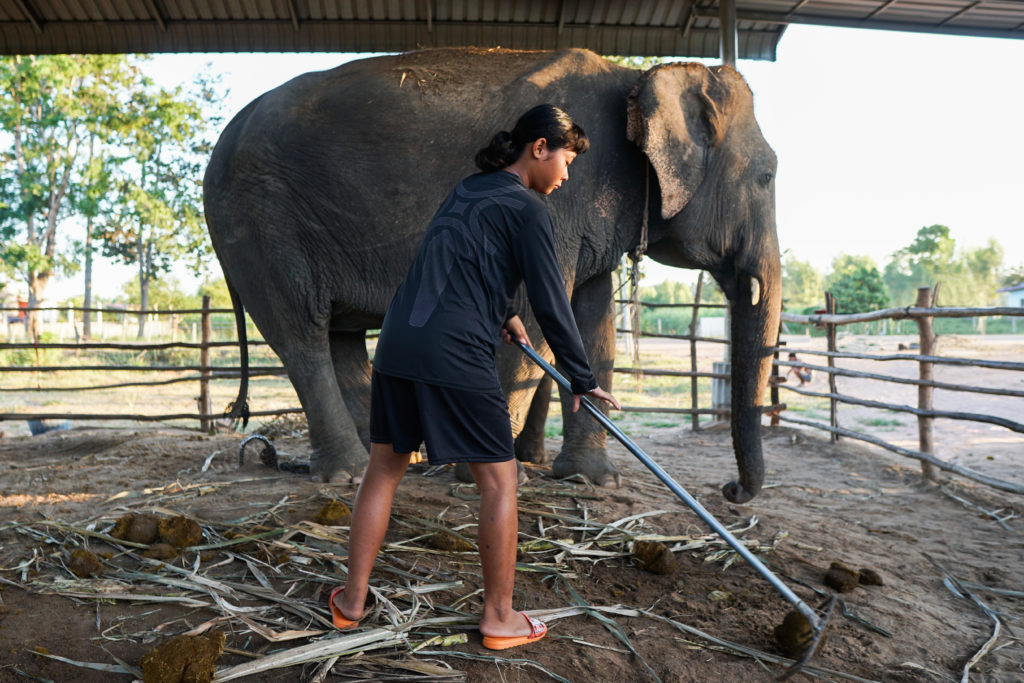 But these traditional roles have been gradually changing, with women becoming increasingly involved in the work during these difficult times of economic hardship because of the pandemic.
Lakkana married her mahout husband nine years ago. Since then she has helped her husband look after Wallee and Kanun, building close ties with the animals. She used to stay with them backstage at the elephant shows while her husband led the performance in the spotlight and was applauded by the crowd.
The two elephants helped the couple earn about US$950 a month, enough to feed the family of four and pay for the children's education. For Lakkana, the two giants are like family members, and she couldn't leave them behind when the global crisis threatened their livelihoods.
After arriving home in Surin, Lakkana's husband found work at a construction site. She then took on full responsibility for the elephants' wellbeing, which is no easy job. Elephants are big, and they need a lot of food. Lakkana spends from dawn to dusk looking for grass and tree branches for Wallee and Kanun, who eat for 16 hours a day.
"There's not enough food out there. I feel like they hate me for allowing this to happen," she said.
Women take the lead
The city of Ayutthaya, Thailand's ancient capital to the north of Bangkok, was once an elephant show hotspot with thousands of visitors going there every year. Some of the elephants there featured in Oliver Stone's 2004 film Alexander.
Patcharin Saisathon and her husband, the mahout of a 30-year-old female elephant named Mind who has a two-year-old calf called Pangmeetang, moved to Ayutthaya seven years ago, looking for an opportunity in the ancient city's booming tourism industry.
They were hired by an entertainment venue and earned more than $1,000 a month. But the sudden disappearance of tourists because of the pandemic forced them and their elephants to go hungry.
In August 2021, they decided to take their two animals back to Chiang Mai's Mae Taeng district in northern Thailand, where her mahout husband's family owned a plot of land that offered shelter and food for the elephants.
Being familiar with social media, Patcharin raised funds for their elephants' transportation on Facebook live. "The trucks to take our elephants back home were paid for by donations from Facebook live's audience. It took a week to collect enough funding for the trip," she said.
Patcharin took the lead in the welfare of her elephants Mind and Pangmeetang during the pandemic when her husband couldn't earn enough to feed the two giants.
Now back in Chiang Mai, she takes daily walks around the mahout's plot of land during the day in search of food for the elephants. At night, she spends hours running a live streaming site selling fresh fruit and asking for donations to help feed the elephants.
Dire situations like this are not only found in the individual families of mahouts and their elephants.
A battle to stay afloat
Anchalee Kalmapijit, the manager of the Mae Sa Elephant Camp in Chiang Mai's Mae Rim District, found herself buried under a mountain of debt.
The venue is one of the oldest and biggest elephant camps in the country. With 68 elephants under care, the camp has experienced its most severe downturn in its 45-year history.
Anchalee, the daughter of the camp's founder, had to lay off half the camp's staff, followed by a hefty cut to the remaining staff's salary.
"The only thing I cannot cut nor negotiate with is elephant food," she said.
The camp needs nearly 10 tons of grass every single day, costing more than $30,000 each month. But the camp's income has been close to zero since the Covid-19 outbreak.
"I have done everything I could think of. I asked for donations. I requested help from the government, but they said they couldn't. I took some loans from the bank and from all sources of funding I could access. I mortgaged some of my properties to get money out."
Her debts will amount to $3 million soon. Anchalee said she would do whatever it takes for her elephants to survive.
Mother mahouts
Women have played a key role in helping to save the captive elephants during the pandemic, and some are not from the elephant camps or related to the mahouts.
In Chonburi province in eastern Thailand, Patthama Nitpakdee, a young mother of four, has been calling for donations for elephants despite the fact that she has never had anything to do with them. She is a housewife and her husband is an unemployed security guard.
Locals have seen her carrying her children around while running online and offline fund-raising campaigns to buy food for elephants and their owners.
Patthama's motivation came from watching one mahout's wife on Facebook live. The woman spent hours at night on an unsuccessful live streaming site during the pandemic. She barely spoke during the live streaming, resulting in a small audience and few donations for her hungry elephant.
"This is a communication problem," she thought. Patthama had experience working for a company focusing on a pre-wedding planning service. Her job required her to make verbal presentations to customers.
She thought she could use her skills to help the mahouts' wives raise funds and train them to communicate with the public about the elephants' needs.
"There should be over 500 tons of grass, bananas and fruit for about 100 elephants. One mahout's family needs to pay $200-$400 for their elephants a month," she estimated.
Patthama formed a group of mahouts' wives and taught them how to help their animals by running online live streams to raise funds. Her movement then grew, leading her to set up the Elephant Thailand group, which has support from more than 3,800 members.
Most of the supporters are women from mahout families who Patthama calls the "mother mahouts."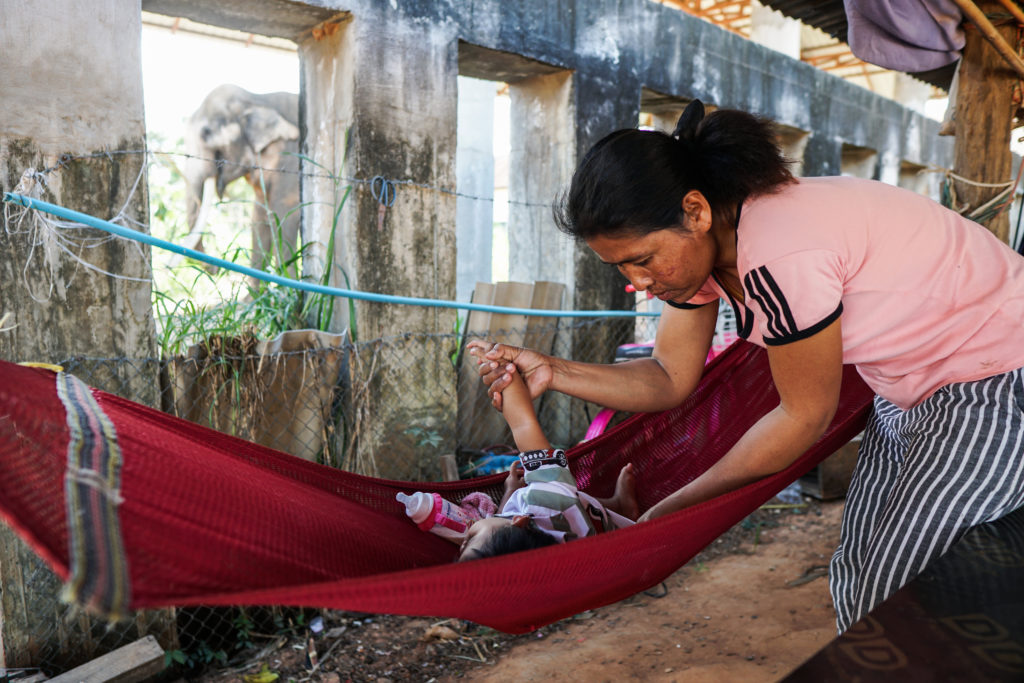 On April 1, the Thai government started easing international travel restrictions in the hope of accelerating the economic recovery.
But the tourism industry will take months to regain its momentum. Getting the number of tourist arrivals back to pre-pandemic levels may take another year. The mahouts and their families have no choice but to try to feed their elephants while they wait for the return to normalcy.
"[Male] mahouts need to support elephants and ensure their wellbeing, even in the most difficult circumstances. To do this, they need to talk to people outside their circles and seek help. But men are not good at speaking. Women need to lead in this plight to save the gentle giants," said Patthama.
---