Water shortages, soil degradation and rising chemical costs add to hardships on Southeast Asia's biggest freshwater lake.
PHNOM PENH – Life has never been easy for farmers along Cambodia's Tonle Sap Lake – the largest freshwater lake in Southeast Asia – and now water shortages, soil degradation and the rising costs for chemicals have added to their hardships.
"Each season, the most challenging problems we farmers commonly face are a lack of finance and water," said Reth Pheach, 50, who has land in Sa Kream commune in Kampong Thom province.
Sitting under a dilapidated wooden house about 80 kilometers from the Tonle Sap Lake, he added: "In the past, we did not have water shortages. We rarely had droughts, but now the weather has become unpredictable. I don't know why this happens."
For Pheach, the decreasing fertility of the soil is seen as a natural process and his only answer is to use more chemicals if he wants to farm out of season. Increasing his use of chemicals is the only way to maintain his yields.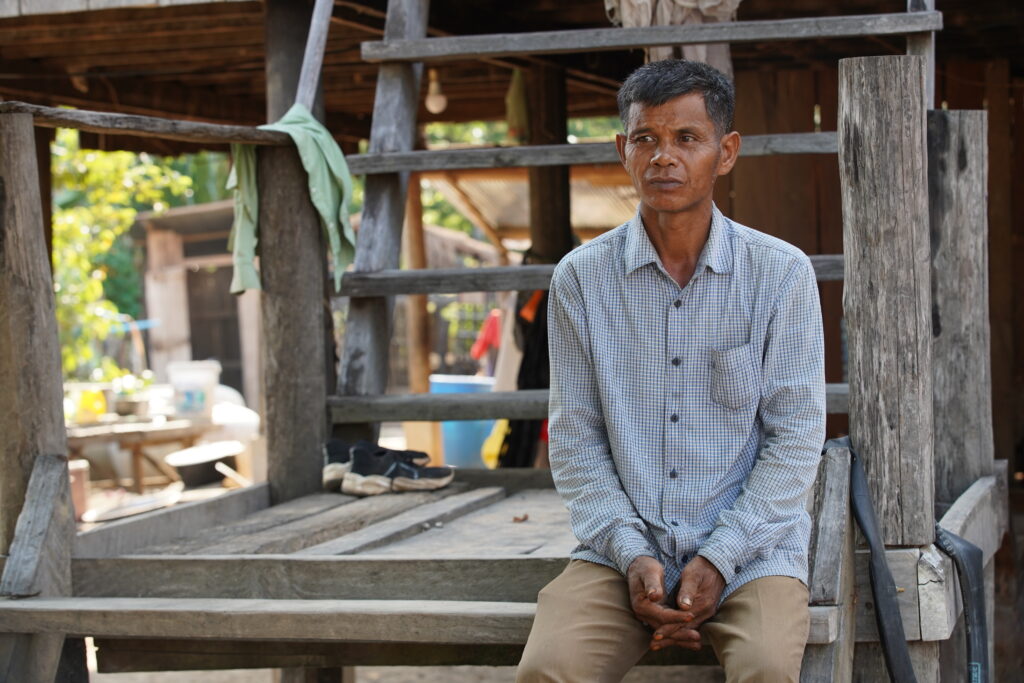 Located near Siem Reap and the famous temple complexes around Angkor Wat, the Tonle Sap Lake is 250 kilometers long and 100 kilometers across at its widest point. It has one of the most diverse and productive ecosystems in the world, prompting the UNESCO to designate the area a Biosphere Reserve in 1997.
The huge lake operates on what's known as a flood pulse system, in which the lake gets its water from the Tonle Sap River – one of few rivers in the world that reverses its flow every year.
During the six-month dry season from December to April, the Mekong River level drops and the water from the Tonle Sap Lake flows back down the Tonle Sap River and back into the Mekong.
As the Mekong River swells with monsoon rain, it pushes water up the Tonle Sap River to the lake that expands six times its size.
But climate change combined with other factors, including new hydropower dams along the Mekong River, have resulted in lower water levels in the lake. Since 2018, the water level has been lower than its historical average, according to a report by the Mekong River Commission.
These changes mean farmers have endured reduced land productivity, resulting in a heavy reliance on chemicals to maintain yields, with the extra costs adding to their difficulties. Inadequate irrigation has added to the farmer's problems.
Less productive
Abby Seiff, an American journalist who worked at The Cambodia Daily and The Phnom Penh Post and the author of the book Troubling the Water: A Dying Lake and a Vanishing World in Cambodia, agreed that the biggest and most important freshwater lake in Southeast Asia is in trouble.
It has suffered existential threats including substantial loss of flooded forests, hydrological changes as well as from the climate crisis, she said.
She noted that the change in hydrology – the change in the way the water moves in and out of the lake – had impacts on not only the lake's ecosystem, but also on the farmlands around it.
"During the wet season, the whole flood plain surrounding the lake is flooded – not just with water but with nutrient-rich sediment, which is very important for paddy rice," she said.
"So, the changing hydrology doesn't just affect the lake's fisheries, but it impacts the agriculture surrounding the lake."
Leng Vira, a technical officer and researcher at the Department of Agricultural Land Resource Management (DALRM) at the General Directorate of Agriculture (GDA), said the factors that cause the erosion of farmland along the lake are complex.
The agro-ecosystem is fragile due to many factors. The loss of forests to make way for more farmland, monocropping agriculture, a lack of management on the use of land in general and large human development projects all play a part in transforming one of the world's most productive ecosystems.
"Forests in the areas have been cleared and transformed into agricultural land. Without forests, erosion of the land can easily take place. And if we look at flooded forests, they have also been destroyed," Vira said.
"That has forced farmers to increase the use of chemicals year on year. If they don't, they won't be able to harvest."
Farmers hit by rising chemical prices
Even though the water volume and rainfall in the lake was considered normal this year, meaning water is not a problem, the rocketing price of fertilizer has made life more difficult for farmers.
Pheach said he used to spend almost one million riel – roughly US$250 – on chemicals a year to keep his rice and vegetable farm going. However, this year he has spent almost double that for the same volume of chemicals.
He needs about 350 kilograms of fertilizer for his two-hectare rice field and another 200 kilograms for his one-hectare vegetable plantation.
"Up to 550 kilograms [of chemicals] in total are needed each season and this is not including the pesticides and weed killer," he said, adding that using chemicals has become a habit as the soil has degraded so much.
The father of three children said farming is his family's only income and their yields dropped when he cut down on chemicals.
"However, my concern is the price of chemicals will keep rising. I was spending between 80,000 riel [$20] and 90,000 riel [$22.50] per 50 kilograms of chemicals before," he said. "Now the price has gone up to between 130,000 riel [$32.50] and 150,000 riel [$37.50] or higher."
Red Than, 37, of Pongsat commune in Siem Reap province has also struggled to keep her farm going as her land degrades. She produces five tons of rice each year, but the rising price of chemicals has forced her to spend more money to cope with increased production costs.
"Last year, I spent about one million riel [$250] on chemicals, including pesticides, weed killer and fertilizer, for two hectares of land – this doesn't include the costs of hiring farm machinery," said Than, who added that rising gasoline prices have made machinery more expensive to operate.
"It's really difficult. I need to spend double to maintain the same output and we can't do without fertilizer. If we don't farm, we have nothing to eat," she said.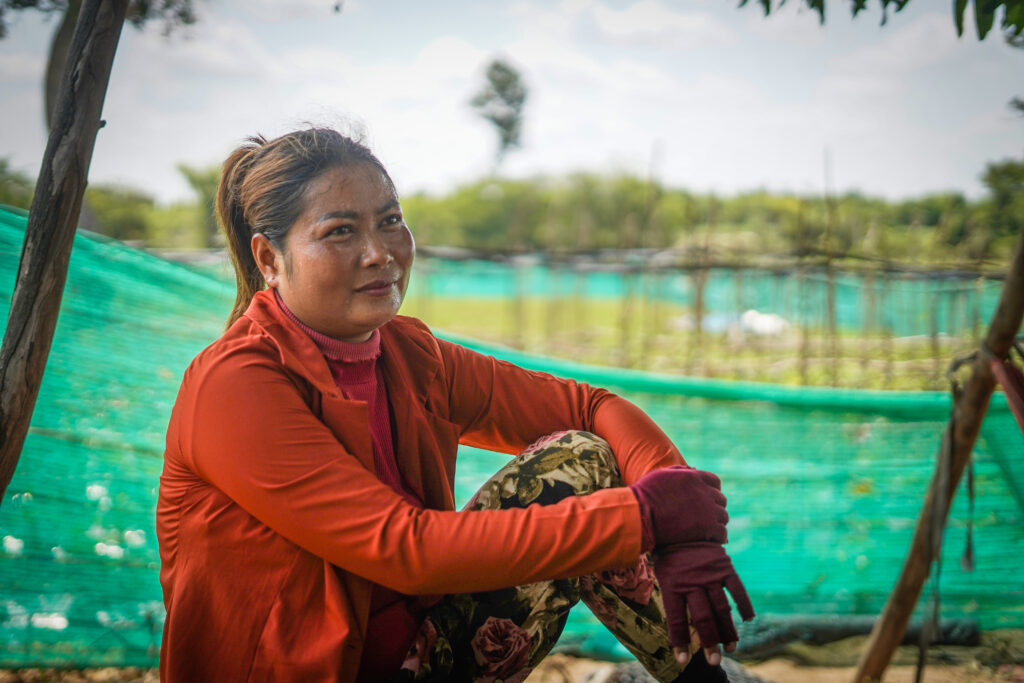 According to the Ministry of Agriculture, Forestry and Fisheries, Cambodia imported 103,005 tons of pesticides and 1,406,775 tons of agricultural fertilizers in 2020 – mostly from Vietnam and Thailand.
The import costs were $209.51 million, according to the United Nations COMTRADE database on international trade.
Farmers' debts increase
Pheach and Than face struggles to maintain their farms like other farmers around the Tonle Sap Lake, which spans nine provinces and is home to about 4.8 million people.
The rising cost of agricultural chemicals – particularly due to Cambodia's relative lack of domestic production as well as disruptions to production chains and the Russian invasion of Ukraine – means farmers need to spend more money.
This need lures them into an almost inescapable cycle of debt as they take out microfinance loans or borrow from private lenders to keep their farms going.
Pheach said the only choice farmers have is to get a loan at the start of each new farming season and pay it back when they complete their harvest.
His three hectares can produce up to eight tons of rice, but he keeps three tons for his family, selling the rest to pay off the loans.
"When the new season arrives, we keep doing the same. This is just like a cycle," Pheach said.
"That's why some people say farming is just like pushing ourselves into debt. This year, I don't know how much fertilizer I will have to use because we don't have money. But if we don't do it, how can we survive?"
Paying back debt was always tough, Pheach said, with many farmers failing to keep up their repayment schedules.
In Siem Reap province, Than had similar concerns, noting that the rising prices of pesticides and other chemicals have made it almost impossible to turn a profit.
"No matter how expensive it gets, we will still have to buy chemicals. I am worried that we will face difficulties paying back the debt as we have only earned small profits from farming from year to year," said Than.
Throughout the Covid-19 pandemic, Cambodian farmers faced a dwindling market with sales down nationwide. Many farmers have found themselves deep in debt over recent years, according to Theng Savoeun, president of the Coalition of Cambodian Farmer Communities (CCFC).
"Our internal discussions and surveys have found that farmers' debt has been rising. They don't just borrow capital for farming, but also daily expenses. This makes it difficult to repay and they end up indebted," Savoeun said, adding that the surveys painted a broad picture of Cambodia's agriculture sector.
"And now the price of gasoline and fertilizers has surged endlessly," he added.
As an example, he said one kilogram of rice can be sold for 1,000 riel ($0.25), meaning a farmer would need to sell 5 kilograms just to purchase 1 liter of gasoline.
"Without solutions, some farmers may give up on farming and switch to other careers that they hope will enable them to make more profit. But this trend is going to be another great concern," he said.
Breaking point
According to the association, up to 90% of Cambodian farmers borrow money from banks or microfinance firms to farm. While increasing production costs force them to borrow more, the impact of Covid-19 pushed struggling farmers to the breaking point with their debts.
Fortunately, instead of depending solely on loans from microfinance institutions or banks, farmers like Than and Pheach can get fast loans from farmers' savings groups in their communities.
"I can go get loans either day or night. It is easier, unlike banks or microfinance firms which commonly requires us to have land as collateral," Pheach said, adding that the saving group consists of farmers in nearby communities.
But while this initiative helps them borrow enough to deal with seasonal farming demands, the amount that can be borrowed is limited. For larger purchases, many farmers still depend on listing their houses or farmland as collateral to get loans from microfinance institutions or banks.
Despite being fast and easily accessible, interest rates remain as high as banks and microfinance institutions, with farmers paying as much as 7% interest on their loans. The reality is that these collective saving groups can do little to break the debt cycle.
Sok Voeun, chairman of the Cambodia Microfinance Association (CMA), cited a 2021 National Bank of Cambodia report that said microfinance lending for agriculture increased significantly, accounting for up to 19% of the total loans injected into Cambodia's economy.
"Over the past five years, the amount loaned for farming increased from $1.099 billion to $1.598 billion," said Voeurn, noting that during the pandemic, the amount loaned for agriculture increased by 11% in 2020 and up to 21% in 2021.
Voeurn said there was no information about the risk of debt default among farmers, but claimed the situation had improved with loan risk standing at only 1.7%.
For Savoeun of the CCFC, the need for intervention to help farmers is well overdue.
"The government should have an immediate intervention to ensure that small-scale farmers can obtain loans with a low-interest rate for farming. And this also needs to apply to some important farming materials. Doing so is not only helping farmers, but also consumers," he said.
---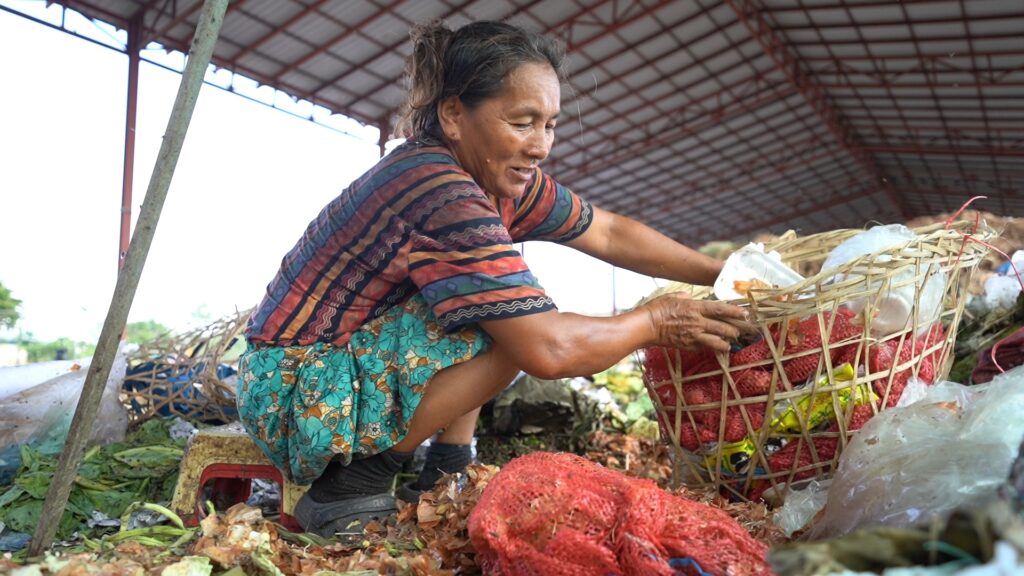 ---
The president of the farmers' association urged the government to work on long-term solutions including providing technical support to farmers and formulating good policies that garner input from farmers themselves.
"Farmers should be allowed to express their voice and concern and that should be taken as policy input," Savoeun said.
Voeurn of the CMA said his association had also been monitoring progress in the agricultural sector.
He said his association had forged partnerships with other stakeholders in the agricultural sector to provide support for farmers in terms of financial literacy and to ensure responsible and sustainable lending services.
This story is supported by Internews' Earth Journalism Network. It was first published in the Cambodianess, and English news outlet spreaheaded by young journalists and run under Thmey Thmey Media.
All images and a video were created by Sem Vanna, a Deputy Editor in Chief at ThmeyThmey25 and Head of Video Department at ThmeyThmey. Vanna covers stories on social issue and agricultural issue.