BANGKOK, THAILAND― In one corner of a Bangkok-based garment factory owned by Thai entrepreneur Thamonwan Virodchaiyan's family is a room filled with piles of what's known as deadstock fabric, left over from the clothing manufacturing process.
This fabric is surplus from made-to-order fashion. Thamonwan nicknamed it the "lonely fabric" as it is often left lonely, unwanted and dilapidated in the dim storage rooms of most garment factories.
It is often dumped or sold cheap, despite its high quality.
It is also evidence of the fast cycle of the fashion industry in which raw materials and clothes are made at an unsustainable high speed, creating carbon footprints and a large amount of waste.
The 2022 Circularity Gap Report revealed that only 8.6% of the 100 billion tons of resources the world used in 2020, including materials used in the fashion industry, was cycled back into the economy. The rest goes to waste. The circularity rate was reduced from 9.1% in 2018, a sign of the increasing presence of the throwaway culture.
Thamonwan is aware of the adverse impacts of the garment industry as she has seen the large amount of resources used through the whole process of making clothes ― from raw material production to apparel manufacturing ― prompting her to look for ways to bring back value to the surplus fabric.
She found the right partner in Amorpol Huvanandana, who has a background in the financial sector and digital marketplace. They co-founded Moreloop in 2018, a startup aimed at upcycling surplus fabric by matching garment factories with deadstock and people wanting to buy it.
Its business principle is based on the concept of a circular economy, in which waste is illuminated or circulated back into the economy and creates value.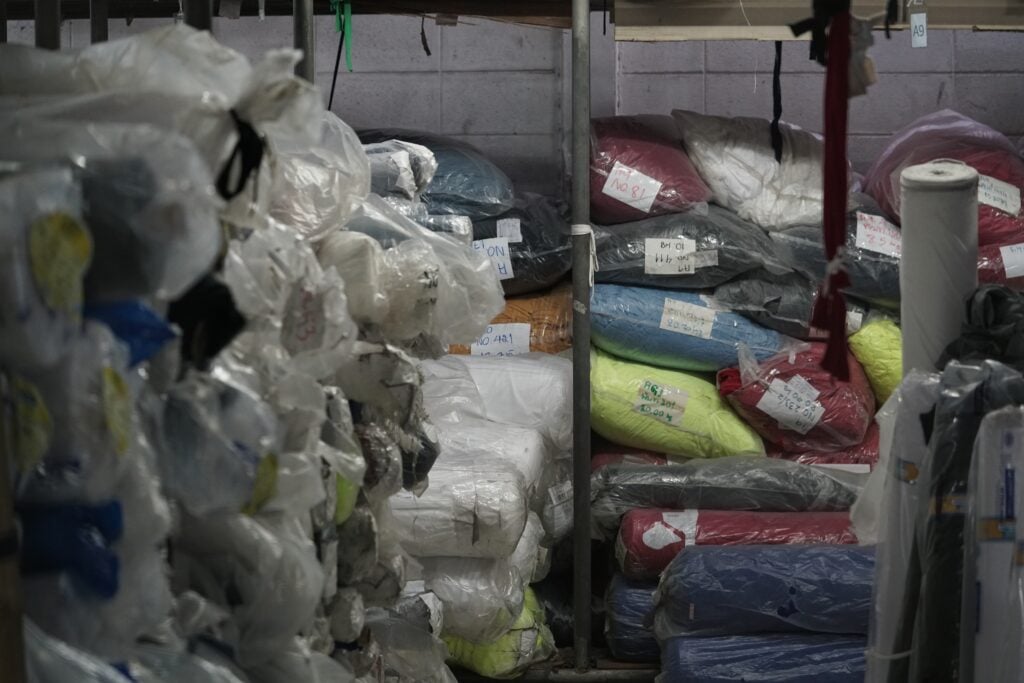 With four employees, Moreloop integrates digital platforms into the matching process. It collects data on deadstock fabric from partnered factories and presents it to buyers through online channels, including its website, Facebook and Instagram accounts. It also produces made-to-order products from surplus fabric.
"The operators of most garment factories don't put resources into managing surplus materials because it is time-consuming and unworthy when they can sell this fabric at cheap prices," said Thamonwan, who is also vice-president of the Thai Garment Manufacturers Association.
"We estimate that garment factories in Thailand produce at least 350,000 tons of surplus fabric every year, equivalent to the production of 700 million shirts. The surplus mainly comes from the spare of 3% to 5% of fabric needed in each customer's order, in case of errors incurred during the production process."
As of July, Moreloop had upcycled 42,124 kilograms of surplus fabric, which avoided the release of 631,857 kilograms of carbon dioxide equivalents. This is comparable to the amount of carbon emissions from a passenger car driven at a distance equivalent to more than 130 times the earth's circumference.
Moreloop's mission is to prevent carbon emissions by one million kilogram equivalents by 2024.
Trash and treasure
Moreloop's beginnings were influenced by what the founders saw in the garment industry and their passion for creating a sustainable business.
Thamonwan is a second-generation garment maker, following in the footsteps of her father, who established Apparel Creations Co Ltd in 1989. Its factory focuses on producing export-quality clothes.
Before setting up Moreloop, she tried to upcycle surplus fabric by producing clothes under her own brand. But its impact was small when compared with the large number of surplus fabrics in the garment industry.
In addition to the waste problem, she is aware that Thailand's garment sector is a sunset industry and she must think about the sustainability of her business in the long run. The industry is challenged by other emerging markets that produce cheaper apparel by taking advantage of cheaper labor.
Her idea to solve the waste problem and sustain the business became solid when she reunited with old friend Amorpol, who had a similar interest in solving waste problems.
With experience running an online marketplace, he developed an interest in setting up a startup that combined sustainability principles with the digital economy.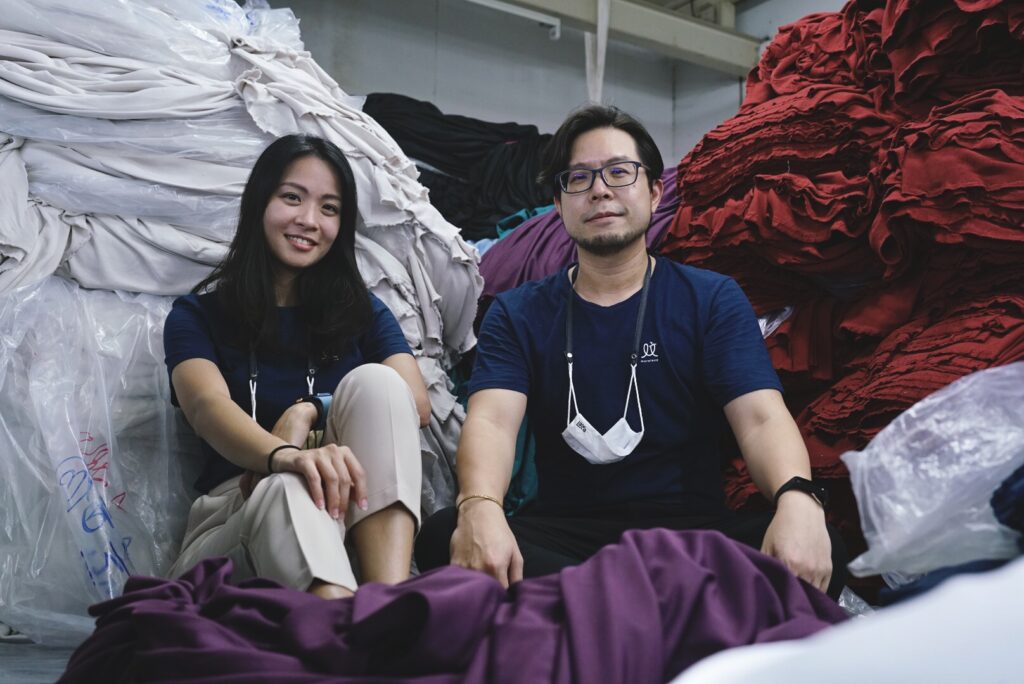 After a series of discussions, Thamonwan and Amorpol co-founded Moreloop with the concept of making one's man trash another man's treasure through the digital market.
The successful matching of sellers with surplus fabric and buyers requiring accessible and transparent data led them to partner with garment factories and collect data on their deadstock fabric.
The data includes the detail of more than 3,000 types of surplus fabrics ― from materials to prices and remaining volumes ― from more than 70 garment factories in Thailand. At present, there are about 150 buyer accounts registered with Moreloop.
"We want to prove that economic and environmental value can co-exist. Now we can prove that [fabric upcycle] can sustain in a small-scale business. We need to prove that it can move on with more growth," said Amorpol.

Collaborative customers
"I believe [our business] can grow more if we can absorb more surplus fabric data from factories. The data we have now comes from only a small percentage of the garment factories in Thailand," said Thamonwan.
"More data means buyers have more choices of fabric. The more data we have, the more matchmaking [between factories with surplus fabrics and buyers] will occur and succeed.
Surplus fabric may be only the beginning of Moreloop's quest to prove the potential of the digital economy in solving the waste problem and expanding the circular economy. Amorpol questions if the same business model can be applied to other types of waste, which may be the next challenge for Moreloop to solve.
The startup has received some awards in the past few years due to its innovative solution. In 2021, it won the SEED Low Carbon Awards funded by the United Nations Environment Programme (UNEP), the United Nations Development Programme (UNDP) and the International Union for Conservation of Nature (IUCN).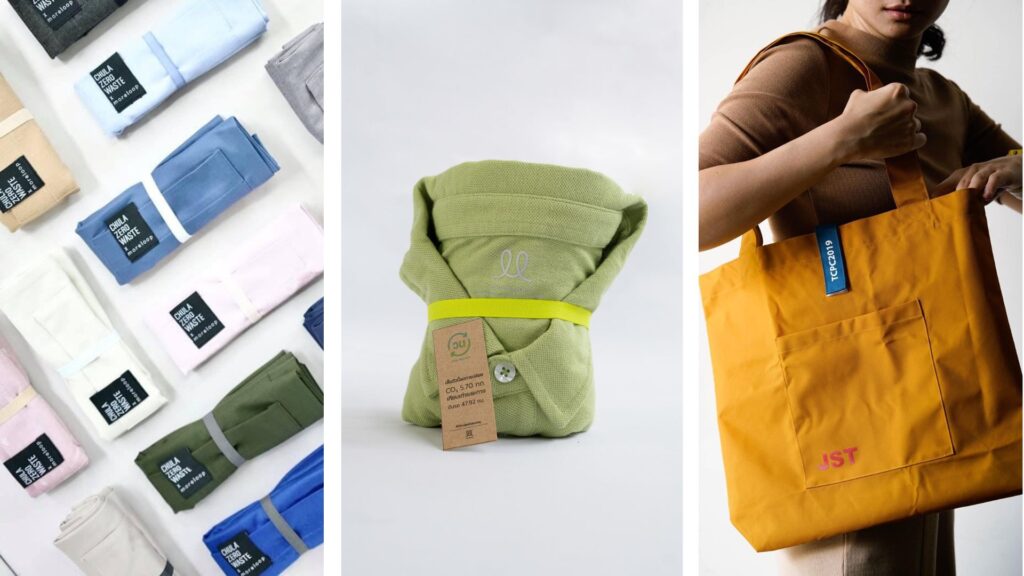 For Thamonwan, doing business through Moreloop is fascinating because she has the chance to experiment with new solutions for her customers.
"In the garment business, customers are treated as God. Clothing manufacturers must answer all customers' demands, mostly without bargaining," she said.
"But for Moreloop, because the surplus fabric is limited in volume, we have seen customers being compromised and collaborative with us to make the best use of the available fabric."
For example, some of her corporate customers agreed to use surplus fabric in different shades of colors in their made-to-order products, even though these colors were not identical. Some customers agreed to use different types of surplus fabric in making their products, such as companies' team T-shirts and bags.
Thamonwan hopes this collaboration will grow along with her business. To succeed means more customers must buy in Moreloop's solution and see the positive impact of upcycling waste.
Eye on Solutions is Mekong Eye's new section that casts light on solutions and innovative ideas from individuals, local businesses and communities trying to solve environmental challenges.