BANGKOK/SURIN, THAILAND – Migration from rural to urban areas is part of climate adaptation for many Thai farmers facing unpredictable weather. But their new lives in the cities can leave them poor, uncertain and lonely.
On the roadside near Soi Kip Moo, one of the largest internal migrant communities in the eastern part of Bangkok, many workers line up every morning and wait to be picked up.
Pimonrat Bootjan, 59, a former farmer from the northeast province of Surin's Sangkha district is one of them.
Her destination is a construction site where she works relentlessly throughout the day to build the concrete forest for Thailand's capital ― in exchange for a daily income that will help her gradually repay her debt and feed her family of three.
At night, she returns to a tiny, rented room she shares with her 20-year-old son, who suffers from alcoholism and the congenital disease epilepsy, which takes away his ability to work.
She divorced her husband, who was also addicted to alcohol, many years ago and became the breadwinner of the family. Another elder son is a blue-collar worker who visits her occasionally.
Looking back to the day she quit farming, she believes her decision was right, although she must endure extremely hard work, poor living conditions and loneliness in the big city.
"The last time I grew rice, I ended up being more than 10,000 baht ($US300) in debt after I borrowed money to pay for fertilizers, pesticides and rented harvesting machines. That was when I decided to call it quits," she recalled.
"Had the income from rice-growing been more stable and profitable, I would have continued to be a peasant and not become a construction worker."
Her story is typical in her agrarian village in north-eastern Surin province. Almost every household has at least one member moving out because in-season rice cultivation is not sufficient to feed the family.
The causes of their migration are complex and varied.
The country's economic drive is often seen as the major factor as migration has become a part of Thai farmers' lives since the economic reform of the 1960s ― shifting the Thai economy from agricultural reliance to industrial and service sectors, which attracts farmers from rural areas to cities.
But recently, agricultural experts, academics and farmers have pointed out that environmental degradation and unpredictable weather linked to climate change may also contribute to farmers' decisions to migrate.
"Extreme weather events and changing weather patterns have crippled rice cultivation," said Ubon Yoowa, chairman of the Surin-based Community of Argo-ecology Foundation, which has monitored Thai farmers' movements for three decades.
"Suffering from the losses of rice yields and incomes, farmers are forced to migrate to work elsewhere. If farmers had a certain level of financial stability from rice-growing, they would not have to search for other sources of income."
According to a 2020 study by the Bank of Thailand's Puey Ungphakorn Institute for Economic Research, about 9.58 million people from farming households are working outside the farm sector, most of them – or almost seven million – are from the northeast.
The study also found that 76% of farming households are forced to rely on income from non-farming sectors.
From peasant to mason
As many as 216 million people in six regions could be internal climate migrants by 2050, according to the World Bank's Groundswell Part 2 report. The poorest and most vulnerable will be hit the hardest.
The projected number of climate migrants is 6.3 million in the Lower Mekong subregion ― comprising Cambodia, Laos, Myanmar, Thailand and Vietnam ― if no measures are taken to address climate change. This represents 2.7% of the total population of the subregion.
The migration will be influenced by sea-level rises, declines in water availability and crop productivity, the report pointed out.
Pimonrat and her family members have already been climate migrants as migration was part of their adaptation to survive uncertainty ― not only from the unpredictable weather, but also from the volatile agricultural market.
At the age of four, her family of nine migrated from their parched village in Thailand's northern Roi Et province to Surin province to evade water shortage.
Her father then headed to Phuket and became a construction worker as farming alone could not sustain the family. Her mother and siblings stayed home and continued rice farming.
Outside the crop season, her siblings went to work at construction sites in Bangkok. They later quit growing rice and turned from seasonal to regular construction workers because of more stable incomes.
Soon Pimonrat followed their path, mainly because of the financial pressure from debt and lower crop productivity. She decided to stop farming, sold her farmland and became a construction worker in Bangkok in 2006.
---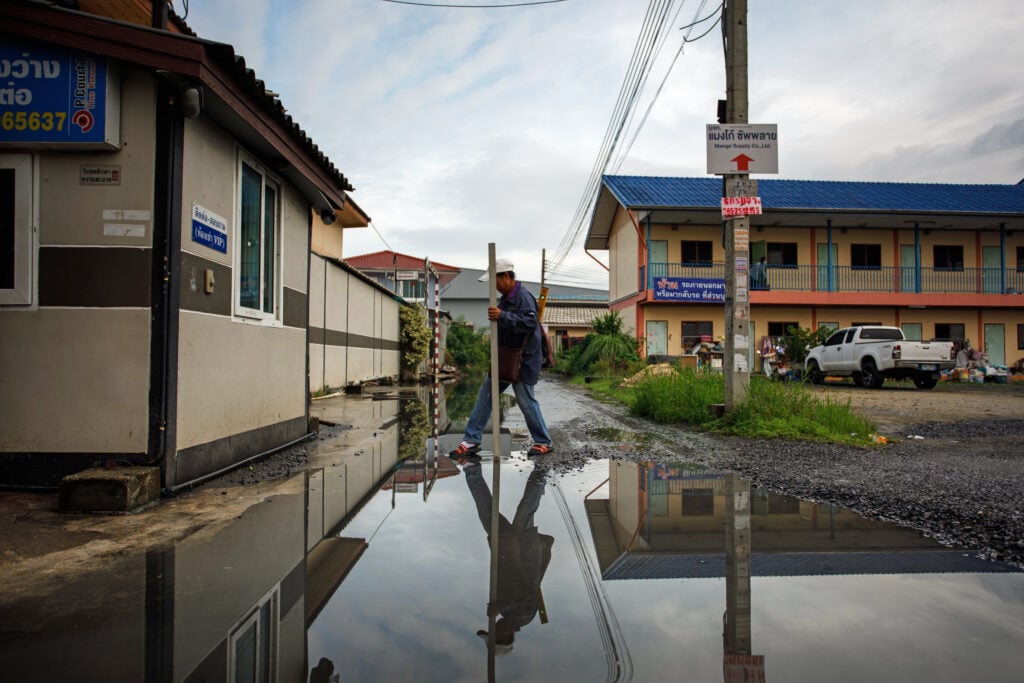 A Thai photographer documents the life of a farmer-turned-construction worker in a city as unpredictable weather devastates her crops and income.
---
Her village has 184 households with a population of 685. Only about half of them, mostly the elderly and children, remain in the village.
She has almost cut her ties with peasant life, except for her 96-year-old mother, who she visits twice a year.
Now settled in Bangkok, she earns a regular income that can pay her debts and sustain her life, despite having little savings. She earns 800 baht per day ($25), although there is no work on some days.
Her overall income was much better than being a peasant, when only had money once a year after the harvest.
A means of adaptation
Migration has long been part of Thai farmers' way of life under the uncertainty triggered by climate change, said Thanyaporn Chankrajang, the economist from Chulalongkorn University.
"Migration is a means of income diversification for agricultural households," she said.
In August 2022, Thanyaporn Chankrajang and economics academic Khemarat Talerngsri-Teerasuwannajak published research that indicated the links between falling rice production and unpredictable weather caused by climate change.
Using 65-year-old weather data from 1951 to 2016, the researchers found evidence of significant regional climate change in Thailand in terms of increasing temperature and declining precipitation.
The average temperature normal in Thailand increased between 0.09 and 0.18 Celsius per decade ― decreasing the rice yields in Thailand's northeast region, in particular.
The average rainfall has dropped considerably in all regions, except the northeast, which experienced too much precipitation during the harvest season, leading to a decline in the area of rice cultivation.
"Despite clear trends in climate change, we find that its adverse effects are mild and sporadic. In addition, sustained long-term upward trends in historical rice yields are strongly evident," the research concluded.
"Our results imply two factors that support long-run upward productivity trends. First is the expansion of irrigated areas. Second is a technological improvement, including the adoption of high yield varieties and farmers' direct climate adaptation such as changing the rice crop sowing date, intercropping and off-farm diversification."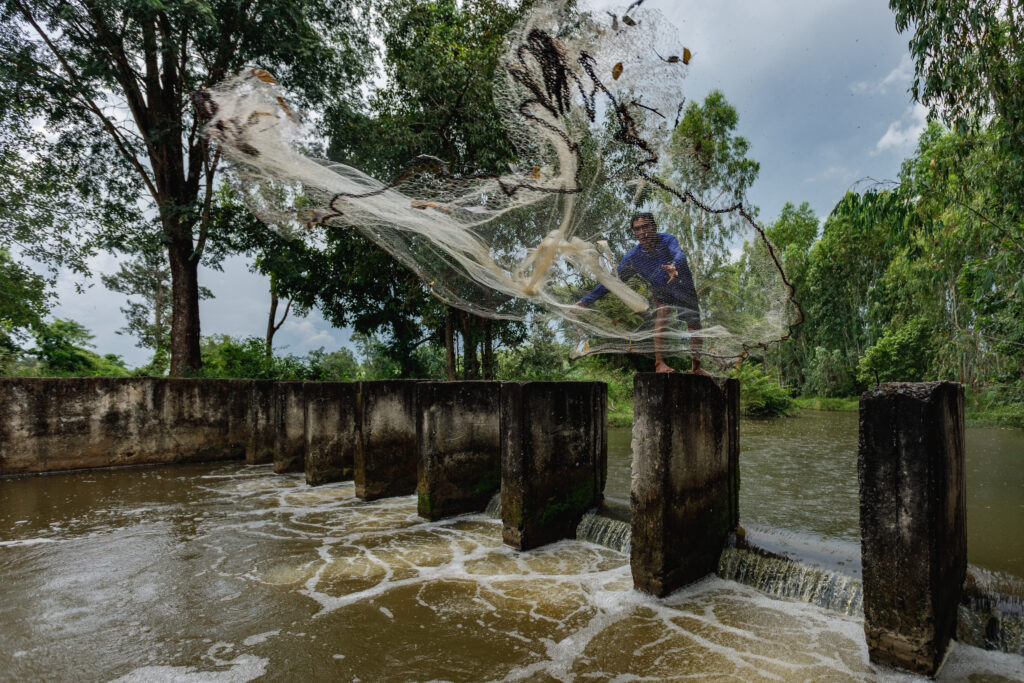 A 2020 article, titled "Building Climate Resilience through Migration in Thailand" by Patrick Sakdapolrak and Harald Sterly, gave a similar view on farmers' migration as a means of adaptation.
"Climate change is increasingly threatening human security, especially among vulnerable populations in the global South […] Migration in this context should not be seen only as the result of a household's failure to adapt, but can also be part and parcel of the process of successful adaptation," the article said.
Hoping for some luck
"We normally sow rice at the beginning of the rainy season. If the rainy season is delayed, rice seeds will not germinate," said Prasit Taweewannakit, the deputy village head of Surin's Non Samran village, who is also a rice farmer.
"Meanwhile, if there is too much rain during the dry season when we harvest and dry the rice, the grain will be damaged or dampened and has to be sold at low prices."
His village is located in a non-irrigated area, so farmers had to grow in-season rice, mostly Hom Mali 105 varieties. This means they can grow rice only once a year, unlike farmers in irrigated areas who can grow multiple off-season rice crops.
As a result, farmers have to rely on seasonal weather patterns and are vulnerable to unpredictable weather. Natural disasters, including floods, droughts, rice disease and pests increase the risk of crop and income losses.
"For small-scale farmers like us, rice-growing creates more losses than profits. Rice is no longer a staple source of income, but we continue to do it because it is better than leaving the land unused and at least we have rice for household consumption," Prasit said.
Many of his villagers can't clearly link low crop productivity to climate change, as they focus more on urgent matters, especially debt and feeding their families.
But for Chaiwat Wilaisungnoen, an agricultural extensionist at Sangkha District Agricultural Extension Office under the Ministry of Agriculture and Cooperatives, the impacts of climate change on rice cultivation in the district are obvious.
In late 2021, the district experienced "unusual" rainfall periods with a lot of rain in the harvesting season, starting from November to February.
Rice farmers were hit by the unusual rainfalls again in the summer month of April this year, causing month-long floods in lowland paddy fields that forced farmers to delay sowing until July onwards. Some had to sow two or three times because the seeds were damaged in floods.
There were also links between the odd weather patterns and the outbreak of rice blast disease, a fungal disease that poses a serious impact to rice productivity.
"Unusually high and prolonged humid weather coupled with strong winds were believed to play a role in the severity of the rice blast disease outbreak in Surin in 2019," observed Chaiwat.
"The disease damaged more than 30,000 rai (4,800 hectares) of rice paddy in Sangkha district alone, affecting around 5,000 rice farmers."
The government paid 34.5-million baht in aid to affected farmers in the district that year.
"With the unpredictable weather and seasonal anomalies, I would say that apart from skills and capital, peasants need a lot of luck too," he said, adding that more villagers, especially the younger generation, would turn their backs on rice cultivation because of the uncertainty of harvesting a healthy crop.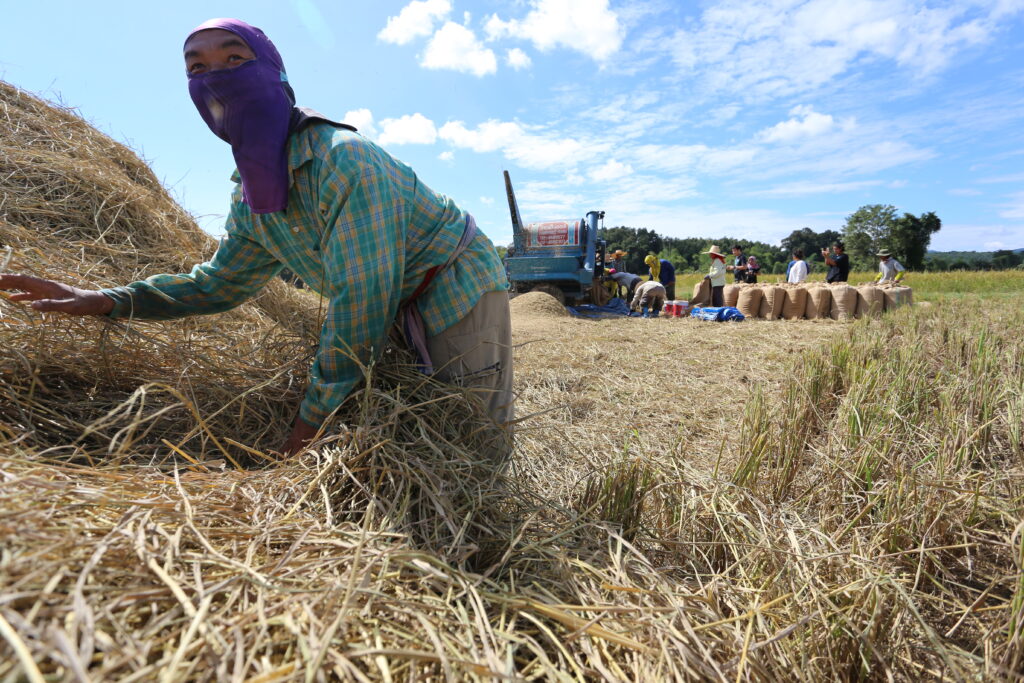 No turning back
To help farmers with climate change, Ubon, from the Surin-based Community of Agro-ecology Foundation, suggested the nation's weather forecast system be improved to specifically serve the agricultural sector.
"We need area- and time-specific weather forecasts that can really help farmers to make the right decision on when and what to plant," he said.
Developing climate change-resilient rice varieties should be another priority for concerned agencies.
The economist Thanyaporn said the government or local administrative bodies should focus on creating small-scale water retention at a community- or household-level, according to her study.
They were effective tools in helping farmers cope with water shortages in the dry season and flooding in the wet season, as well as the climate crisis that occurred in the El Nino/La Nina years.
As for those who left agriculture for a long time, returning to it is not easy.
Pimonrat was counting down her days as a construction worker in the capital. It is hard for an elder worker like her to get long-term employment as the foremen prefer younger and stronger laborers.
"I might have to return to Surin in the next few years," she said, adding that she had mixed feelings about migrating back to her hometown.
"It's good to stay close to my elderly mother and relatives, but I still don't know what to do there for a living."
Rice-growing was no longer a choice because she no longer owns land and is too old to work in the fields.
"Perhaps, I will do small merchantry in the village," she said.
---
The production of this story was supported by Internews' Earth Journalism Network.
Tanat Chayaphattharitthee is a photojournalist based in Bangkok, Thailand. His works appear in multiple media outlets, including National Geographic Thailand. He has joined Thai News Pix, an independent press photo agency, since early 2022. His photograph series "A closeup of a climate migrant's life" documented the life of a farmer turning to construction jobs in a city as unpredictable weather devastates her crops and incomes.