A Thai photographer documents the life of a farmer-turned-construction worker in a city as unpredictable weather devastates her crops and income.
BANGKOK/SURIN, THAILAND – Many people's lives have become insecure and precarious due to the impacts of climate change.
An average of more than 20 million people leave homes and go to other areas each year due to the increasing intensity and frequency of extreme weather events, according to the United Nations High Commissioner for Refugees (UNHCR).
These events include abnormally heavy rainfall, prolonged drought, desertification, environmental degradation, sea-level rise and cyclones or hurricanes.
In Thailand, many farmers have moved from rural areas to cities because of multiple factors.
Thai farmers say the rising cost of agricultural production and chronic debt are the common reasons to leave the land.
But these factors may also be linked to climate change as farmers have experienced irregular floods and drought that cause declining crop productivity – and they don't have the resources to cope with it.
Migration to intensive economic areas – mostly cities – is one of the ways farmers handle this. But the outcomes may not always be what they hoped for.
Many farmers turned blue-collar workers in cities live in poor conditions and are trapped due to their limited education and financial resources. Many work in the informal sector, preventing them from accessing social welfare and regulated financial assistance.
---
Unpredictable weather forces rice farmers to abandon their land and head to cities to look for construction work.
---
In this series of photographs, I captured the daily routine of a farmer turned construction worker. Pimonrat Bootjan, 59, resettled in a Bangkok slum more than a decade ago. She left farming because of uncertain crop productivity, which was linked to unpredictable weather in her home village in Thailand's north-eastern Surin province.
Her story is typical of many internal migrants who left their agrarian communities for cities because they could no longer rely on agriculture.
The photographs illustrate her difficulties and lonely life in Bangkok. They also show the urgent need to improve the livelihood of migrants – many of whom could be climate migrants – in their new settlements and their needed access to assistance as they won't return to agriculture.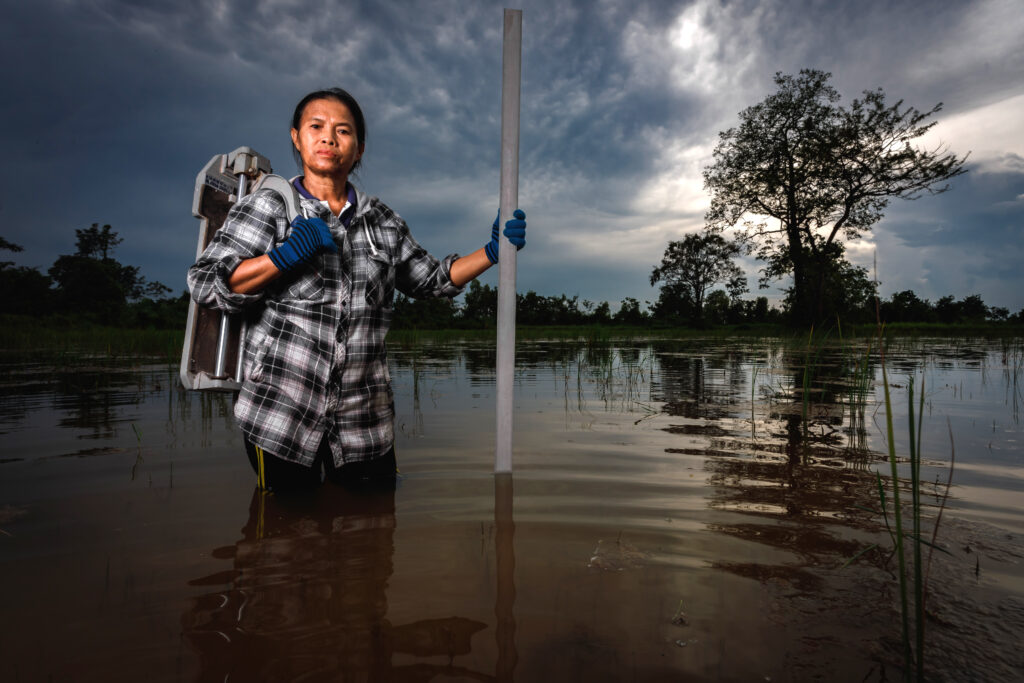 Pimonrat, a former farmer from the northeastern province of Surin, migrated to Bangkok more than a decade ago as her meager income from farming could not feed her and her family anymore.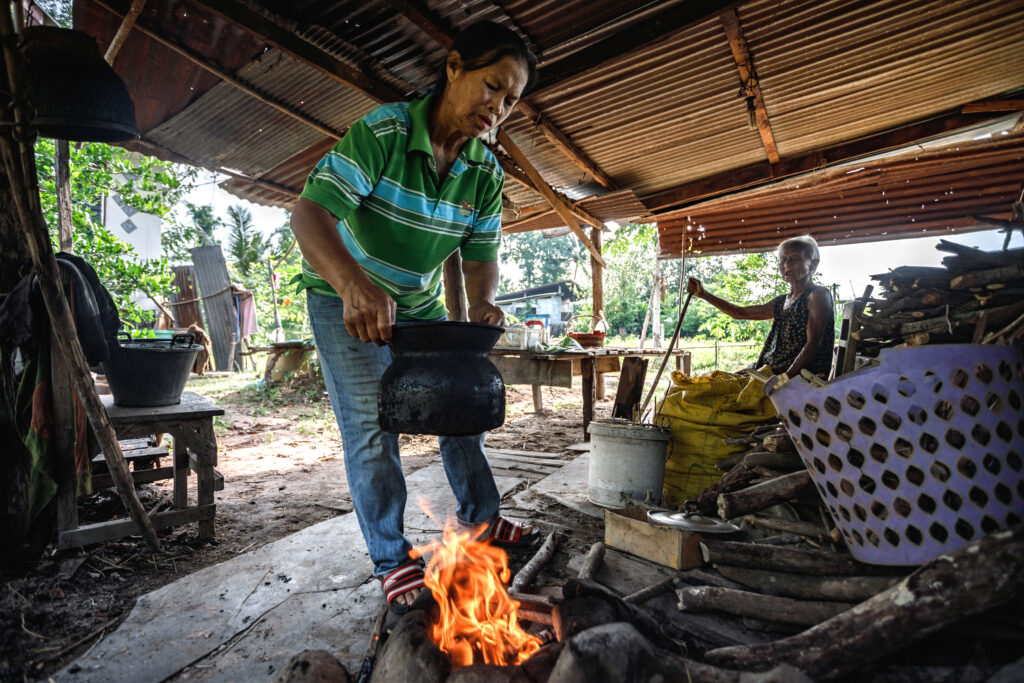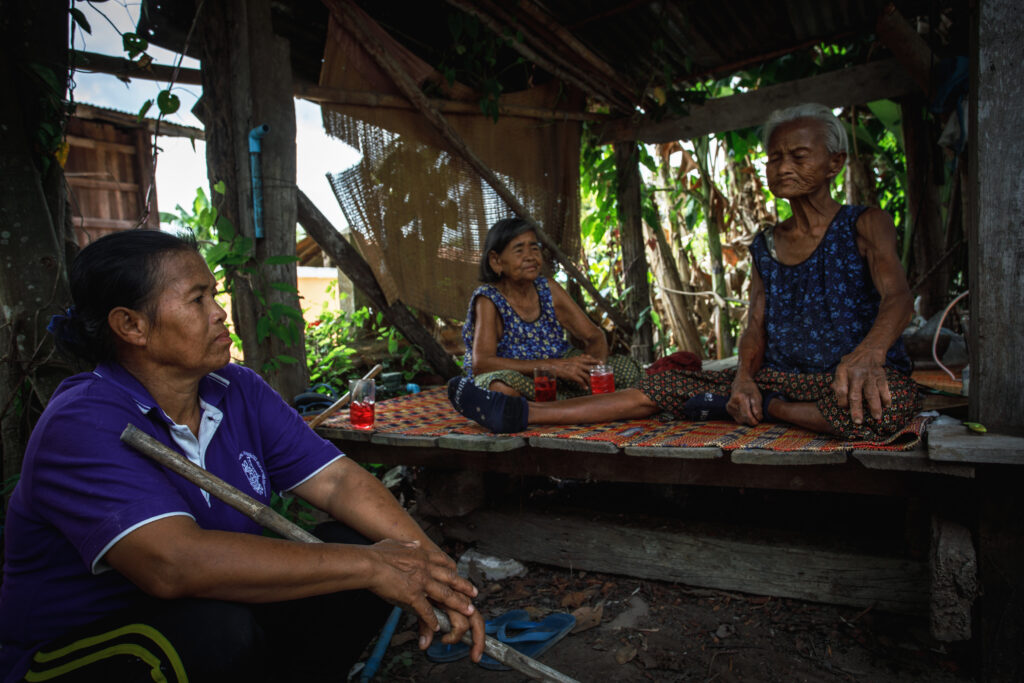 All her family members are or were farmers. She visits her 96-year-old mother and relatives twice a year during public holidays. Her days at the village are often spent in conversation with family members.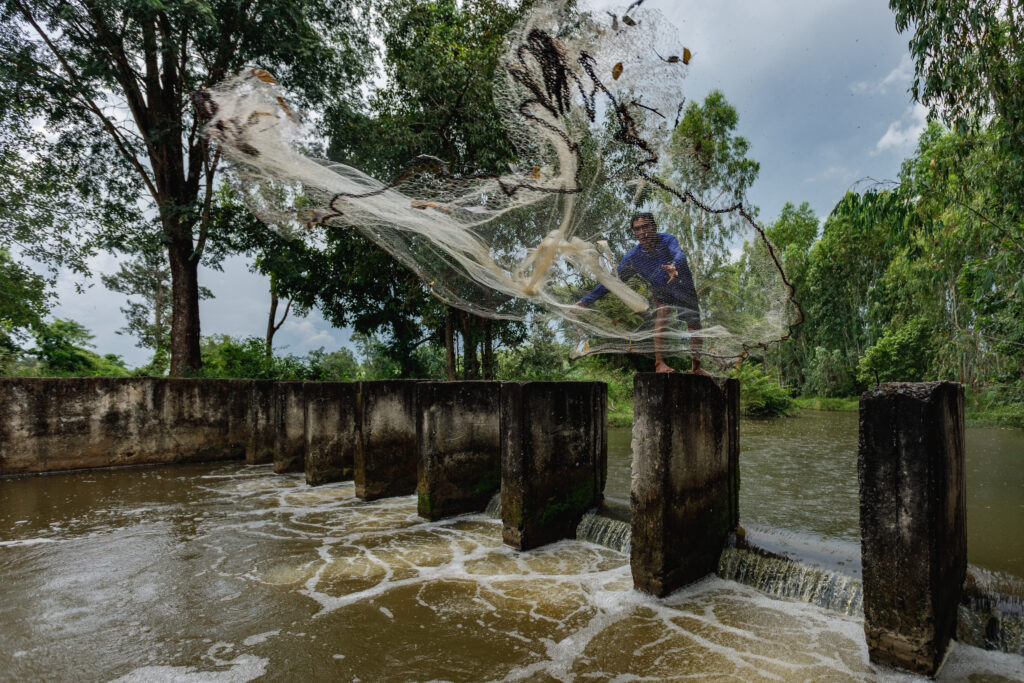 Due to unpredictable weather, some farmers in Surin province have shifted to fishing. They have experienced heavy rain during the harvest season, damaging their crops and wiping out their incomes.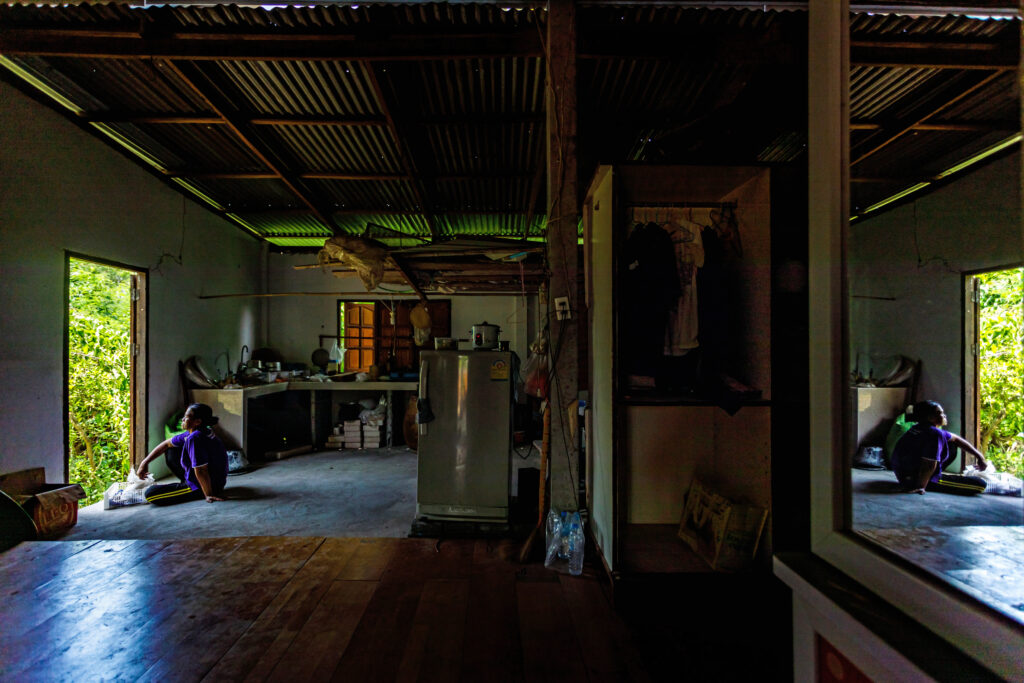 Pimonrat had been a rice farmer since she was a teenager and thought she would always be a rice farmer. She inherited half a hectare of farmland from her mother. But as she grew up, she found the crop productivity and income from the farm had shrunk due to multiple reasons – one of which was unpredictable weather.
By 2006, she had seen enough. Under financial pressure and with accumulated debt, she sold her land and left her village to become a construction worker in Bangkok. Part of her income earned in the city must be spent on loan repayments.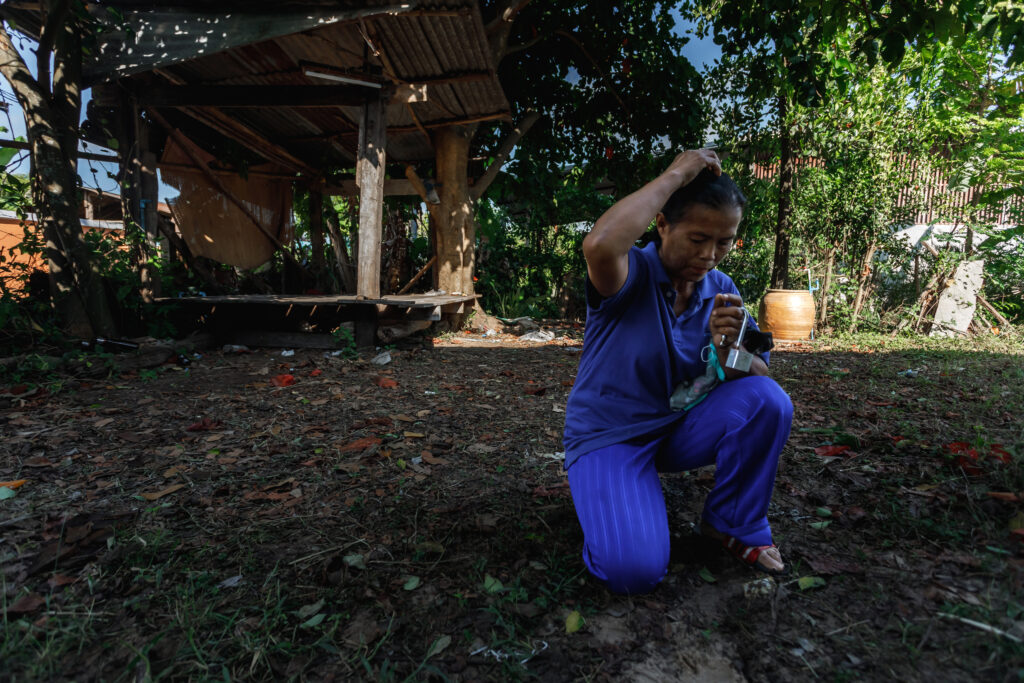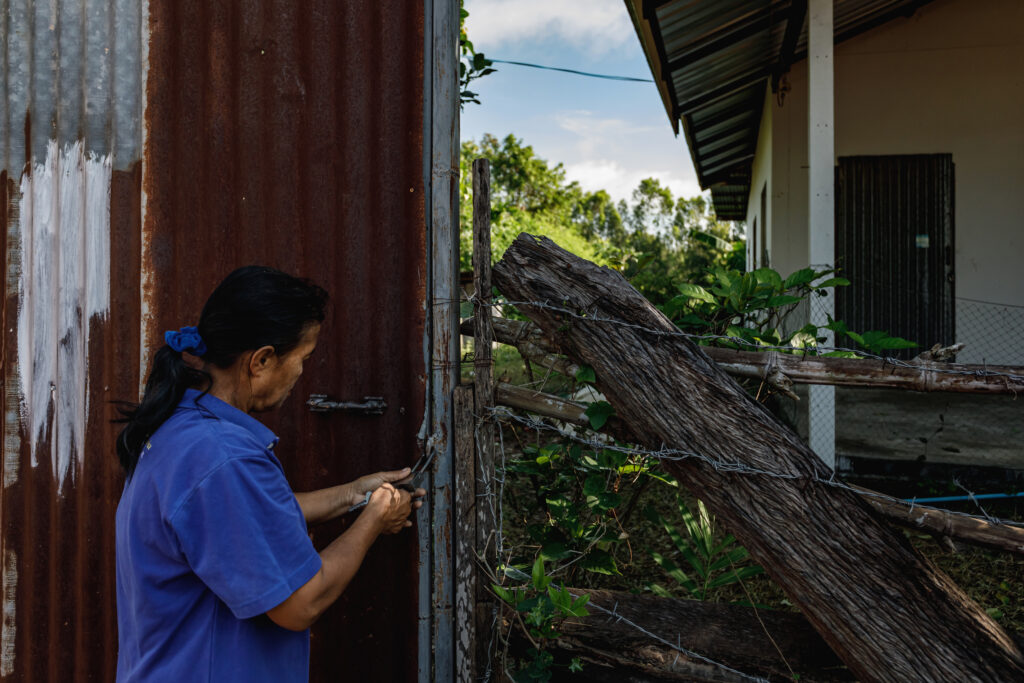 Before Pimonrat left her village for Bangkok, she sprinkled soil on her head – a traditional way to pay respect to the goddess of the earth, known as Phra Mae Thorani. The act is believed to bring protection to farmers and their land.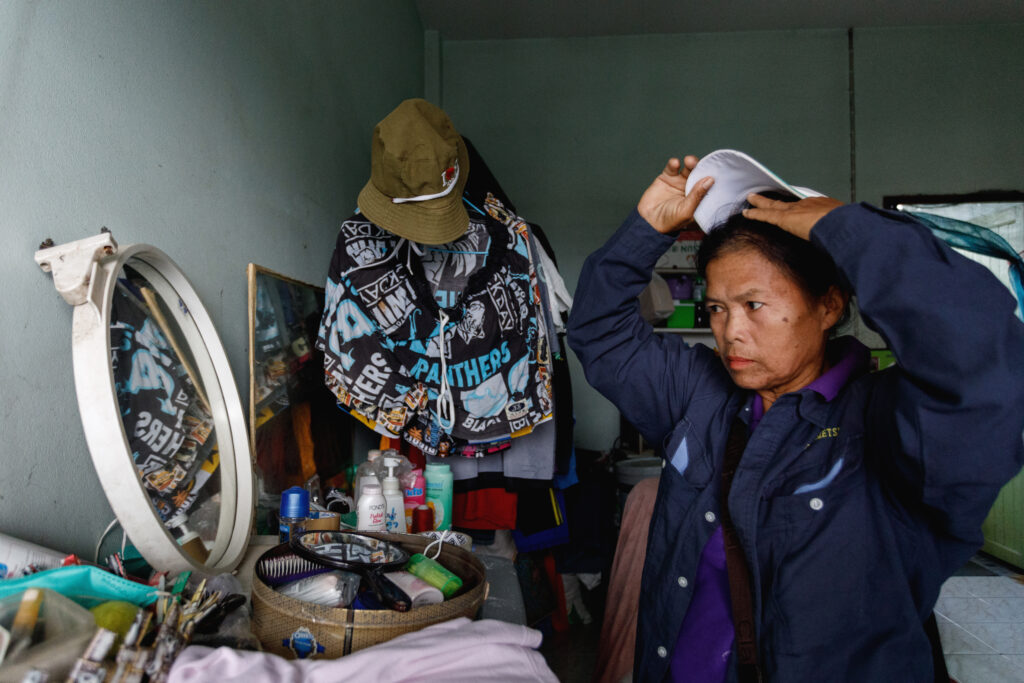 Pimonrat rents a small room in Soi Kip Moo, one of the largest internal migrant communities in the eastern part of Bangkok. The area is a hub for internal and foreign migrant workers, including those from Myanmar and Cambodia.
She lives with her second son, who is in his 20s and suffers from alcoholism and the congenital disease epilepsy. His condition makes it impossible to work. Her first son is also a blue-collar worker in Bangkok. She divorced her husband, who was an alcoholic, many years ago and became the breadwinner of the family.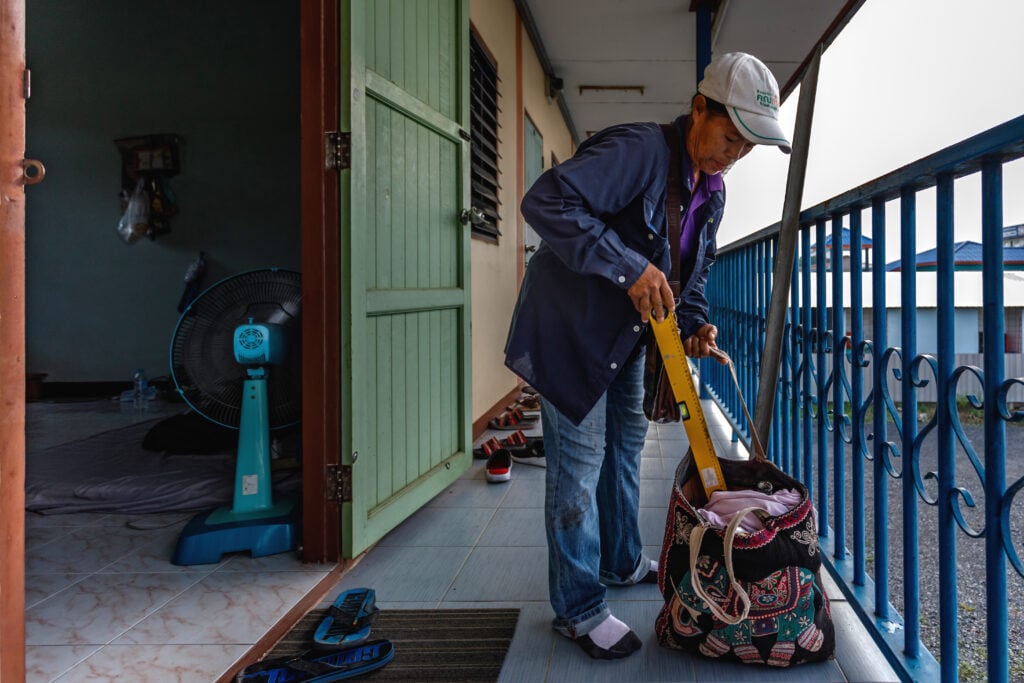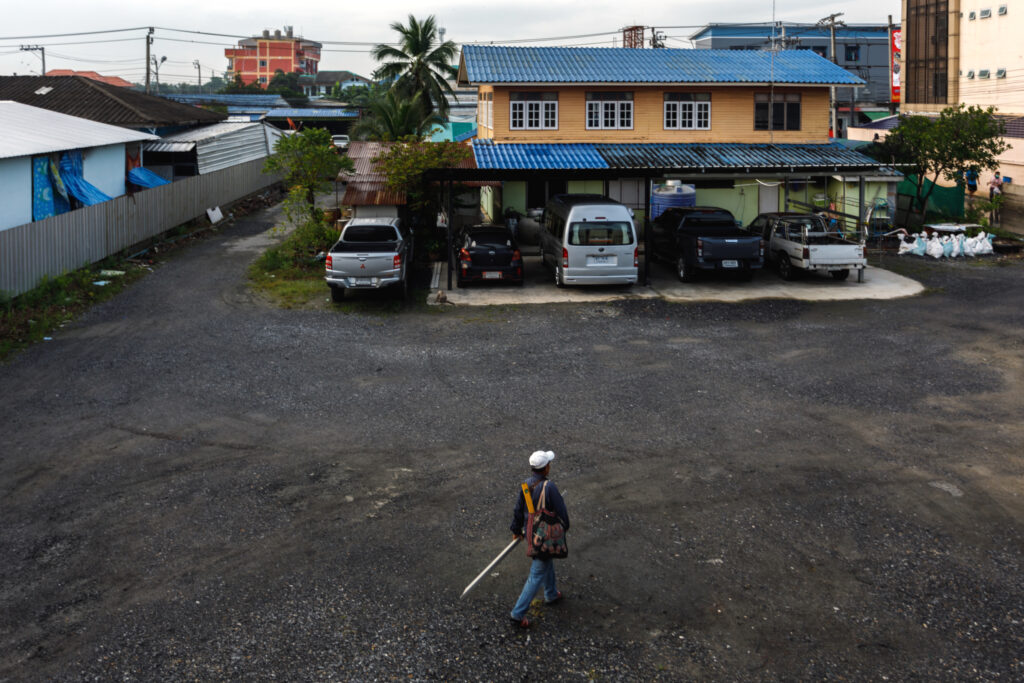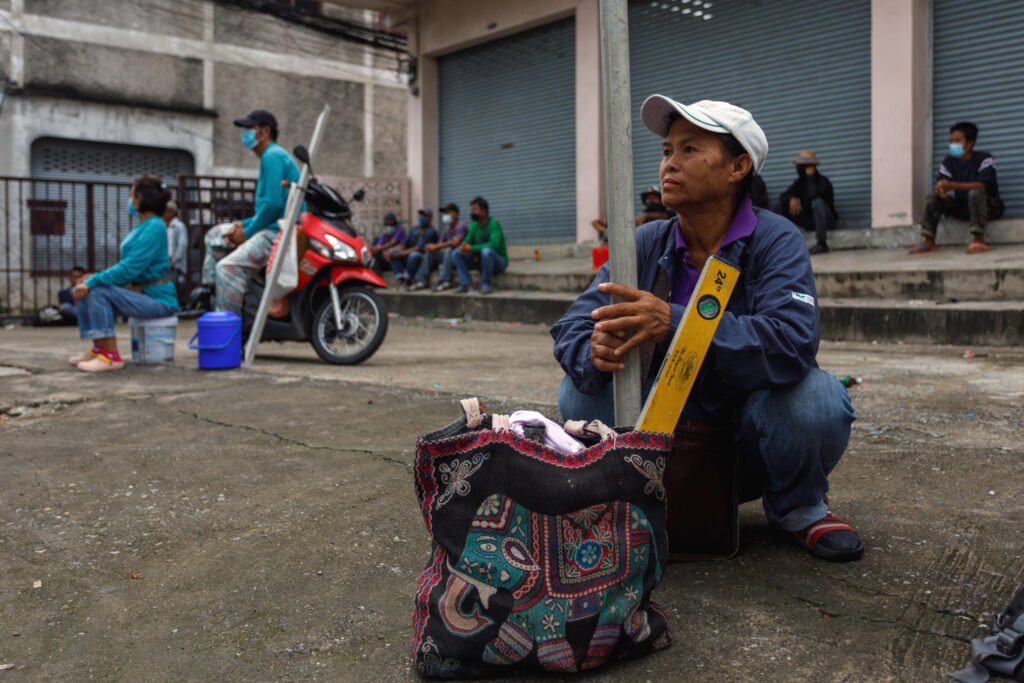 Every morning, she prepares the equipment she uses in construction work and leaves her room at 6.30am. She walks to the roadside near Soi Kip Moo and waits to be picked up by the contractor.
Her average income is 800 baht (US$25) per day. It is enough to sustain a meager life in Bangkok, repay her debt and support her mother and ill son.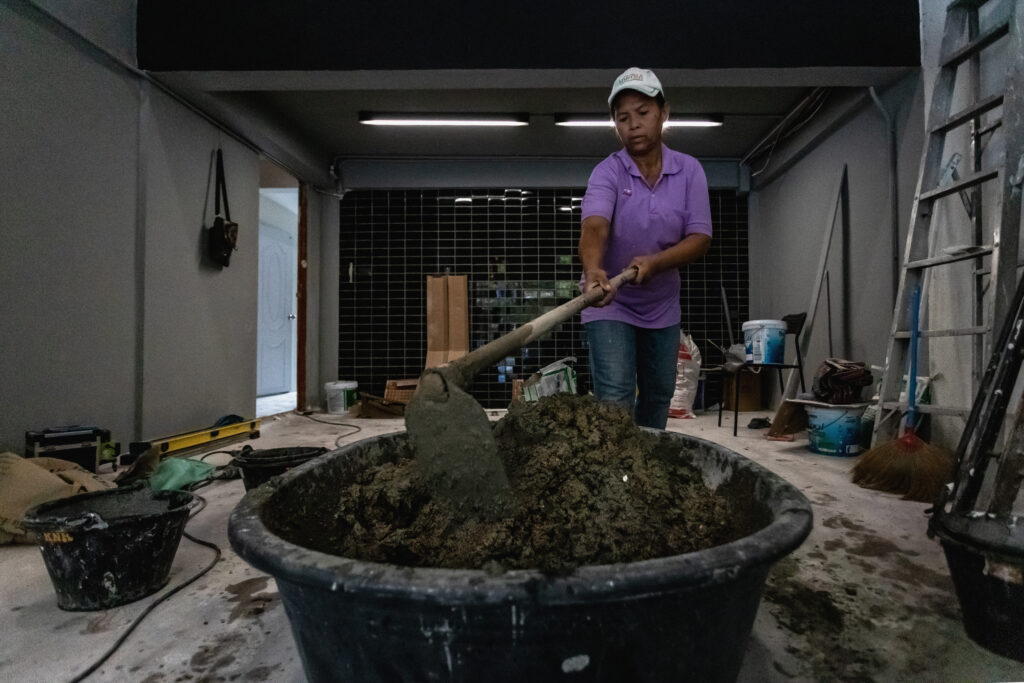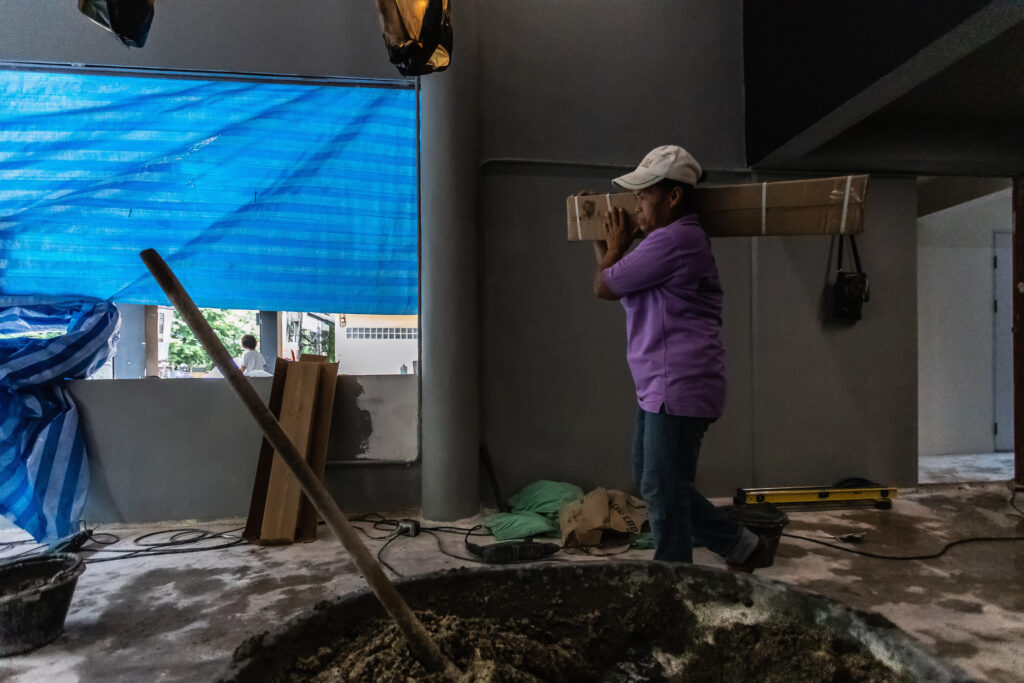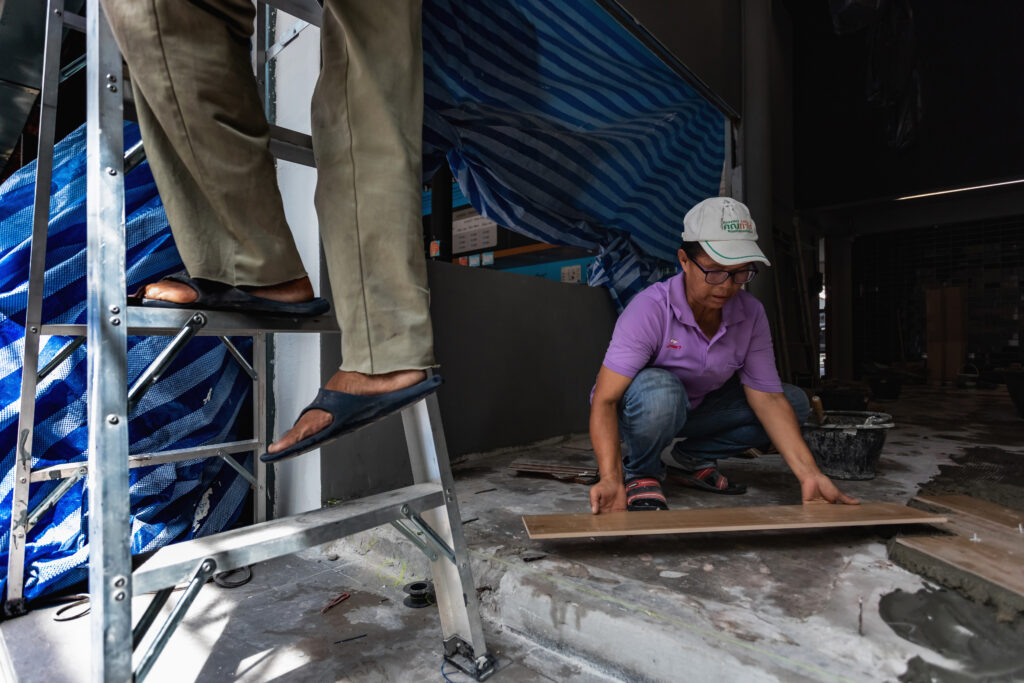 Since resettling in Bangkok, Pimonrat has developed construction skills, especially floor paving and tiling, which requires more skill and guarantees more income than other work. However, female construction workers often face limitations in their work. They are not encouraged to carry heavy loads or work at heights.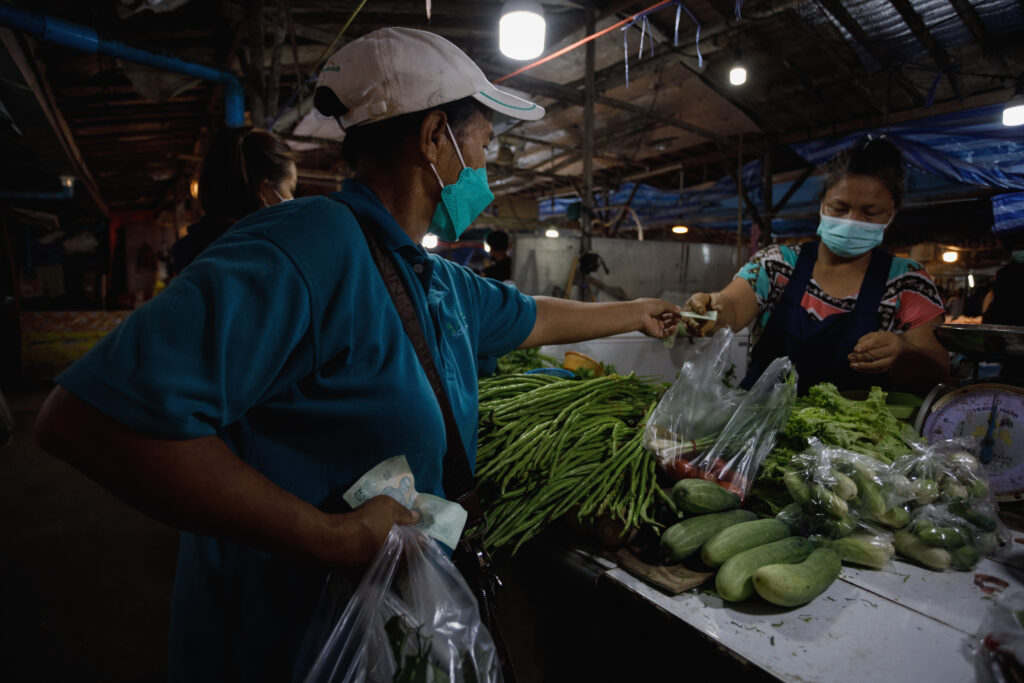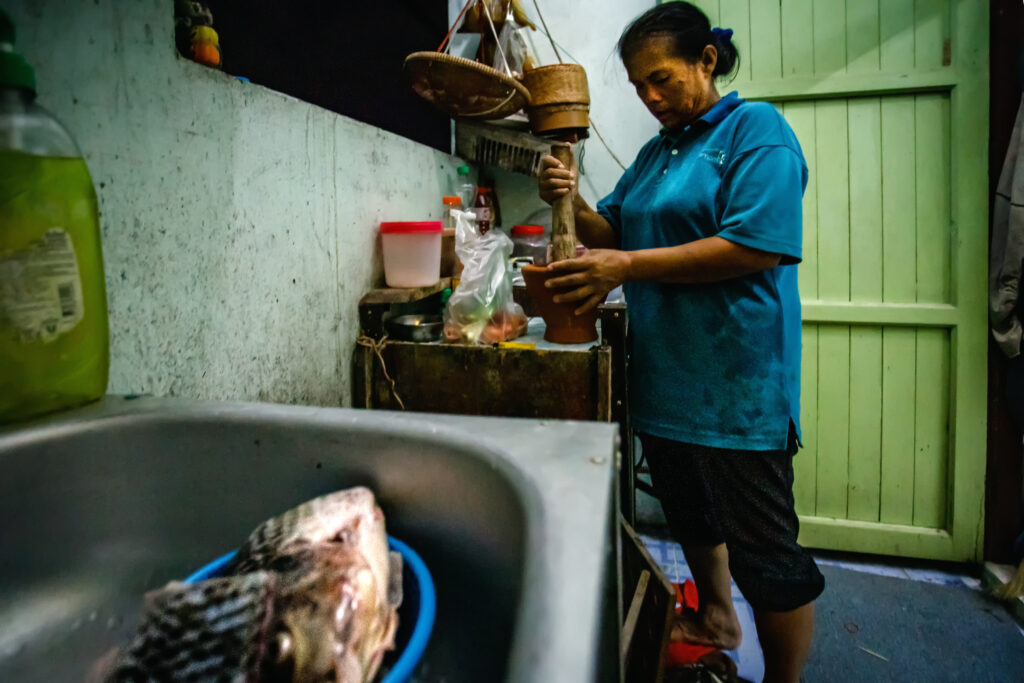 After working hours, she regularly visits a nearby fresh market to buy food. Home cooking is her strategy to save money and she often cooks simple northeastern food, which includes freshwater fish soup, boiled vegetables and a spicy sauce.
Part of her income is spent on food and necessary goods. She tries to save money in case there is no work on some days.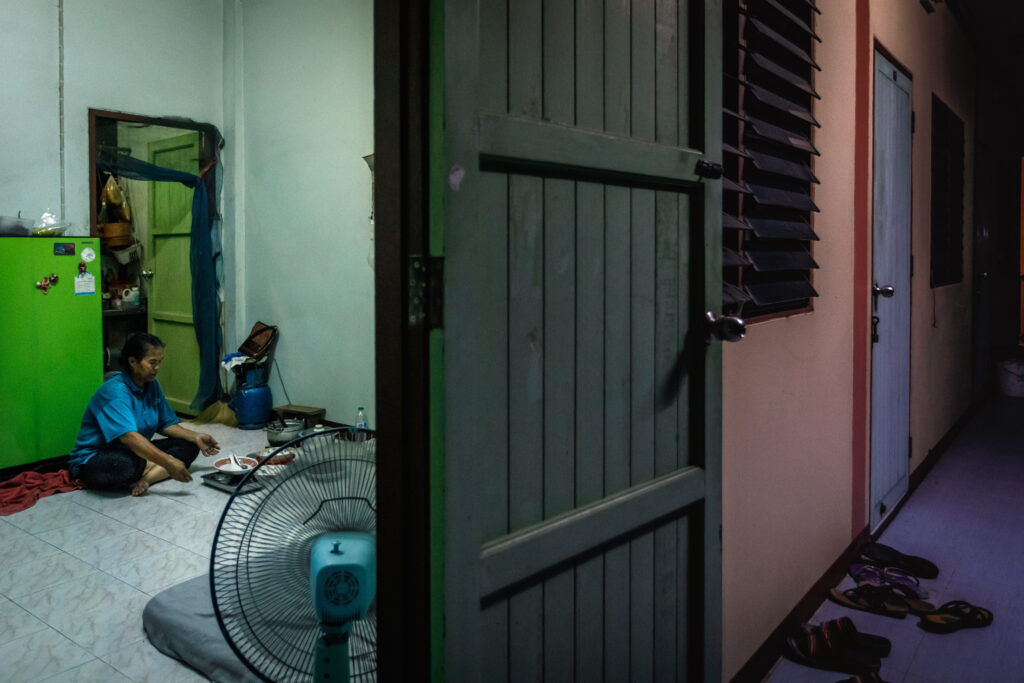 Although she is earning a better income than farming, Pimonrat's life in Bangkok is lonely and difficult as she is far from her family and must depend on cash. She often eats alone. Her second son sometimes visits her in the evenings and they have dinner together.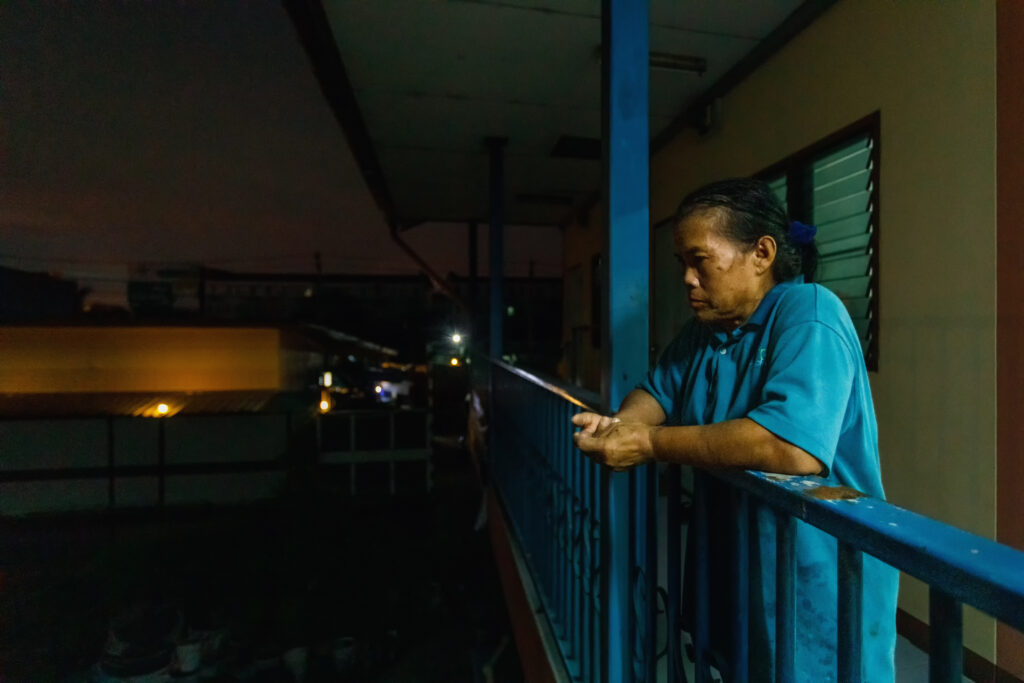 It is harder for an elder worker like Pimonrat to get long-term employment as the foremen prefer younger and stronger laborers. She wants to save as much money as possible and return to her village one day.
But rice growing won't be her choice anymore as she does not own any land and the crop yields are unstable. Despite migrating for a better living, her life is still uncertain.
---
The production of this photo series was supported by Internews' Earth Journalism Network.