QUANG TRI, VIETNAM – One afternoon at the end of 2017, officials in Dakrong district in Central Vietnam's Quang Tri province visited Ho Thi Nieng's house. They claimed she and her husband had "burned the protected forest to do farming."
"We had been cultivating that land for a long time and there had never been a problem," 26-year-old Nieng, who belongs to the Van Kieu ethnic minority in Ta Leng village, said as she recalled her panic at the accusation.
The following year, in 2018, the young mother was sentenced to nine months in jail for burning the forest to farm it. Nieng's husband, Ho Van Hai, 32, was also charged with the same crime, but received a suspended sentence – he was only "helping his wife" and had two young children.
In addition, the couple were told they had to pay damages to the state amounting to VND120 million (US$5,000), a staggering amount for a family who could not even afford to buy the gasoline needed to get them to court.
For generations, the Van Kieu people of the highlands of Dakrong have followed slash and burn agricultural practices. This means that a farmer abandons a field after harvest so the soil can regenerate and he moves onto a different piece of land. Three years later, he comes back to the original plot and burns the overgrown field to farm it again.
But during the past decade, many have lost their ancestral farmland to forest protection measures or hydropower development. With no productive land, families have been struggling to put rice on the table.
It all started in 2012, when many households like Nieng's unknowingly lost their farmland after the Department of Agriculture and Rural Development rezoned the Huong Hoa-Dakrong area and made it a protected forest.
"When planning, we did not carry out detailed measurements and analysis, but only agreed with the local authorities on the area for protection and special-use forests," the Department of Agriculture told Mekong Eye. "Therefore, several areas cleared by local people for cultivation were interspersed with protected areas and special-use forests."
Unaware their abandoned fields were now part of the protected forests, many came back to burn them and prepare for the next crop, which landed them in jail.
In a written statement to Mekong Eye, the agriculture department said that attributing their re-zoning of Huong Hoa-Dakrong to the burning of forest for cultivation was "not entirely accurate," without elaborating.
In 2017, after reviewing the land fund, the agriculture department allocated nearly 10,000 hectares of land to the locality for redistribution to people to cultivate and help stabilize their livelihoods.
But families like Nieng's have yet to be allocated new land.
According to Ho Thanh, the Chairman of the Dakrong Commune People's Committee, the department's decision only allows redistribution to the poor.
"This land belongs to the people who have cultivated it for a long time. Now it is challenging to re-divide since it will arise that one person's land will be distributed to another, which can easily lead to litigation and disputes," Thanh said by phone.
Land for hydroelectricity
The Dakrong suspension bridge spanning the river of the same name is the district's most notable sight. But the colorful bridge cannot hide the poverty there.
Across the suspension bridge is Dakrong commune, and along the main road in the commune there are only a few small grocery stores. People there are surrounded by special-use forests, protected forests and hydropower plants. There is almost no productive land left for residents to use.
Trai Ca village in Dakrong district is a good example of how hard life can be there. Ho Van Duc's family of eight has less than 1 sao (approximately 500 square meters) of wet rice fields.
When the Dak Rong 4 hydropower plant was built in 2018, Duc, 46, had to give up his 3 sao of land for the project. This field originally provided enough rice for his family to eat for a year, but the compensation he received was only VND80 million ($3,220).
With the money, Duc bought a few cows. However, in the cold season the animals all gradually died. With zero livestock experience, plus the harsh weather, he did not dare to invest in livestock again.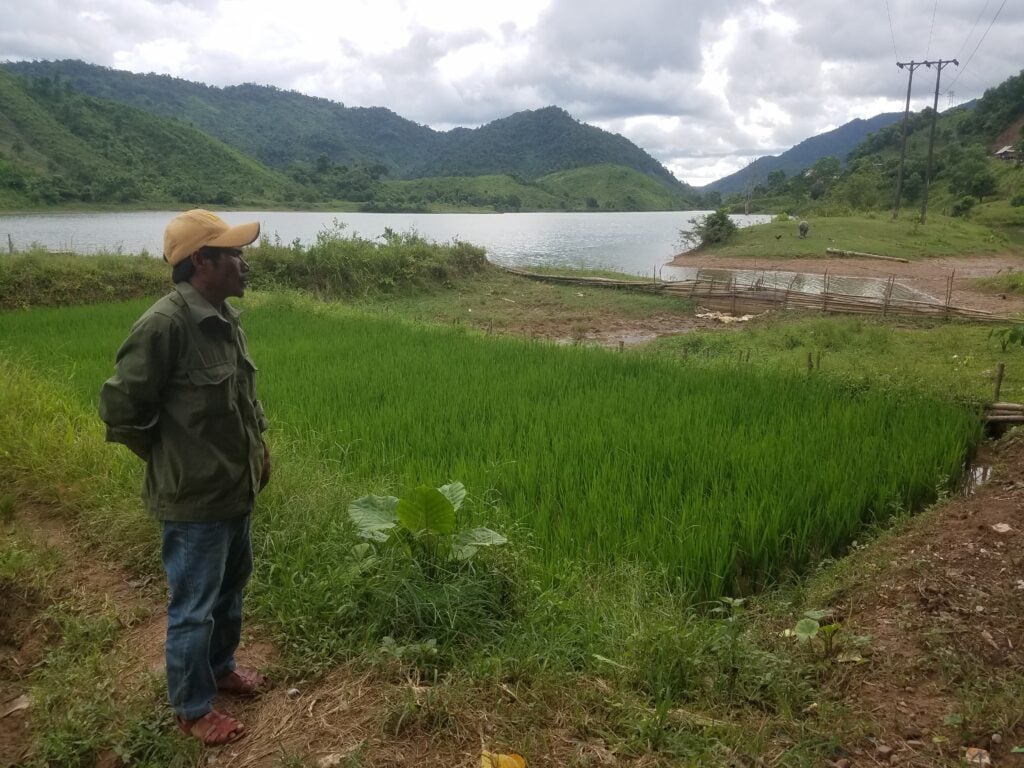 "If it were not for the land acquisition by the hydropower plant, the whole family would not have to suffer from the current lack of food," said Duc.
As people watched their fields disappear under the hydropower dam's lake, they were promised by the People's Committee of Dakrong district that they would be granted land elsewhere to grow their food.
The Dakrong 4 hydropower plant was put into operation in 2019, but Duc has yet to receive even an inch of land.
The vicious cycle of debt
Despite getting out of prison three years ago, Nieng's family cannot relax as the deadline to pay the fine is due this year.
"The officials said if I cannot pay within four years, I have to go to jail," said the worried young mother, who was pregnant with her third child.
Nieng's family has not been able to pay any money so far. Their total debt has risen to VND150 million ($6,040), which includes a VND30 million loan to repair their house.
During the time Nieng was in jail, her husband, Hai, was prohibited from leaving his hometown to work due to his suspended sentence.
After being released from prison, Nieng tried various ways to earn money to support her family, but none worked. She once rented a plot of land to grow cassava, but lost money after monkeys destroyed the cassava roots and broke the plants.
She then spent two months panning for gold in a stream, but only managed to get a small piece worth a little more than VND200,000 ($8). She crossed mountains and streams in the forest to find things to sell, but not all her trips yielded results. Working on an acacia farm has been another, albeit irregular, option.
Her family's livelihood now depends on a 40-square-meter field full of gravel and sand. Nieng wanted to buy fertilizer and grow rice, but said "we have nothing to eat and cannot afford fertilizer to grow rice."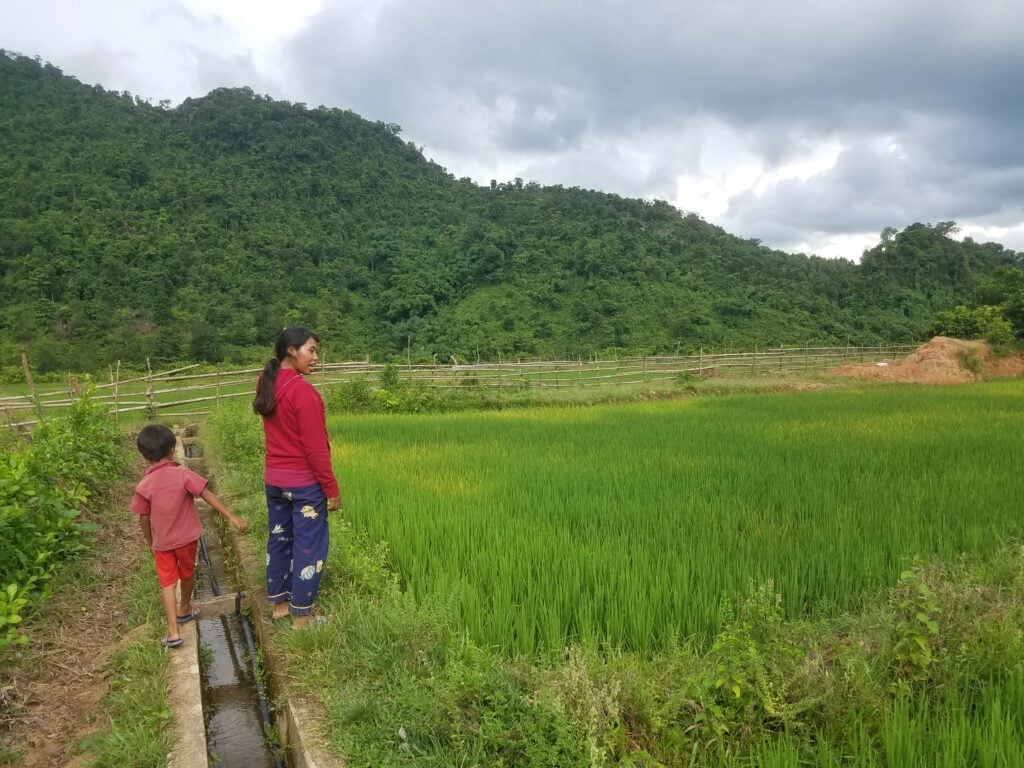 Finding solutions
Without a livelihood, young people have had to leave their homes for big cities to find work. The villages of Dakrong are now left with only the elderly and children. Some adults have tried to stay on, only to become destitute.
"The government should think of plans to develop the economy peripherally. Do not focus too much on cities and towns, but push it to the highlands," said Nguyen Van Manh, a lecturer in Ethnology at Hue University.
"It is necessary to create export processing zones and factories to buy agricultural products from the people. Find ways to bring livelihoods and people back to the locality. Only then will the communities and cultural identities be preserved," he said.
There are only about 1,500 households in Dakrong commune, and 60% are poor. Thanh, the commune chairman, said: "The production land area is too small, along with it is hills, degraded land and gravel."
Until now, Dakrong commune authorities still have no solution to the problem of sustainable livelihood development in the highland area.
Responding to the Mekong Eye on this issue, the Quang Tri Department of Agriculture and Rural Development vaguely suggested localities review their land fund and develop reasonable land use plans, and at the same time, build agro-forestry models, creating livelihoods and jobs and increasing incomes for local people.
While the slash and burn cultivation practices of the Van Kieu people are no longer suitable for modern land management, experts say we should find a solution so farmers can cultivate long-term on a single, permanent piece of land.
To sustainably grow food crops such as maize, rice and cassava, people must consider measures to prevent erosion, said Nguyen Ho Lam, a lecturer at the Faculty of Agronomy at Hue University. Otherwise, the soil will run out of nutrients after one or two crops, resulting in lower yields.
To keep the land fertile, farmers cannot exploit forests on hills and around fields, Lam said. They need to plant forest belts to limit the flow rate and retain the soil and water.
Lam recommended the garden-pond-barn-forest model, which "creates a cycle that gives nutrients for the soil, food for the cattle and preserves the forest," he said.
But farmers need their land back first. For Nieng, if the government allocates her some, she will change her way of farming.
"The first year I'll plant rice. Next year, grow pineapple, then coffee. Now I do not dare to leave the land empty again," she said.