SHAN STATE, MYANMAR ― Since Myanmar's 2021 coup, at least 20 gold mining permits have been granted to companies – some linked to military personnel – in areas where ethnic minorities live in eastern Shan State.
The surge in gold mining has added to the many difficulties faced by local communities, especially women and girls, who have to deal with mud, floods and polluted water caused by the mining.
Those affected include 50-year-old ethnic Shan farmer U Win*, who cannot sleep when the rain pours down. "We must watch out for flooding to guard our house and livestock," he said.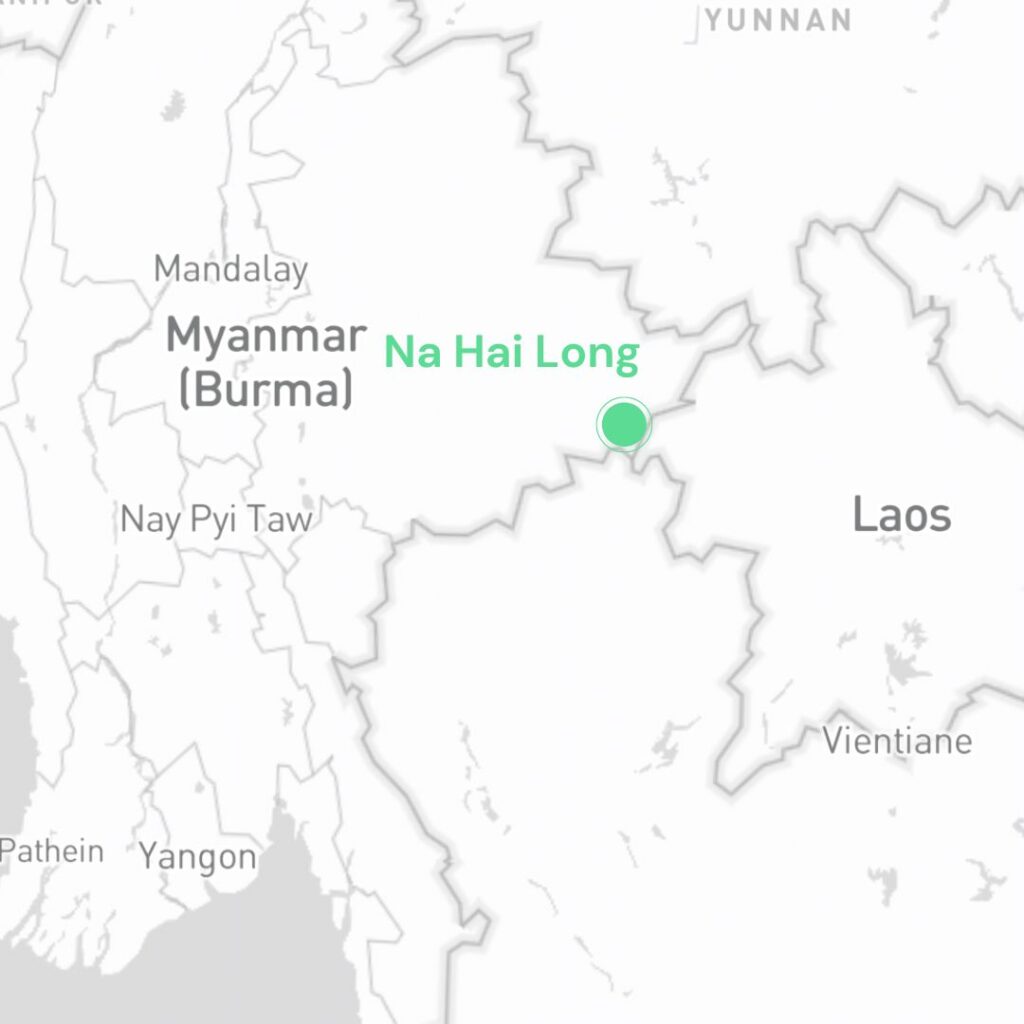 For U Win, the sound of heavy rain brings back terrifying memories of muddy floodwaters destroying his farmland in Na Hai Long village in eastern Shan State's Tachileik district ― an area that is home to the Shan, Lahu and Akha ethnic minorities.
That floodwater, brown and full of thick mud, came from Loi Kham hill to the south of his village where the forest had been uprooted to make way for large-scale gold mining. The mining caused massive soil erosion, sending mud downhill to U Win's village through the Nam Kham stream every rainy season.
The year 2022 was the worst for U Win as Myanmar, along with other Southeast Asia nations, experienced unusually intense rain.
In August, a flood swallowed one-third of his house, adding to the considerable damage to his property. He had already lost two-thirds of his farmland to previous floods and could not plant anything on his land as the floods had left a thick layer of dry mud over the ground.
He lost his income from farming and has been struggling to feed his four children. He could not even go fishing in the stream because the water was contaminated by cyanide used in the process of gold extraction.
"Gold miners have discharged mining waste into the Nam Kham stream. When the stream's water went high, it discharged the waste onto our farmlands," said U Win. "The companies began operations near our home more than a decade ago. But I can't leave my village. I can't afford to move to another place."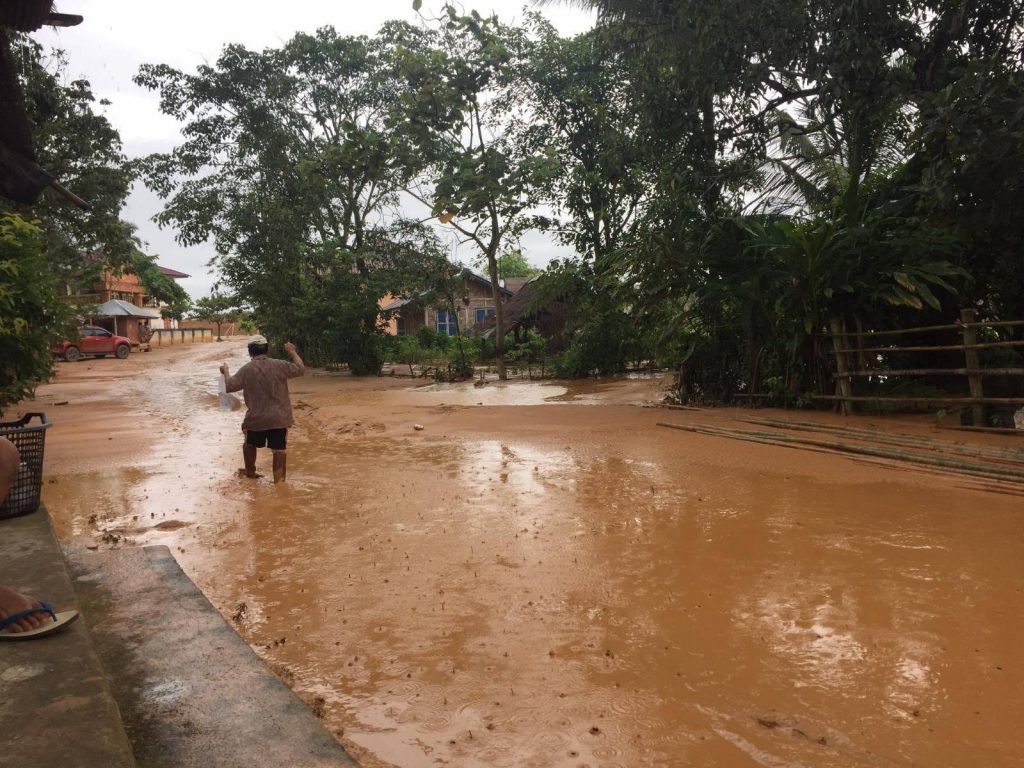 Mining has surged in Tachileik district since the 2021 military coup, and many fast-tracked permits for new mining projects have been given to companies linked to the military.
This has led human rights and environmental activist groups to believe the military is after quick cash to sustain its regime during the country's ongoing economic downturn. But it comes with a high cost that local communities must bear.
A surge in gold mining
The Shan Human Rights Foundation reported that 13 new mining permits in Mong Leng, north of Tachileik district, were granted to eight companies in mid-2020 and seven were granted to five companies in 2021. Each permit was given for mining on an eight-hectare land plot for up to 11 years.
Many of these companies have ties with military officers, some with former members of the Triangle Regional Command (TRC), a unit based in Shan State by Myanmar's armed forces, known as the Tatmadaw.
These include Mayflower Mining Enterprises which was set up by a military man, and Lwe Kham Lone Mining which was previously directed by the son of a former TRC commander.
Aung Woon Nay Co Ltd, which was granted two permits, is also headed by a former TRC officer, according to the Shan Human Rights Foundation's report. The reporter was unable to access representatives of these companies for comments.
The new mining plots, if operated irresponsibly, could add to the problems of local communities, who have struggled with mud and floods and polluted water for the past 15 years.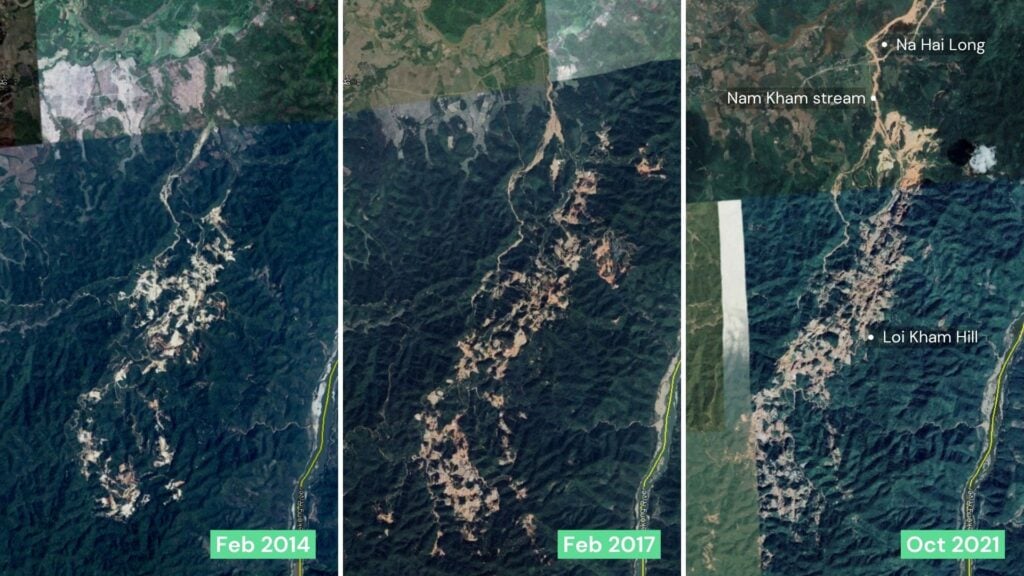 A dozen gold mining companies started operations on Loi Kham hill in 2007 when Myanmar was still under a military dictatorship.
After almost five decades of junta rule, military personnel, their connections and militia groups tapped the natural resources aggressively, generating incomes for them to build their wealth and power. The exploitation of natural resources often occurred in areas where ethnic minorities lived, and their rights and voices were not recognized by the junta government.
Political reform – which started in 2011 and has been suspended since the 2021 coup – shone a light on ethnic minorities. Before the coup, they could find channels to report and complain about irresponsible businesses under the elected government's process of establishing the rule of law.
"Now we can't complain about anything after the coup, or report to anyone. We used to have members of parliament [representing us,] so the gold mining companies were monitored and watched," said Sai Min*, a resident of Na Hai Long village.
Ying Leng Harn, the Shan Human Rights Foundation's spokesperson, said some local community members were threatened with lawsuits for speaking out about the impact of gold mining. The villagers also fear losing their lives as many of their members have been threatened or killed.
From death to silence
Back in 2015, a group of farmers and environmental activists climbed Loi Kham hill to inspect the gold mining sites and gather information to report to the parliament.
They were confronted by security forces under the command of the Tatmadaw, who shot and killed a farmer. Six other farmers were injured during the confrontation.
The officers claimed the shooting was in self-defense as the villagers were armed. However, the villagers denied the accusation and said they had not carried any weapons.
After the clash, a forced silence hung over the villagers, who dared not oppose the gold mining companies or visit Loi Kham hill again.
The gold mining companies agreed to co-pay compensation of US$280 per 0.4 hectares annually to each villager. However, this sum cannot cover their losses over the years or in the unforeseeable future.
"We had to accept it. If we didn't, we would have received nothing," said one villager.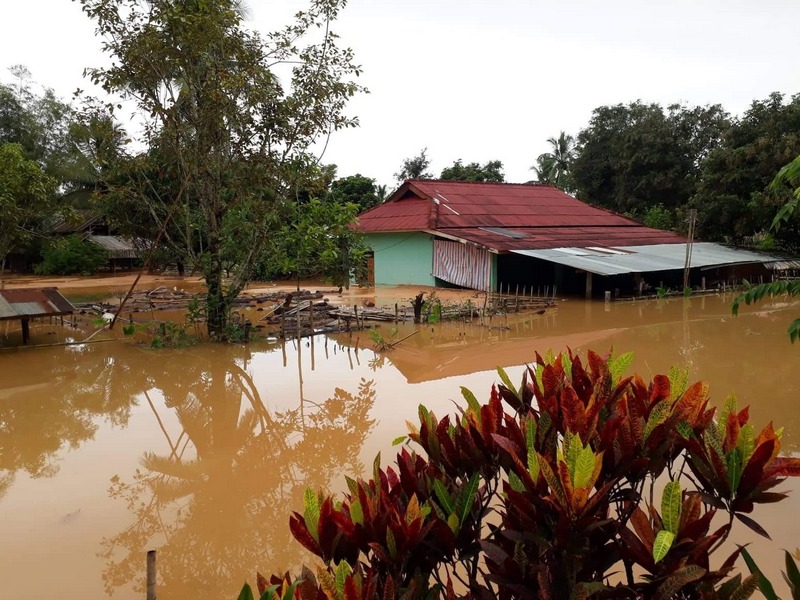 The Shan State Farmers Network reported in 2015 that 68 hectares of rice fields and orchards around Na Hai Long and neighboring Weing Mar Naw village had been completely destroyed by the muddy flood. Another 53 hectares became unusable due to damage from the floods.
The same network also reported that approximately 2,560 hectares of land around Loi Kham hill were excavated for gold mining, threatening the livelihoods of more than 1,500 people living in eight villages around it.
Extensive gold mining is not the only environmental challenge for residents in Tachileik district bordering the Mekong River.
Sai Khae Hseng, an environmental activist based in Shan state, said local communities had experienced irregular water flows in the river and flooding in nearby communities. They linked the phenomenon to China's upstream hydropower dams that release water during heavy rainfall despite China's denials.
Women and children bear the brunt
The overall degradation of the environment and farmlands has become too much for many families. Many have fallen into poverty and their children have had to leave school as they now can't earn any income from their land.
Seng Ywal* is one of those. Now 20, she left her school during grade six while studying in Tar lay sub-township, eight kilometers from Na Hai Long village.
"Our rice fields were badly damaged by the flood [before I had to leave school.] My parents could not support my education anymore. I wanted to be a teacher back then, but I ended up being a low-paid migrant worker in Thailand."
Women and children are particularly vulnerable when faced with environmental challenges. According to UN figures, 80% of people displaced by climate-related disasters around the world are women and girls.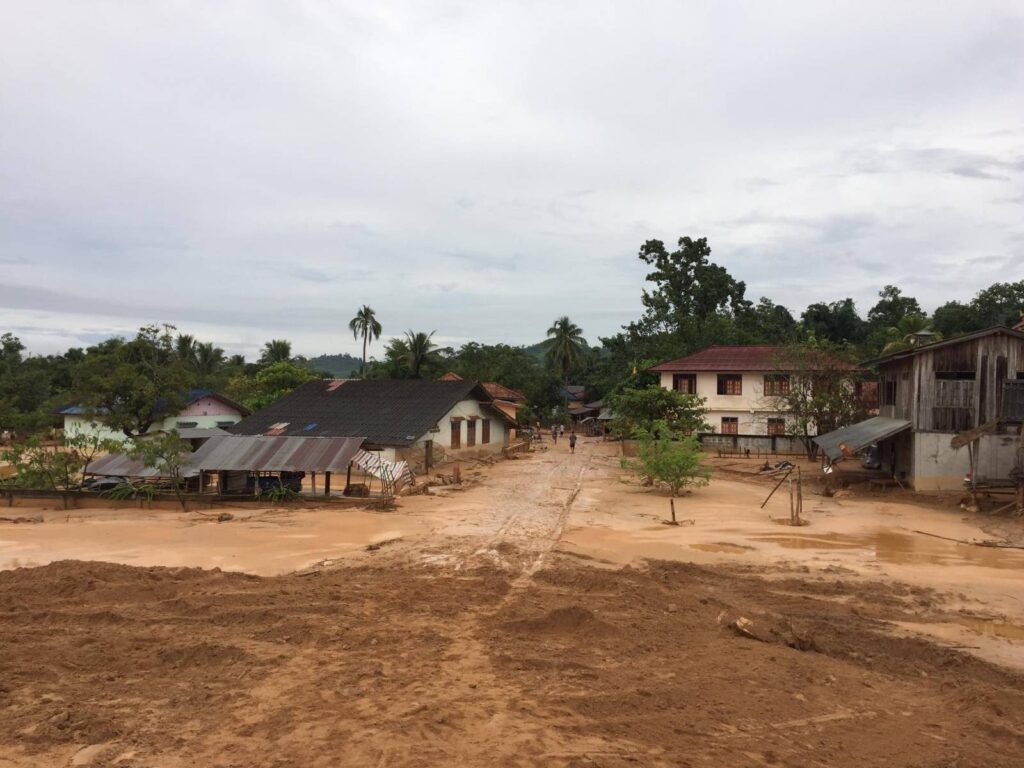 In the case of Na Hai Long village, the impact of gold mining has made women and girls worse off.
Nang Mu*, a 42-year-old with two daughters, lost an entire house in October when the mud swallowed her village and destroyed more than 20 houses. Her family is now forced to live in a makeshift tent in her relative's backyard.
"Living in someone else's house is difficult for women, especially for my teenage daughters [who must share spaces with strangers.] Although my children are physically safe [from the flood,] they don't feel at ease, like staying at our own house," she said.
They cannot fetch clean water from streams or wells, which have been contaminated by mud. They now buy bottled drinking water and use muddy water for cooking and washing.
"I don't want to use dirty water to bathe. It makes me itch," said Nang Mu's daughter Khu Khu*, who could not continue her schooling after the flooding.
The overall situation has forced young people, including Sai Min and Khu, to move out of or plan for resettlement in Thailand as their home is not fertile anymore.
"We don't see our future here," said Sai Min. He has much to lose in any battle with the military-connected gold mining companies.
---
*The names of villagers were changed for their safety.
This story was supported by Internews' Earth Journalism Network under the grant for reporting on Mekong water governance from a gender and social inclusive lens.