BAC LIEU, Vietnam – The southern province of Vietnam has been harnessing clean energy from nearshore wind power to reduce its reliance on coal and gas, but there has been a drawback.
New measures are now needed to limit the economic impact of this clean energy venture on local communities, which rely on fishing and whose incomes have declined because they are not allowed to fish near the wind farms, some of which have been built on their fishing grounds.
The large, white wind turbines have become a common sight along the 56-kilometer coastline of Bac Lieu province, a fishing and manufacturing hub on the southern tip of Vietnam.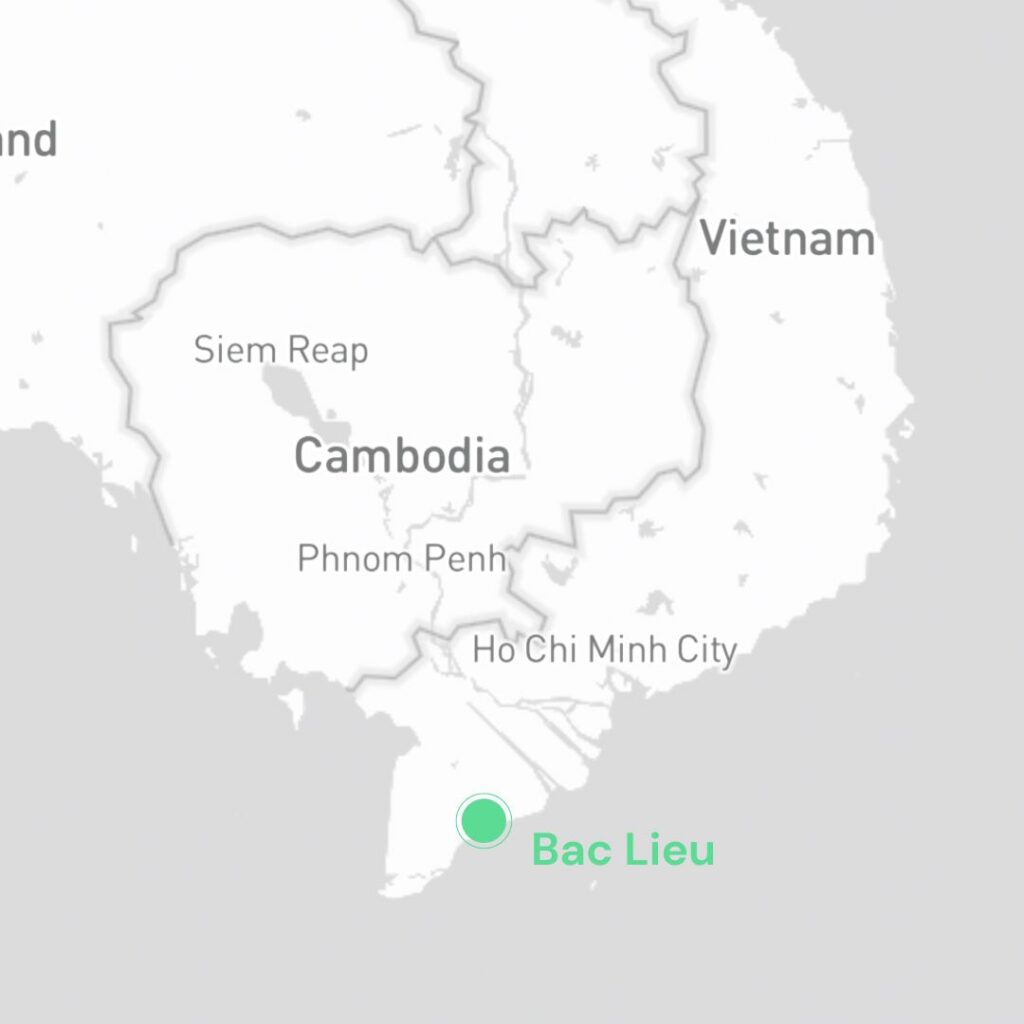 The province started its journey to become one of Vietnam's renewable energy pioneers in 2016 after it turned down a plan to build a 3,600-megawatt (MW) coal-powered plant there.
The province now has 10 wind farms – two of them still under construction – that account for about 660MW of wind power capacity. Eight of these wind farms are nearshore – less than 11 kilometers from the coastline – while the other two are inland.
These wind farms are seen as a major growth driver, as more than 60% of foreign investment that flowed into the Mekong Delta region in 2020 and 2021 went into the energy sector.
There are already 84 wind-power plants in commercial operation across Vietnam, with a total capacity of more than 3,980MW.
Mark Hutchinson, the head of the Global Wind Energy Council in Asia, estimates that another 2,000MW of wind power is almost completed but not yet connected to the grid.
The latest draft of Vietnam's power development plan submitted to Prime Minister Pham Minh Chinh in November 2022 states that the country will develop 28,480MW of wind power by 2030.
This would be 1.7 times the total capacity of solar power planned for that year. There are reasons for optimism. With its 3,260-kilometer coastline, Vietnam ranks near or at the top in terms of wind energy potential in Southeast Asia.
A 2001 survey by the World Bank confirmed Vietnam's huge potential to harness wind power, with more than 39% of its land having an average annual wind speed faster than six meters per second at an altitude of 65 meters, which translates into a total potential capacity of 513 gigawatts.
"Vietnam has excellent wind resources, a long coastline to develop offshore wind farms and a significant industrial base that can act as a supply chain to the industry in both Vietnam and elsewhere in the region," said Hutchinson.
"Offshore wind alone can provide more than 150,000MW of technical potential. Unlike traditional sources like coal and liquefied natural gas, which are projected to face a surge in price and a dwindling supply in the coming future, wind power is a readily available resource in Vietnam that is not affected by the volatility of the global market.
"Therefore, Vietnam can become self-sufficient energy-wise if it focuses on harnessing this resource."
Dwindled fish catch
According to statistics from the Ministry of Industry and Trade and the provincial People's Committees, about 81% of the wind farms to be constructed in the south will be nearshore.
There are good reasons for the rush to build nearshore wind farms – they cost half the price of offshore wind farms, but promise the same output. The annual average wind speed around nearshore areas is also similar to that of offshore areas, according to a 2021 survey by the World Bank.
Attractive feed-in tariffs of 9.8 US cents per kilowatt-hour for offshore and nearshore power offered by the government before November 2021 also accelerated the pace at which investors built wind farms that could be plugged into the national grid.
But nearshore wind farms have also affected the livelihoods of fishing communities. Since fishing is not allowed in the sea area allocated by a local government to wind farms, and more than half the fishing boats in most of the Mekong Delta are only suitable for fishing near the shore, fishermen have seen their incomes dwindle.
More than 60% of the fishing vessels in operation in Bac Lieu province have been affected.
At the area where the Nha Mat Canal enters the sea, small fishing boats were lined up along the canal in the middle of the fishing season during a visit by this reporter in October 2022.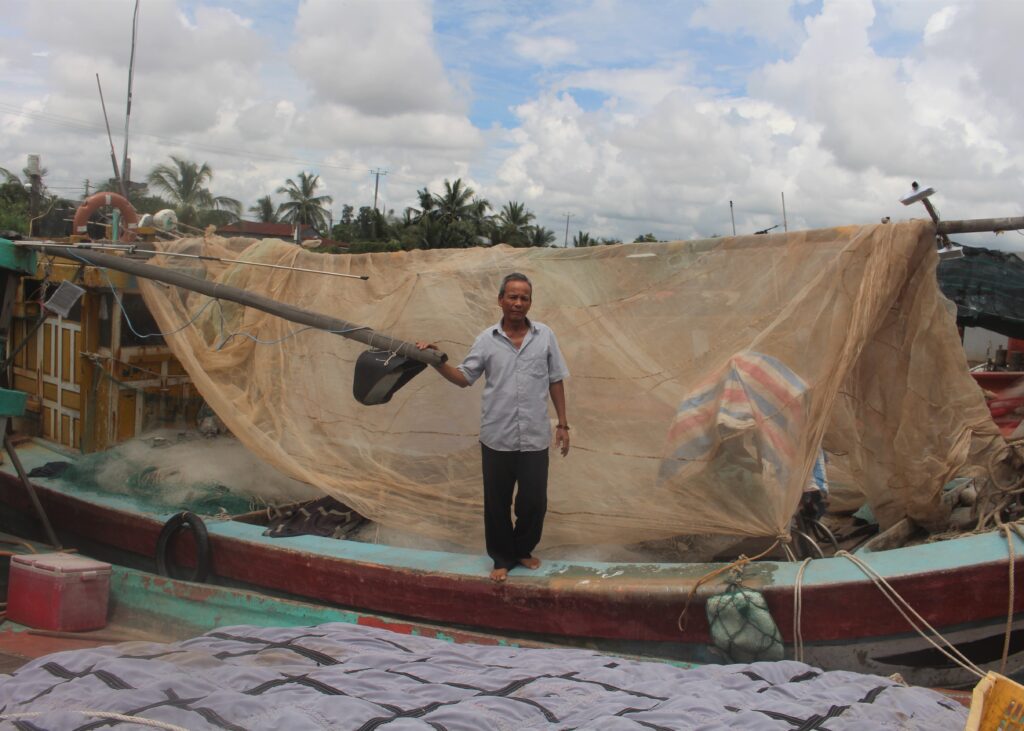 Vuong Van Quang, a Chinese-Vietnamese who has more than 32 years' experience of nearshore fishing, said he could now fish for only about one month between January and November 2022.
"I used to take my boat to wherever there were fish, even to other provinces. But in recent years, all the way from the Ganh Hao wind farm (in Bac Lieu) to Tra Vinh province about 230 kilometers away, the wind farms located within 18 kilometers of the shore have made it difficult for us to fish," said Vuong.
"Our nets can get tangled in the turbine cables and we then have to cut the nets. That happens almost every day."
Fishermen used to be able to work for about half the year and earn three million dong (US$130) a day three to four years ago, said Huynh Chuong, chief of the fishing club of the Vinh Thinh Commune in Bac Lieu.
Now, some fish only one or two months a year and earn less than 300,000 dong per trip (US$13). At times, their incomes do not even cover the cost of their fuel.
Eng Do, a 53-year-old living in Bac Lieu's Vinh Trach Dong Commune, said the baby mudskipper fish living in the mangroves in this area had been his main source of income. But his catch has dwindled since the wind farm was installed in 2013.
It was Vietnam's first nearshore wind farm with 62 wind turbines enabling a generating capacity of 99.2MW.
No clear solution
Bac Lieu officials have plans to offer fishermen alternative livelihoods and reduce the number of nearshore fishing vessels, said Ngo Nguyen Phong, the deputy director of the Department of Agriculture and Rural Development. However, the timeline for this program is unclear because of financing issues.
Three private companies that operate nearshore wind farms in Bac Lieu – Hoa Binh 1, Hoa Binh 2 and Dong Hai 2 – were contacted by this reporter, but did not respond to inquiries.
"We have not been able to anticipate or evaluate the impacts of nearshore wind farms on the ecosystems at project sites and on other relevant issues," said an anonymous representative of Bac Lieu's Department of Natural Resources and Environment, which is responsible for approving wind-power projects in the province.
He said there had not been any extensive research on the ecosystem impacts when the province consulted experts and higher-level authorities about wind farms, because wind power was a nascent sector back then.
The policy and legal framework surrounding the wind power industry is still being worked out.
A 2021 World Bank report recommended that the Vietnamese government develop a marine spatial plan with a clear environmental legal framework before issuing marine space leasing contracts.
The report warned that "nearshore projects may pose a high risk of significant adverse environmental and social effects in the nearshore environment."
It said: "Nearshore areas are often very sensitive in terms of their importance for livelihoods from fishing, for coastal processes and for biodiversity. Nearshore projects in proximity to key biodiversity areas, critical habitat and sensitive natural habitats will likely result in very high environmental impacts."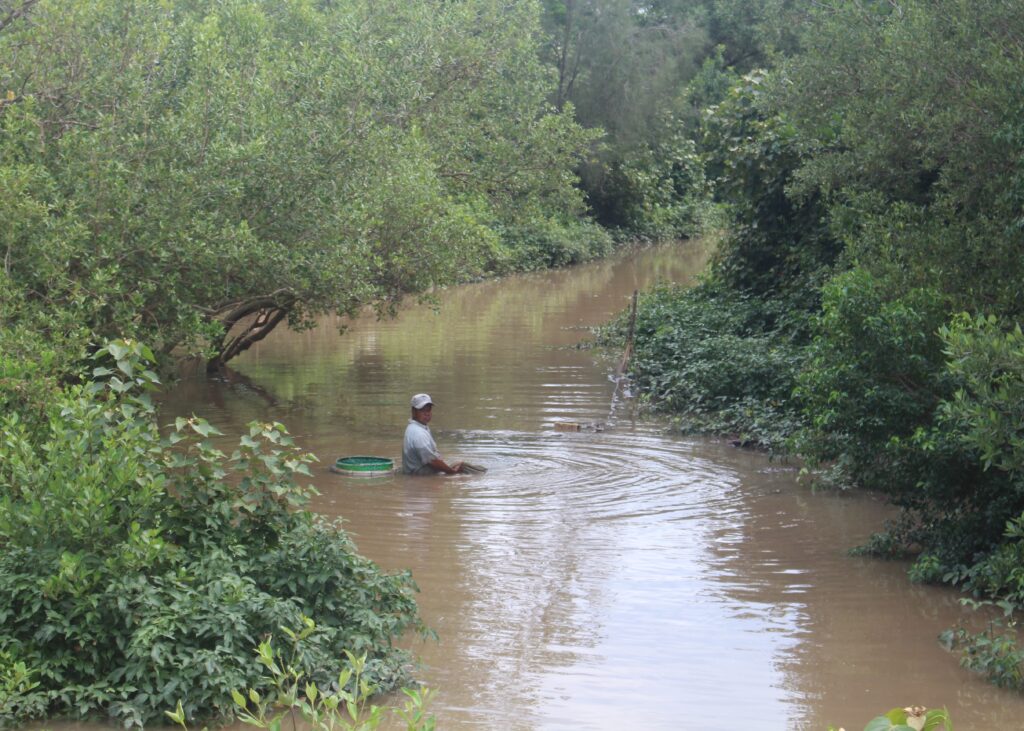 Vu Ngoc Long, a former director of the Southern Institute of Ecology, also warned that installing wind farms in parts of the Mekong Delta with soft sand or shallow coasts would create changes in water salinity, sea currents, sediment and soft mud accumulation, which would, in turn, affect the marine species that live near shore and close to the mangroves.
"It's best not to develop wind farms nearshore. We must avoid the currents, and especially avoid the river mouths, because they will obstruct the flow of water entering the sea, that is, the interaction between land and sea," he said.
At the start of October 2022, Vietnam's Ministry of Natural Resources and Environment asked the prime minister to suspend all the evaluations and approvals of marine spatial use while it worked on revising related environmental laws.
It is not clear when the revisions to the laws will be completed.
---
This story was supported by a story grant from Internews' Earth Journalism Network. It was first published in the Straits Times.