HO CHI MINH CITY, VIETNAM – For a few months every year, before the dry season arrives, Hoa* leaves her hometown of Dak Lak in Vietnam's Central Highlands for the southern metropolises to find seasonal work. The 50-year-old woman needs an extra income after several years of poor yields on her family's coffee farm due to a lack of water.
"Lots of other villagers also leave. We must do so, because we can't know for certain that the harvest will come with any fruit to pick," Hoa, a member of the Thai ethnic minority, said last November while working as a security guard at a building in Ho Chi Minh City.
The 2020 dry season saw flowers dying early, branches wilting and no fruit on her 4-hectare coffee farm. Four years earlier, all her coffee trees died of thirst in a historic drought.
"It was so hot as if a fire was raging. The soil cracked open. Wells were devoid of even a single drop of water. Streams dried up. I could even see ants running on the rocks in the stream," Hoa recalled.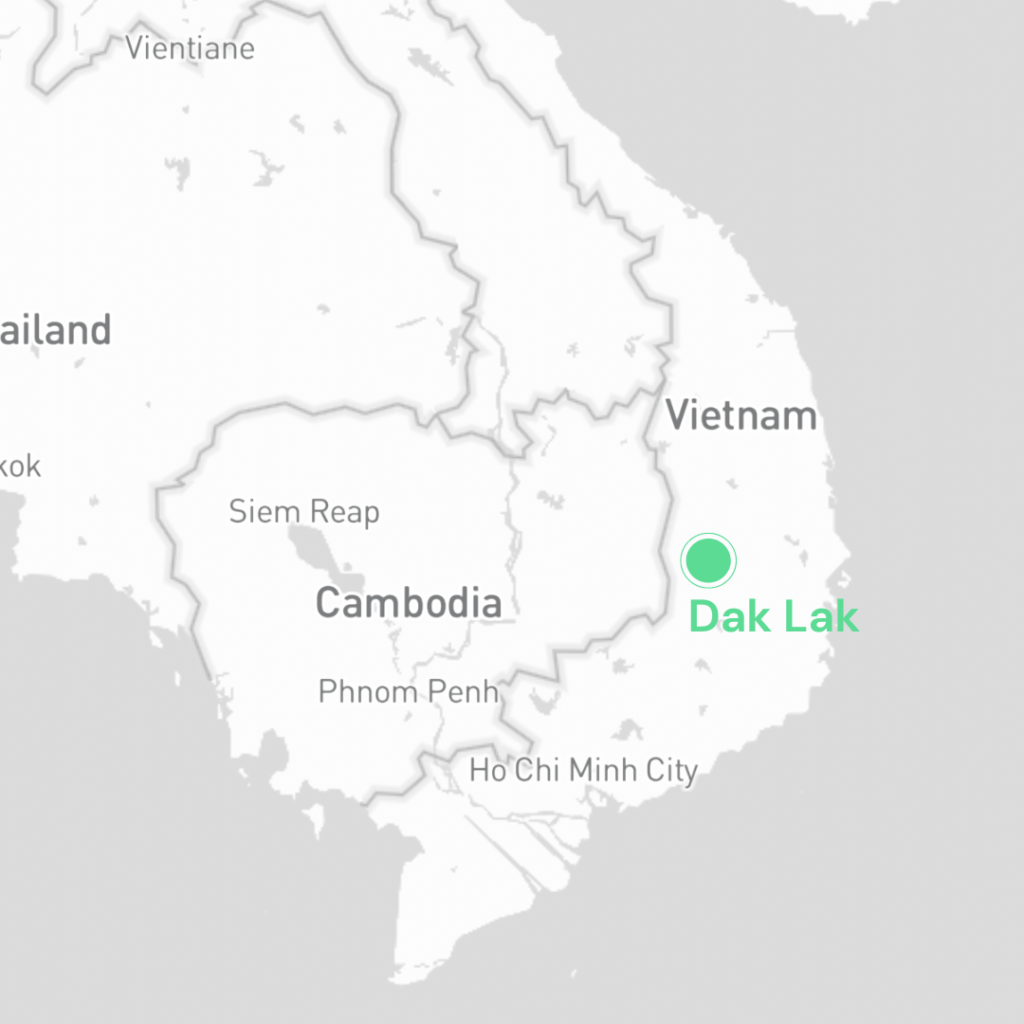 "Without water for several months, the [coffee tree] leaves were scorched. Nothing was able to stay alive that year."
Smallholder coffee farmers in Vietnam's Central Highlands are on the losing side of the race for water amid frequent and more severe droughts due to climate change.
Behind record export numbers that catapulted Vietnam to be the world's second largest coffee producer are plantations owned by wealthy farmers, who can afford to drill ever deeper wells.
But it's a race to the bottom. The groundwater is depleting so fast, experts say, that water shortages could soon be severe enough to force the region to scale down coffee production.
A victim of its own success
Coffee production in the Central Highlands dates back to the 19th century, when the French introduced the crop to local farmers.
With a tropical savanna climate, the region boasts the most fertile basalt land in Vietnam and a dense network of rivers and streams – an ideal environment for growing robusta, a species used mainly for instant coffee.
Given such ideal conditions, over the past 200 years, coffee has grown to become the main crop of the region. The cultivation area expanded under the Vietnamese government from nearly 450,000 hectares in 2005 to more than 710,000 hectares in 2021, with the Central Highlands alone contributing about 92% of the total area.
Now, Vietnamese coffee is exported to more than 80 countries and territories, taking up about 16% of the global coffee market share, second only to Brazil (22%). Coffee has become one of the country's most important exports, bringing in more than US$3 billion per year, or the equivalent of 3% of GDP.
Consequently, a huge amount of irrigation water has been pumped into the vast stretches of coffee fields. Farmers use 2,100-3,000 liters of water per coffee plant per crop year, believing that's what is needed to achieve a yield of 3 tons per hectare, according to the Western Highlands Agriculture and forestry science institute (WASI).
However, WASI says reducing the amount of water by half would still achieve the same result. With a coffee area of nearly 500,000 hectares in 2015, the Central Highlands coffee industry has wasted more than 150 million cubic meters of water.
Surface water is not enough to meet existing farming practices, especially as coffee expansion sees no signs of stopping, while in the dry season, discharges of main rivers shrink by 20-90%. Well drilling, for now, is seen by farmers as their only solution.
According to Tran Vinh, the acting Director of WASI, 80% of the water for coffee irrigation in the dry season is groundwater from unauthorized wells.
"The groundwater has been seriously degraded, further making the Central Highlands water resources more and more depleted," Vinh said. "If nothing changes, soon we will have no water to plant any trees here."
In the past, farmers only needed to dig 10-15-meters deep to get water. Now, they find not even a drop at 45m, Vinh added. "That's why farmers continue to drill down, affecting the water source of other households."
A study from 2018 in Dak Lak, the coffee capital of the Central Highlands, showed that each coffee field had at least one drilled well with a depth of nearly 27m. Due to uncontrolled use, the groundwater level in 2014 was about 7 meters lower than in 2010.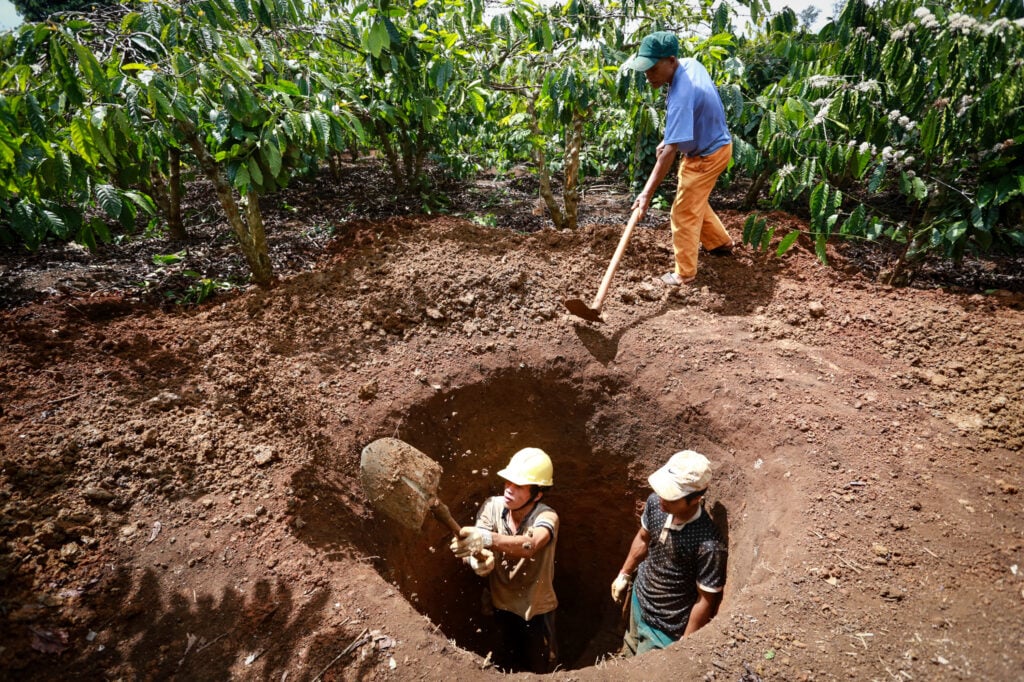 No water for the poor
The deeper a farmer's pockets, the deeper the well. In the race to save coffee trees from dying of thirst, it is the wealthy who are on the winning side.
In the 2016 dry season, Hoa and one of her relatives managed to gather 40 million dong ($1,600) to hire a drilling team. But they had to stop at a depth of 150 meters. They could not afford to go deeper.
"[Wealthier] people's fields are close to ours and every field has three to four wells, so it's harder for us to find water," Hoa explained. "Water is only available in the fields of the rich, so their coffee trees always produce a lot of fruit."
During the last five dry seasons, the well of Siu H'Kur, a 37-year-old Jrai woman from Ia Le commune, Gia Lai province, was bare and dry. Every day, from early morning, Siu's mother and her daughters had to carry 1.5-liter plastic bottles and walk from house to house in the village to ask for water.
"Those are rich people who have money to drill deep wells. They give us some water each time we ask," Siu said in Jrai in an interview late last year, which was translated into Vietnamese by her daughter.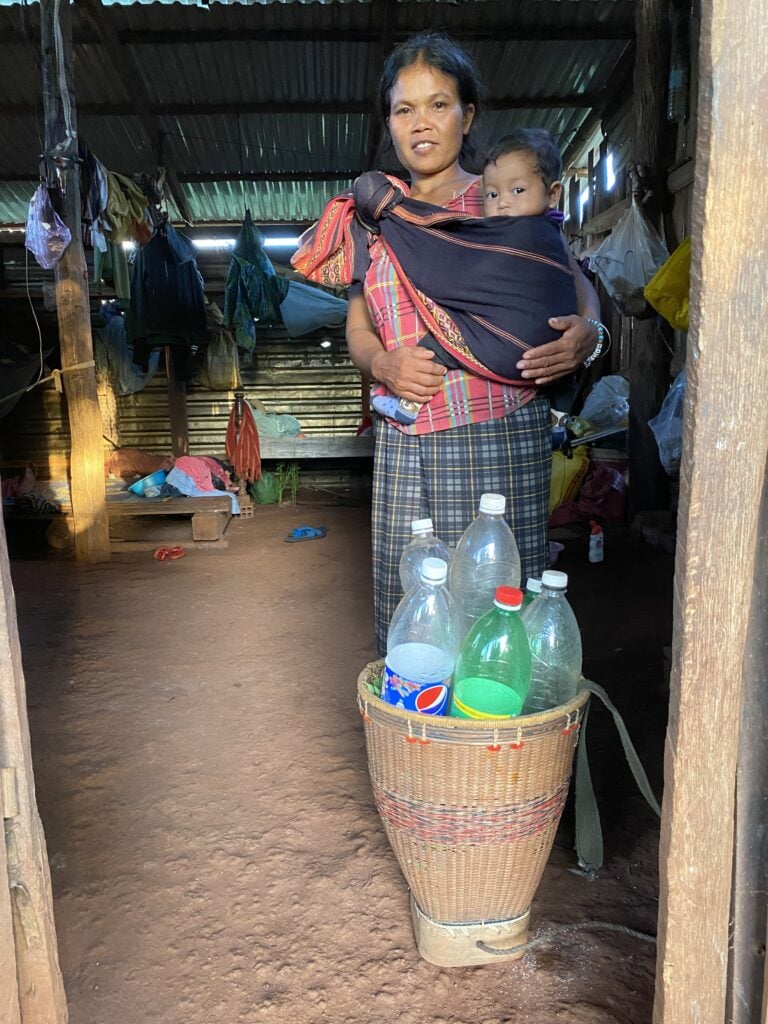 The amount of water they were given by neighbors was barely enough for the family's basic needs. There was none left over for the corn and rice fields that fed Siu and her 9 children.
In 2016, Siu's newly sprouted rice field dried up on the cracked ground it was planted in. She owed a fertilizer agent 30 bags of rice. The debt has now grown to more than VND100 million ($4,200) since her family's corn field was also scorched by drought in the dry season a few years later.
"Our field is near streams, but besides drilling wells, they [wealthy people] soon started to take big pipes to transfer spring water to their coffee trees. They watered all day and night so we have nothing left," Siu said.
With no money to drill a well, the family tried to dig one on their own, but after only a few meters, their shovels hit rock and they had to stop.
"In rain-fed areas, the smallholder farmers in the Central Highland region, especially the poor and near poor, have been experiencing the increasingly acute shortage of irrigation water in the dry season," said Dao Xuan Lai, the head of the Climate Change and Environment Division of the UNDP in Vietnam.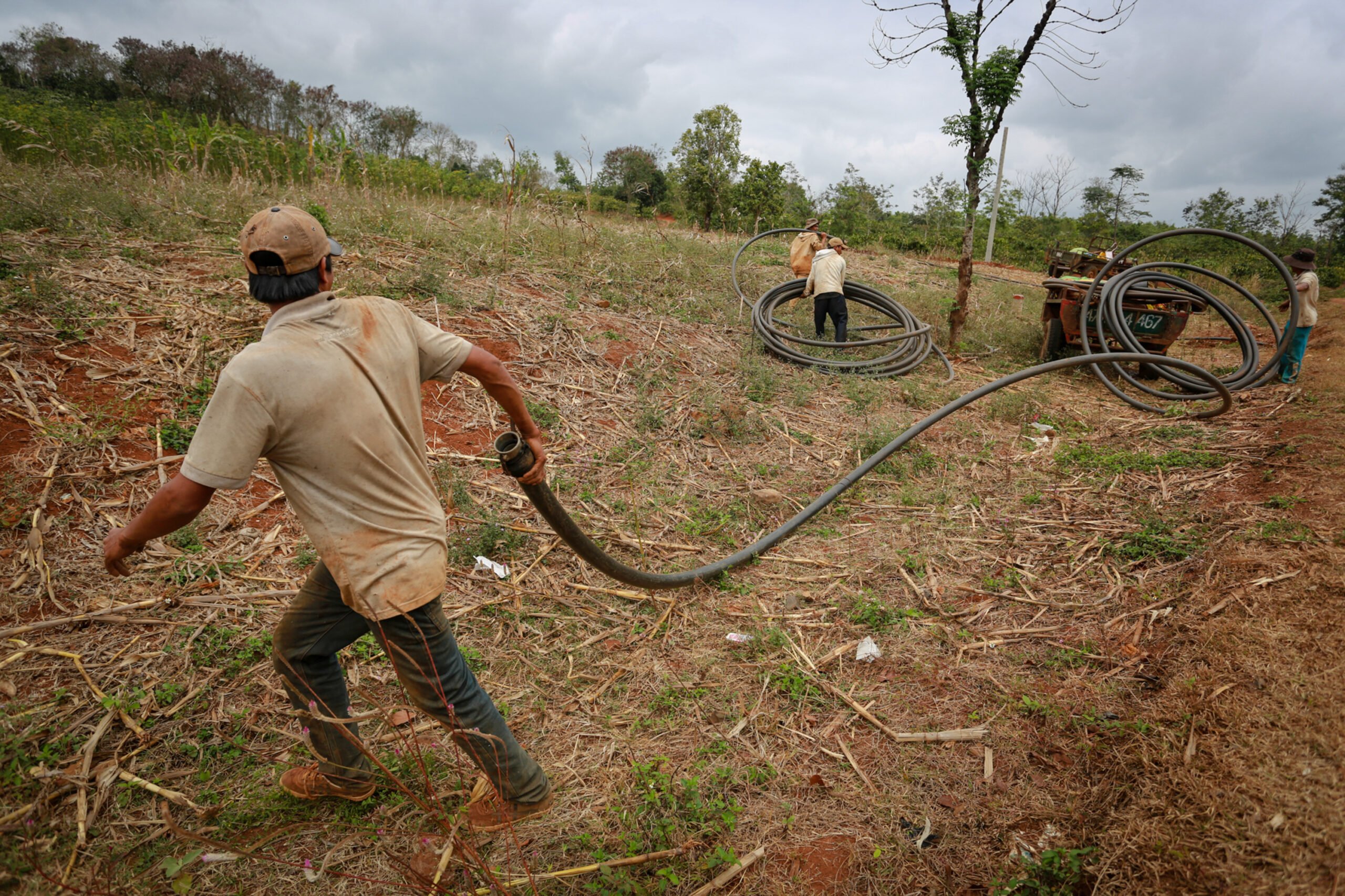 Costly solutions
Droughts occurring in the past 5 years have damaged hundreds of thousands of hectares of coffee and other crops in the Central Highlands. According to the climate scenarios, although the total annual rainfall in this region is on an upward trend, the dry season will become increasingly extreme, and may be longer.
The region's ability to retain water has also been weakened due to the ongoing deforestation, a significant part of which has been for coffee cultivation and hydroelectricity.
"It's the big picture that should be considered, not just export figures," said Lai of the UNDP. "The current coffee price does not reflect the environmental and human costs."
Experts recommend drip irrigation to save water, but according to WASI, only 10% of households in the Central Highlands have been able to afford this complex and costly system.
Deforestation-free agroforestry practices is what Lai believes the Central Highlands should adopt. He said international organizations and the government have been providing technical support to farmers to switch from coffee monoculture to intercropping with fruit trees or perennial forestry trees, which do not require too much water.
"The transition from monoculture to intercropping will certainly reduce coffee export volume," said Nguyen Hoang Long, a coffee supply chain expert and a roastmaster. "But in return, Vietnam can focus on producing quality coffee, targeting the high-end market segment."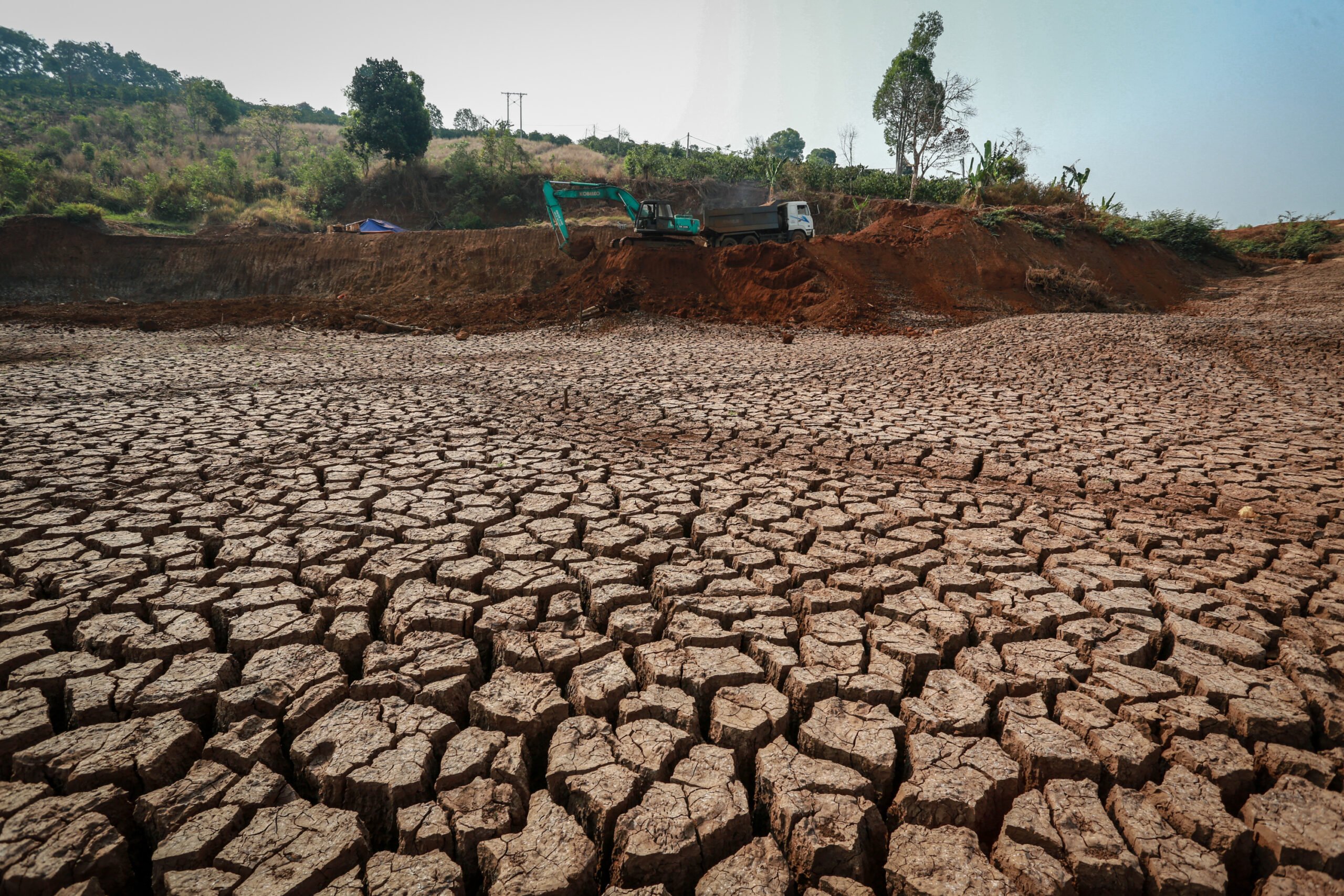 Ahead of another dry season, Siu and her children once again gathered plastic bottles to store water. She's worried that her debt will swell if the rice and corn fields wither again.
"Our life relies on rain. Rain is crucial – it must rain a lot," said Siu while holding her almost-3-year-old child in her arms.
Meanwhile, Hoa has returned to her hometown. There have been a few unseasonal showers, but she has little hope.
"The well water started running low. This year, we may still not have enough water," Hoa said over the phone, still haunted by the dead coffee trees.
---
*Name changed to protect her identity.
This story was supported by the Internews' Earth Journalism Network under the grant for reporting on water governance from gender and social inclusion lens.